Submission Deadline: May 23, 2018
2018 Steel Competition
Affordable Housing & Open
How do I change/edit/update my registration?
The Faculty Sponsor may edit, update or change any registration. To return to the registration and view, edit, add, remove anything you need prior to a submission upload. To get back to your registration please use the following steps. All edits need to be completed prior to your students submitting their project online.
Log into the ACSA website
Click "My ACSA" that will appear next to your name (upper right)
Click "My Competitions"
Select the competition you are interested in editing
Click "View/Edit My Registration"
Click the pencil tool next to the registration you want to edit
Complete your registration edits.
Remember to go to the Submit Tab and click the "Submit Registration" button once you are complete.
How do I register for the competition?
A faculty sponsor is required to enroll students by completing an online Registration Form. Complete a form for your entire studio or for each individual student or team of students participating. Students or teams wishing to enter the competition on their own must have a faculty sponsor, who should complete the form. There is no entry or submission fee to participate in the competition. Each registered student and faculty sponsor will receive a confirmation email that will include information on how the student(s) will upload final submission online. Please add the email address competitions@acsa-arch.org to your address book to ensure that you receive all emails regarding your submission.
During registration the faculty will have the ability to add students, add teams, assign students to teams, and add additional faculty. Registration is required by the deadline, but can be changed, edited, and added to till a student starts a final submission; then the registration is not editable.
How do I find out if I am at an ACSA member school?
To find out if you are a student from an ACSA member school visit the Schools | Program Directory. If you do not find your schools please contact ACSA for assistance.
How do I submit my final project?
You must be registered for the competition; upon registration you should have received two automatic emails: 1) confirmation of your registration; 2) personal ACSA credentials to login for project submission. Follow these steps to submit your final project:
Log into the ACSA website with your personal ACSA credentials
Click "My ACSA"
Click "My Competitions"
Confirm you are uploading to the correct competition/category
Click "Upload Submission"
From here you will have a series of tabs to complete, upload, or confirm all submission information
Once final project has been completely uploaded and confirmed, click "Complete This Submission" button found under the Submit Tab.
You may "Save" your submission and return to complete. Please Note: the submission is not complete till the "Complete This Submission" button is pressed. For team projects: each team member has access to submit the final project.
I forgot, lost, or did not receive my ACSA credentials (username & password)?
Please use the Forgot Password tool -or- contact the ACSA office directly for us to reset your credentials.
How large of a file can be digitally submitted?
For submission and judging there is a 25MB per document limit. We suggest a 150 dpi resolution for the individual submission boards.
Why aren't my boards uploading to the submission site?
Confirm that each board is a PDF or JPEG (25MB or less). Each board must be uploaded individually in the order you prefer the boards to be viewed. Please be patient, this process can take several minutes depending upon the size of the file you are uploading.
How will my digital boards be arranged?
Your boards (1-4) will be arranged in the following manner when displayed to the jury: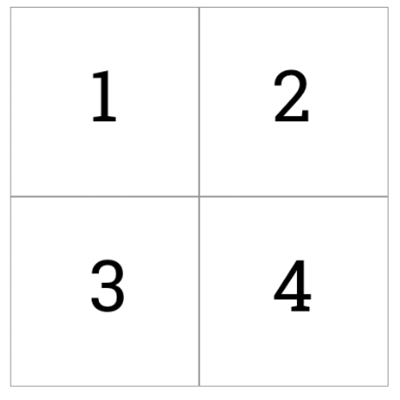 What is the jury process?
First, each jury member will review the projects on their personal computers. The jury then meets in person to make their final selections. Boards are projected, digitally, at the final jury.
The boards I uploaded to the submission site have been converted to low-resolution JPEGs.
The submission site automatically converts the digital boards (PDF or JPEG) into low-resolution thumbnails. Your original submitted boards are stored in the database for juror review, as submitted. If you would like to control the thumbnail quality, original submissions should be in JPEG format.
How is the abstract/essay and program brief (if applicable) submitted?
Both the abstract and the program brief are completed during the student submission process. The abstract/essay and program brief are text boxes for copy/paste or typing of contents. The abstract can also appear on the submission boards, if you chose, but is required to be submitted separately in the abstract/essay text box.