November 7-9, 2019 | New Orleans, LA
2019 Administrators Conference
Pankaj Vir Gupta is a founding partner (with Christine Mueller) of vir.mueller architects, in New Delhi, a firm encompassing architectural practice, design research and education. He is a licensed architect in the United States, and a registered member of the Council of Architecture in India.
Pankaj Vir Gupta received a Bachelor of Science in Architecture from the University of Virginia, and a Master of Architecture from the Graduate School of Architecture at Yale University. Committing to the evolution of Indian architecture and urbanism, vir.mueller architects have designed significant public projects across India, including cultural and institutional commissions. We are presently engaged in the design and construction of the Humayun's Tomb Site Museum for the Aga Khan Trust for Culture, in New Delhi – the first contemporary museum in India to be built on a World Heritage Site. The firm upholds an identity of citizen-architect; thus, engagement with the public as an educated and informed voice of design-related issues, remains critical to our identity as an architectural design studio. This philosophy has guided our years of teaching and consulting for public and civic agencies.
Pankaj Vir Gupta is a Professor of Architecture at the University of Virginia, where he is the Co-Founder (with Inaki Alday) of the Yamuna River Project, a major pan-university research project. Since 2012, he has been teaching Urban and Architecture Design studios and leading a multi-disciplinary research initiative focused on the revitalization of urban precincts adjacent to the Yamuna river in New Delhi, creating a vital ecological center for India's capital city. The Yamuna River Project confronts the dilemmas of unplanned urban expansion and challenges posed by extreme weather in mega-cities, with an analytical, research-based methodology, and facilitates a dynamic collaboration between diverse knowledge partners, encompassing faculty and students in Architecture, Urban Design, Engineering, Environmental Sciences, Anthropology, Public Health, Business, Economics, and the Humanities – and including municipal authorities, political leaders, and non-government organizations. This project has won several national and international awards for the participating students and achieved significant recognition for the University of Virginia School of Architecture.
Mitch Landrieu Mayor
City of New Orleans (2010–2018)
Mitch Landrieu was the 61st Mayor of New Orleans (2010-2018). When he took office, the city was still recovering from Hurricane Katrina and in the midst of the BP Oil Spill. Under Landrieu's leadership, New Orleans is widely recognized as one of the nation's great comeback stories.
In 2015, Landrieu was named "Public Official of the Year" by Governing, and in 2016 was voted "America's top turnaround mayor" in a Politico survey of mayors. He gained national prominence for his powerful decision to take down four Confederate monuments in New Orleans, which also earned him the prestigious John F. Kennedy Profile in Courage Award. In his New York Times best-selling book, In the Shadow of Statues: A White Southerner Confronts History, Landrieu recounts his personal journey confronting racism, and tackles the broader history of slavery, race relations, and institutional inequalities that still plague America. He recently launched the E Pluribus Unum Fund, which will work to bring people together across the South around the issues of race and class.
Prior to serving as Mayor, Landrieu served two terms as lieutenant governor and 16 years in the state legislature. He also served as President of the U.S. Conference of Mayors. Mitch and his wife Cheryl have five children.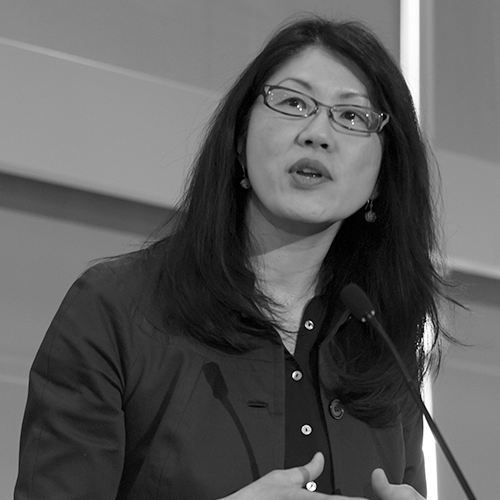 Karen Seto
Yale University, School of Forestry and Environmental Studies
Karen Seto is the Frederick C. Hixon Professor of Geography and Urbanization Science at Yale University, School of Forestry and Environmental Studies. An urban and land change scientist, she is an expert on contemporary urbanization. Herresearch focus is how urbanization will affect the planet. She has pioneered methods to reconstruct urban land use with satellite imagery and has developed novel methods to forecast urban expansion. She has conducted urbanization research in China for twenty years and in India for more than ten. Her research has generated insights on the links between urbanization and land use, food systems, biodiversity, and climate change.
Seto has served on numerous national and international scientific bodies. She is co-leading the urban mitigation chapter for the current IPCC 6th Assessment Report and co-lead the same chapter for the IPCC 5th Assessment Report, published in 2014. She is co-editor-in chief of the journal, Global Environmental Change. From 2000 to 2008, she was faculty at Stanford, where she held joint appointments in the Woods Institute for the Environment and the School of Earth Sciences. Seto is an elected member of the U.S. National Academy of Sciences, the Connecticut Academy of Science and Engineering, and the American Association for the Advancement of Science.  She earned a PhD in Geography from Boston University.
Eric W. Ellis
ACSA, Director of Operations and Programs
202-785-2324
eellis@acsa-arch.org
Allison Smith
ACSA, Programs Manager
202-785-2324
asmith@acsa-arch.org