Exhibitors, Publishers & Advertisers
ACSA would like you to invite you to exhibit at our 109th Annual Meeting Virtual Conference on

March 24-26, 2021

. The ACSA Annual Meeting is the largest gathering of architecture faculty in the discipline. The virtual conference is designed for educators, practitioners, researchers, and students to explore and discuss the latest research, ideas, and practices in architecture, education, and allied disciplines.
The conference is a great opportunity to network with hundreds of architecture educators, administrators, and practitioners who are eager to discuss the latest research, publications, or to learn more about a new product or service.  This year our conference and exhibit hall is fully virtual! We are using a new conference platform and are excited to offer you the ability to create beautiful and captivating virtual booths. With multiple ways to engage and interact with conference attendees we know you will find the experience beneficial.
Virtual Exhibit Booth
All virtual booths have the following components:
2 Conference Registrations
Logo (300x300px ) PNG/JPG
Name (Character Limit – 150)
Contact Info (Email, Mobile No. & Address)
Brochure (One doc, ppt or pdf file with a maximum size of 5 MB can be uploaded on profile)
Social Media Links
Long Description (Character Limit – 1000)
Spotlight Banner – Image – 1036×320 px or Video – Youtube or Vimeo link
People Section (Organizer can add exhibitor company staff member email ids here – Max 10)
Product Images (512x512px Max 10) – PNG/JPG
Video Links (Add youtube or Vimeo video link Max 10)
The Size of the exhibit booth is represented in the Exhibitor section of the conference platform. See the image below for examples of size.
Large Exhibit Booth: $700
Medium Exhibit Booth: $500
Small Exhibit Booth: $300
Here is a screenshot sample of the virtual exhibit hall.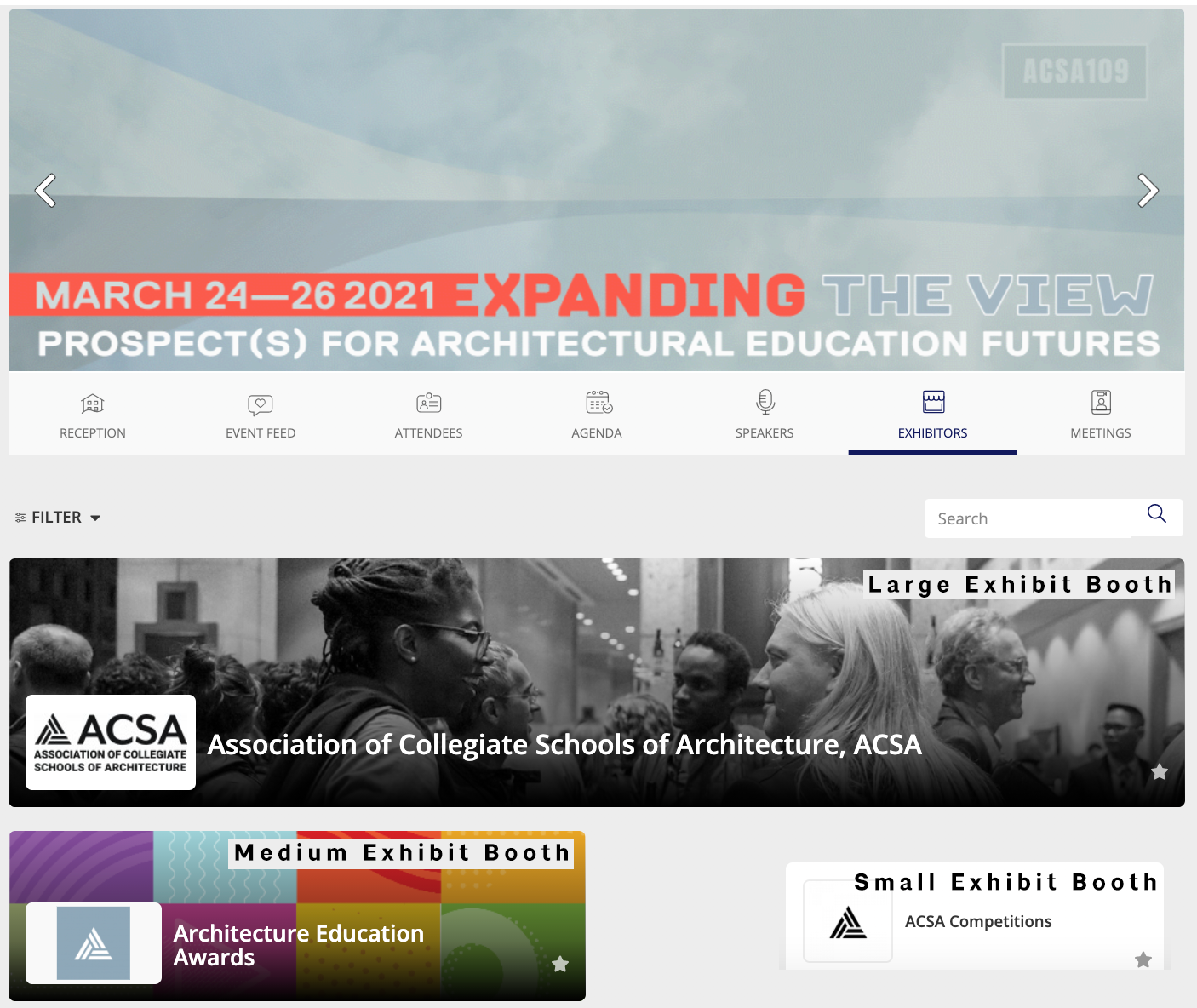 There are a number of ways in which to advertise and get more direct contact with attendees.
| | |
| --- | --- |
| Dedicated Networking Table  (per day) | |
| ACSA will set up a networking table in the lounge for you to be able to directly connect with conference attendees. The lounge tables can be used for several reasons including to have small discussions, product demonstrations, or to provide information. You must purchase an exhibit booth to have a table in the lounge. This is an add on item. | $500 |
| Daily Email Banner Ad (per ad) | |
| Advertise your product or service in one or more of our daily conference emails.  These daily emails are delivered once a day to all conference attendees. Book fast as these spots go quickly! | $500 |
| Coffee Break Sponsor (per break) | |
| Sponsor one or several of our coffee breaks. Your company will be listed on the schedule,  conference email, and be highlighted during the coffee break. | $500 |
Wednesday, March 24, 2021
Conference Hours:
11:00am-06:30 pm EDT / 8:00am-3:30pm PDT
Networking & Exhibitor Dedicated Hours:
3:30pm-5:00pm EDT / 12:30pm-2:00pm PDT *
Thursday, March 25, 2021
Conference Hours:
11:00am-07:00pm EDT / 8:00am-4:00pm PDT
Networking & Exhibitor Dedicated Hours:
2:00pm-3:30pm EDT / 11:00am-12:30pm PDT *
Friday, March 26, 2021
Conference Hours:
11:00am-07:00pm EDT / 8:00am-4:00pm PDT
Networking & Exhibitor Dedicated Hours:
2:00pm-3:30pm EDT / 11:00am-12:30pm PDT *
* Exhibitors should plan to have someone online and in their booth during networking & exhibitor lounge hours.