March 15-17, 2018  |  Denver, Colorado
106th ACSA Annual Meeting
Call for Papers/Projects announced
Paper/project submission deadline
Notifications sent to authors
Conference registration deadline for presenters
Conference Registration Fees
All registration fees in USD
Advance

(Before 1/31/2018)

Regular

(Before 3/1/2018)



On-Site

(After 3/1/2018)

ACSA Member
$450
$515
$580
Non-Member
$560
$620
$700

ASCA Student Member*
$140
$165
$215
One Day Registration (members only)
$250
Not Available
Not Available
DPACSA Member
$400
$400
Not Available
* Become an ACSA Student Member to receive these specially discounted rates
Workshop Fees
All registration fees in USD
ACSA will offer a number of workshops in Denver, please check-back for more information.
Discount/Advance

(Before 1/31/2018)

Regular

(Before 3/1/2018)



On-Site

(After 3/1/2018)

Housing & Community Workshop*
$120
$140
$160
Defining Your Research Workshop*
$120
$140
$160

*Registration for the workshops can be added to full conference registration & includes lunch.
Cancellations must be received in writing, no later than March 2, 2018 to qualify for a refund, less a processing fee of $50 USD. This fee also applies to PayPal purchases. Unpaid purchase orders will be billed at the full rate specified in the order unless cancelled before the deadline; Standard cancellation fees will apply.
The Sheraton Denver Downtown Hotel is known for its I.M. Pei Tower, an acclaimed modern architectural tower. Denver was the first American city to build a major development that combined a hotel, department store, parking & public space. Planning began in 1954, and the 22-story hotel was completed in 1960.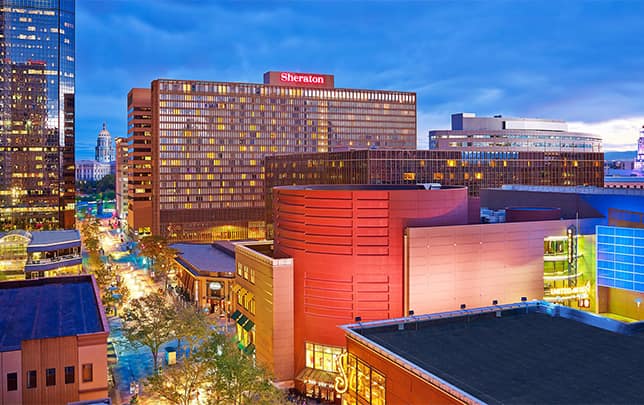 Sheraton Denver Downtown Hotel, I.M. Pei Tower
Address
1550 Court Place,
Denver, CO, 80202
Group Block
ACSA / Association of Collegiate Schools or
Architecture / 2018 Annual Meeting
Group Cut-off Date
February 20, 2018
Crown Plaza Denver
1450 Glenarm Pl, Denver, CO 80202
Hilton Garden Inn Denver Downtown
1400 Welton St, Denver, CO 80202
Holiday Inn Express
401 17th Street, Denver, CO 80202
Brown Palace Hotel
321 17th St, Denver, CO 80202
Eric W. Ellis
ACSA, Director of Operations and Programs
202-785-2324
eellis@acsa-arch.org
Allison Smith
ACSA, Programs Manager
202-785-2324
asmith@acsa-arch.org