April 26, 2017  |  Orlando, FL
2017 Intersections Symposium
COLLABORATION: TECHNOLOGY . RESEARCH . PRACTICE
John Folan, Carnegie Mellon University
Julie Ju-Youn Kim, Georgia Institute of Technology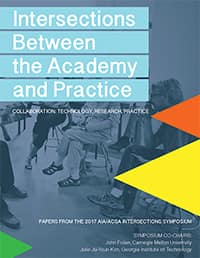 Intersections Between the Academy and Practice
The American Institute of Architects (AIA) and the Association of Collegiate Schools of Architecture (ACSA) are pleased to announce a partnership dedicated to the integration of education, research and practice of technologies at the 2017 AIA National Convention in Orlando. This symposium will focus on COLLABORATION. New technology and ways of working are helping to break down barriers between the different players in the construction process. Industry leaders already do a great deal to encourage collaboration among their teams, providing vision, collaboration-conducive work environments, collaboration technology, and by removing obstacles. Collaboration also happens outside the traditional AEC industry, between architects and cognitive scientists, between architects and community organizers, etc.
Symposium
at AIA Conference on Architecture 2017
Join AIA and the Association of Collegiate Schools of Architecture for the third Intersections Symposium. The forum is dedicated to the integration of education, research, and practice of technologies. This year, the focus is on collaboration and how new technology and ways of working together are breaking down barriers in the construction process.
As an industry leader, you have the chance to encourage teamwork within your day-to-day work. In addition, you can look outside your normal spheres of work and foster partnerships with nontraditional players, such as cognitive scientists or community organizers. This workshop is your chance to learn how leaders in the field are redefining collaboration with new and traditional partnerships—and how you can apply these strategies in your own professional spheres.
John Folan, Carnegie Mellon University
Julie Kim, Georgia Institute of Technology
Michael Beaman, University of Virginia
Seher Erdogan Ford, Temple University
Adam Marcus, California College of the Arts
Amin Mojtahedi, HGA Architects & Engineers
Kalina Vander Poel, Portland State University
The 2017 Intersections Symposium has been cancelled, but we will be publishing the papers and posting the publication online this summer.  In the meantime, we are planning the 2018 Intersections sessions to be offered during the AIA 2018 Conference in New York City, June 2018. Watch for a call for abstracts this summer and more information about this exciting area exploring the intersection between Design, Research and Practice.
Eric W. Ellis
ACSA, Director of Operations and Programs
202-785-2324
eellis@acsa-arch.org
Nissa Dahlin-Brown EdD, Assoc. AIA
AIA, Director of Academic Engagement
202-626-7449
nissadahlinbrown@aia.org