The Historical Lens of Gentrification
Lucy Campbell and Barbara Opar, column editors
Column by Hank Morgan, University of Washington LIS Graduate
"Cities and their residents are increasingly viewing gentrification through a historical lens, utilizing various archival records and personal experiences to reconstruct displaced communities. New technology has aided both local activists and developers to frame archives block-by-block. In March 2001, a collaboration between Stanford PhDs and Google aimed to summarize city streets into a single image without distorting them. The technology dubbed multi-perspective panoramas was later used in Google Streetview. Google Streetview uses multiple cameras taking photographs at the same time to create a panoramic view of a location at a certain date. At some point in 2008, my brother and I were eagerly searching familiar streets to see if Google's mysterious robotic eye had taken our picture outside our house or elsewhere in Austin. Since then, Google has updated their portrait of my childhood Texas home ten times. Our town was changing rapidly. Various blogs, social media accounts, and anonymous internet users dissected Austin's legacy during this period of rapid growth. In 2019, I started my Master's in Library and Information Science at the University of Washington. I quickly became interested in how activists used public data to enact change, such as how Black archivists examined public records to rediscover historic African American cemeteries. I wanted to examine housing affordability because I had spent the years since earning my bachelor's jumping from sublet to sublet unable to rent my own place. Like many millennials, I felt buying a home was impossible. My goal was to see if I could visually track how neighborhoods were changing due to new development and rezoning. I was aware of other open data projects that had utilized Google Streetview, such as the Every Lot Bots. The Every Lot Bots are an open source software which pairs images from Google Streetview to tax ids and shares the images to Twitter. I wanted to take the same concept, but explore changes over time."
Community Archives play an important role in preserving stories about land, such as how people adapted or shaped the surrounding earth. These groups work to save artifacts; old letters, photographs, and other recording materials, to aid in future retellings of foundational myths or local history. A neighborhood is a living community archive where each home is an active record of the people. Unfortunately, cities are rapidly growing, and much of this shared history is being lost to development and time. Local governments are increasingly forced to recognize how their community story was shaped by examining the past, present, and future. Austin is rapidly demolishing community stories contained within affordable and historical bungalows.
In 2012, the Austin city council adopted the
Imagine Austin Comprehensive Plan
to help guide Austin's future development. Eight priority programs were adopted to achieve a collective goal over the next 30 years. The
Revised Land Development Code
quickly became the most contentious with opponents and proponents diving into research databases to lobby for their respective positions. While many Austinites have now begun familiarizing themselves with the history of the city, there has been less discussion on how the preservation and prioritization of stories informs future plans. Preservation efforts are often responsive rather than proactive. Many smaller debates of Austin historicity, such as why does Austin have a city manager style government, how was the 1928 plan created, and in what ways did I-35 shape the city, have also reentered the public consciousness. In 2019, I took screenshots from Google Streetview to archive Austin demolitions. As more civic leaders reevaluate history, I wanted to offer a roadmap of the strengths and limitations of public memory. Demolitions were located using
Austin's Open Data Portal
, which provides a map of all demolition permits approved by the city. Each address was entered into Google Street View to see if the building was demolished. Google Street View's timeline function allowed me to take images from multiple different years of the same street. I would pair these addresses with advertisements from Zillow and Realtor.com to show how the site value changed after demolition. Value could also be found on the
Travis Central Appraisal District (TCAD)
Website, and I archived many of the real estate advertisements in the Wayback Machine to prevent link rot. A completed record would hopefully include two photos of the site and two different real estate advertisements. I wanted to focus on facts such as square footage, price, and other figures to create neutrality in the records.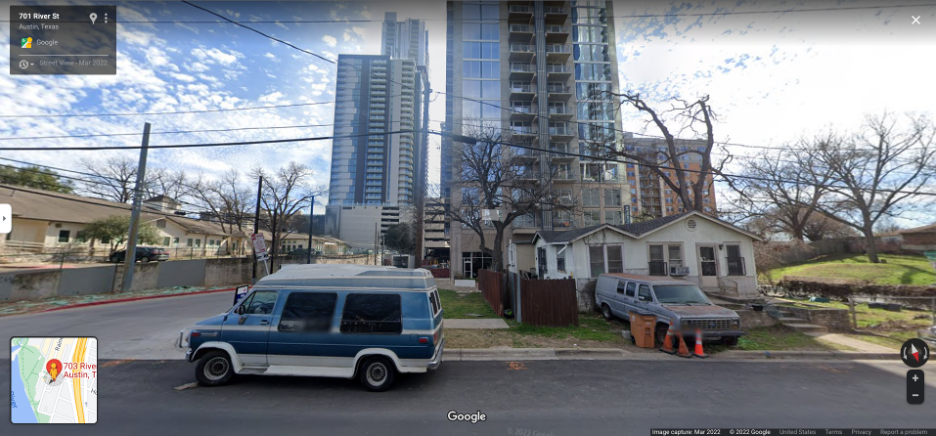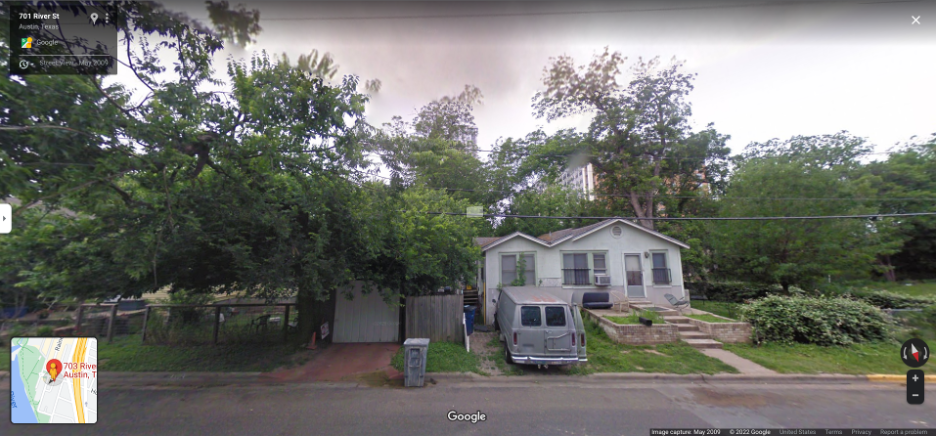 Because many neighborhood stories were separated into collections that distorted the narrative, I was unable to tell the full story. For example, Rainey Street is one of Austin's most gentrified neighborhoods, but the records could not fully contextualize changes to the street because the city began destroying the community in the 1960s with the creation of highway I-35. Some individuals presented primary source documents about Rainey Street to portray upzoning as a necessary evolution for Austin. James Rambin said in the 1981 documentary "Rainey Street" that "Rainey Street's proximity to downtown and Lady Bird Lake made the district extremely attractive for dense development — which many homeowners feared would destroy their slower way of life" in his blog post for Austin Towers Realty. In 1983, Sol Rojo Media Production documented Juárez Lincoln University's demolition in "We Will Always Be Here." Protestors were interviewed as a wrecking ball desecrated the building. They discussed concerns about "displacement," "being squeezed out," and their community being exploited. This documentary was shared on Facebook by local activist Paul Saldaña. These differing views demonstrated the small fraction of history I was preserving. I learned to find a wider range of materials to contextual the homes we have lost.