Physical, Virtual or Hybrid: Littman Library Exhibitions
AASL Column, September 2021
Lucy Campbell and Barbara Opar, column editors
Column by Dr. Maya Gervits, Director, Littman Architecture Library, New Jersey Institute of Technology
Over the last several decades, the number of architecture libraries involved in organizing exhibitions has steadily increased. Most promote their respective holdings: books, periodicals, graphic materials, and archival documents. However, as libraries' role in Academia is changing rapidly, so are the activities in which they are involved. In addition to displaying collection highlights, libraries are increasingly focused on presenting the creative work of their academic communities.  A recent (2019) AASL survey found that 66% of architecture libraries "offer space or assistance to showcase students' work."  Exhibition design and installation as teamwork promotes collaboration between students, faculty, and librarians, and helps students explore new ideas, develop creativity, gain curatorial experience, and learn from each other. In addition, exhibits provide educational opportunities outside the classroom, promote research, and serve as marketing tools.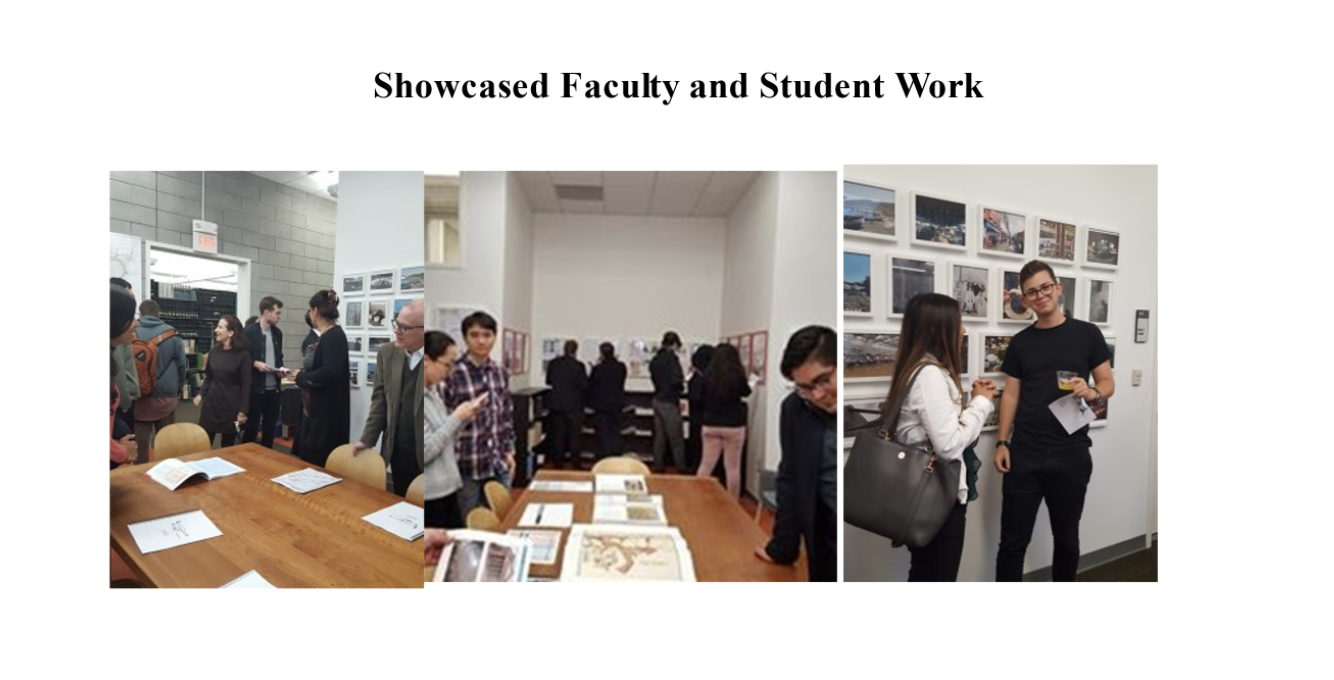 Over the last several years, New Jersey Institute of Technology Littman Library at the Hillier College of Architecture and Design has hosted numerous displays featuring creative work in the context of library collections. These well-attended exhibitions of varying content and scale support individual courses, various programs or research focused on multiple topics. They support individual courses, various programs, or research focused on multiple topics. For example, "Architects Travel" presented materials that demonstrate how architects record their visual experiences through photographs, sketches, or watercolors. "Solar Decathlon" illustrated work accomplished by a group of architecture students during their summer 2018 program in China. "Women in Architecture and Design" was organized in tandem with the colloquium prepared in coordination with the New Jersey chapter of the American Institute of Architects. Another exhibit documented three years of traveling by Master of Infrastructure Program studios. Displays are typically arranged in a space outfitted with the rail picture hanging system, stand-alone and fixed on walls computer monitors, a 10 foot table with chairs, and low U-shape shelves. The cost of such exhibitions is relatively low as a glass vitrine for small objects and the frames for photos and graphic works are being reused, posters mounted on boards, books exhibited on a table and shelves, while monitors are used for born-digital materials. Large-scale shows usually remain on-view for 2-3 months, while smaller displays of materials from the library collections rotate more often. All exhibits are available for the public during regular library open hours.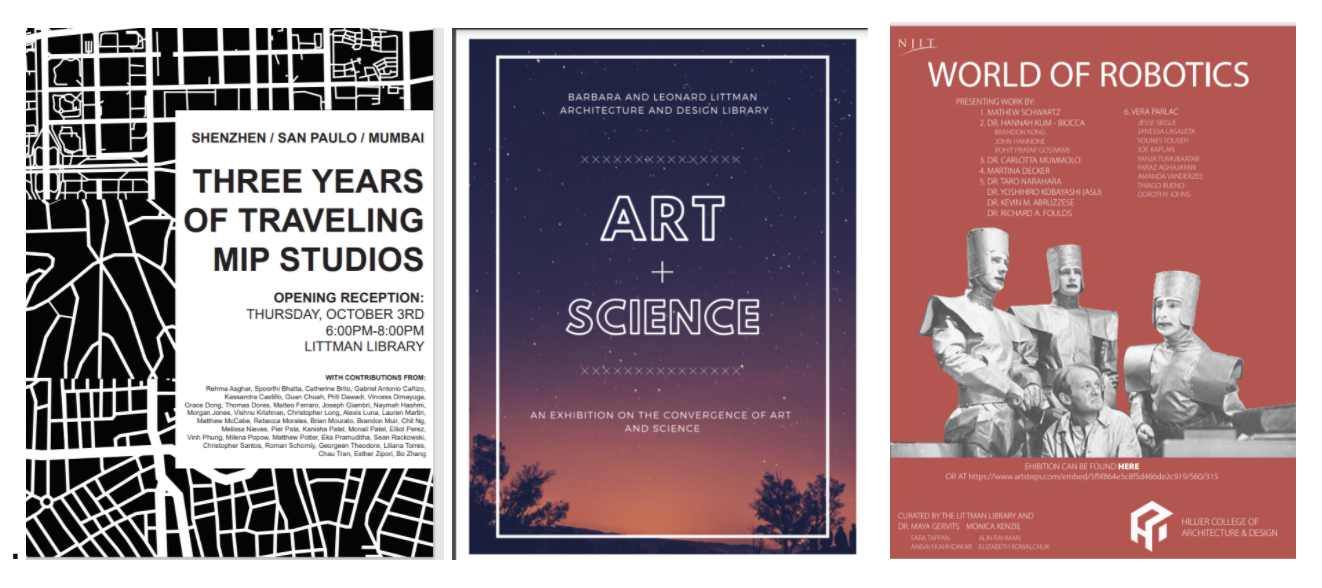 In response to a growing interest in crossing the boundaries between disciplines and promoting the value of cross-campus collaboration within a polytechnic University we held the "Art+Science" exhibit. It presented the work of faculty and students from various departments and was focused on the complex and symbiotic relationships between these two branches of knowledge fundamentally engaged in the perception and understanding of the surrounding world. Another display "The World of Robotics" was conceived to explore further the various aspects of such cooperation by presenting the work of faculty and students in architecture, digital design, biomedical engineering, computer science, and biology. Traditionally robotics is associated with engineering and sciences. However, architects, artists, and designers have demonstrated the implementation of robotics and proven the many advantages of multidisciplinary collaboration. Examples include innovative materials that can grow in symbiosis with the environment, robotic 3D printers that can create sophisticated and unique shapes, and smart homes that serve as partners for their human occupants.
The exhibition was on the verge of opening when COVID-19 struck. When all  classes shifted to remote, the library decided to modify the display, turning it into an online exhibit. Numerous software tools make it possible to design and maintain digital collections and exhibits. The Littman Library already used the OMEKA platform to create and host several such displays, including 

"Newark Architectural Treasures," "Mental health in turn of the century Essex county " and "Newark Streets Through Time."
However, for the "World of Robotics," we wanted to create a display that replicates (emulates) the experience of visiting a physical gallery. Several online platforms that allow for viewing and creating virtual exhibitions were explored. Artsteps seemed especially appropriate for presenting born digital materials. It supports both two- and three-dimensional art, video recordings, audio files, textual materials, and animation. It allows for choosing various types of gallery space, selecting colors, changing the layout, adding contextual information, and incorporating animated avatars.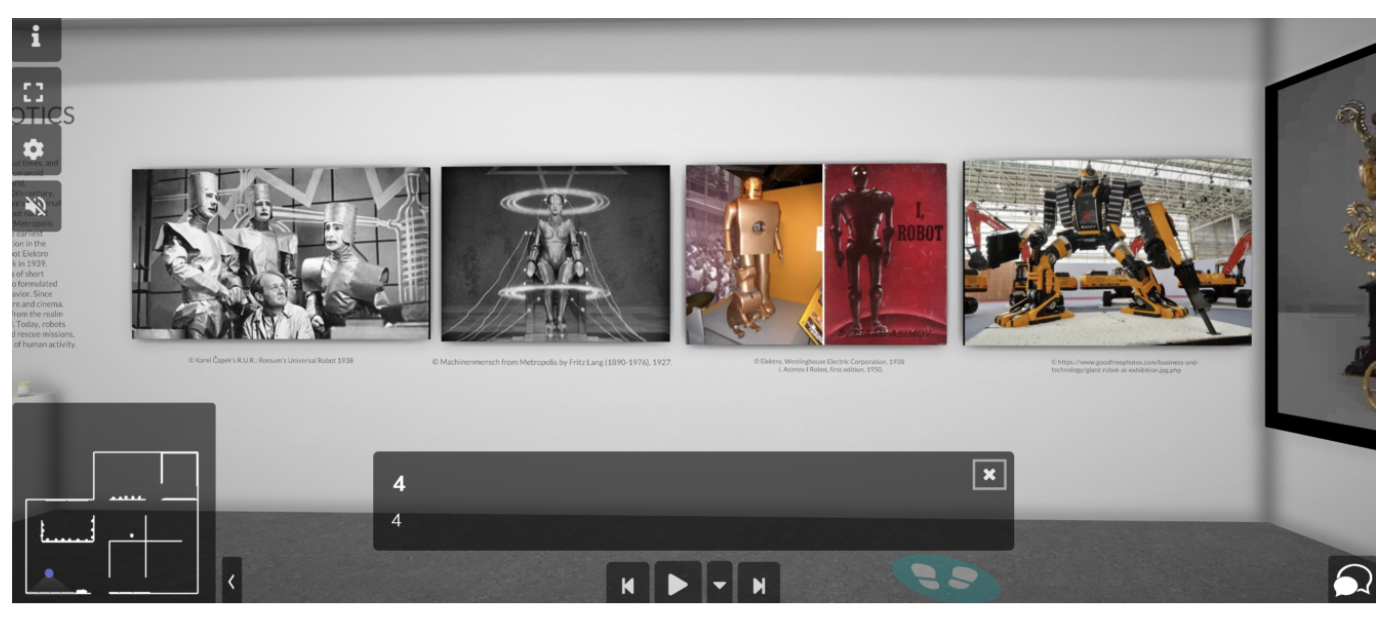 The display opens with a brief introduction to the history of robots, starting with mechanical automata. It features both historical and contemporary applications of robotics illustrated by the work of NJIT faculty and students. Among them are projects demonstrating the manipulation of the thermal transmission through façade systems and introducing a change in surface morphology to manipulate sound propagation in indoor environments (Decker). An interactive virtual sculpture, which is aware of viewers' facial expressions and attempts to understand and mimic emotions, is another work on the display (Kum-Biocca), along with the full-size humanoid robot (Schwartz).

Projects that discuss the use of interactive kinetic prototyping and digital fabrication for solving spatial problems are illustrated by a series of still images, video recordings, and animations (Narahara). 

Several of the presented projects focus on soft kinetic components that affect larger structures in which they are incorporated, adaptive and responsive architecture, and new materials that produce dynamic material systems (Parlac).

Although virtual exhibitions cannot substitute the experience of standing in front of a work of art, they still offer a certain level of flexibility and control of the display organization. They provide interactivity, allowing viewers to choose between a guided tour and free navigation. Remote access for viewers that otherwise would not be able to visit the show is especially valuable. To increase exposure, the exhibition was embedded in the library website and featured on social media. In just the first month since launching, "The World of Robotics" was virtually visited 580 times.
As we firmly believe that physical galleries are far from becoming obsolete, we decided to open the "World of Robotics" on-site and incorporate the Artstep virtual exhibit as a part of the physical display. During the pandemic, we learned that we do not have to choose between physical and virtual worlds but can rather embrace the advantages of both by creating hybrid environments. We are planning the opening reception that will bring students, faculty, library staff, and community members together to celebrate true cooperation and the library as a place to collaborate, explore, learn, and get inspired.
Madlyn Creef
Membership and Marketing Coordinator
202-785-2324
mcreef@acsa-arch.org