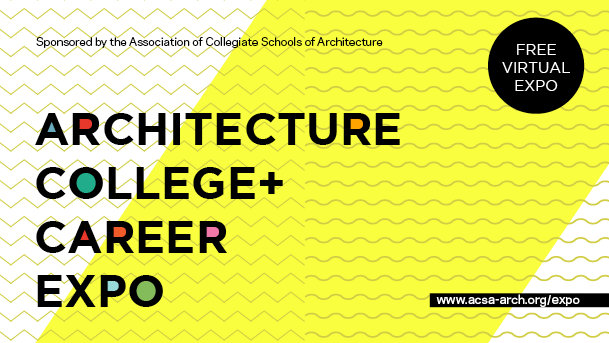 Considering a degree in architecture or a related field? Looking for a professional degree, post professional degree, or want to learn the difference? Check out our Virtual ACSA Architecture College & Career Expo to learn about beginning or continuing your architectural career.
discover how to select a program by viewing one of our four webinar sessions
learn more about admissions requirements
live chat with school reps in our virtual exhibit hall
free portfolio reviews
WEBINAR SESSIONS
Creativity in Architecture
Selecting a Graduate Program
Studying Architecture Onsite and Online
Integrated Path to Architecture Licensure
*All webinars are available on demand within the virtual expo environment.
FREE PORTFOLIO REVIEWS
Interested in having your portfolio reviewed during the expo? Portfolio reviews will take place during the live day of the Virtual College and Career Expo in between the hours of 1-5pm ET. To have your portfolio reviewed navigate to the "portfolio review" section of the virtual college and career expo and click on where it says, "Click here to submit a portfolio". When sending a portfolio please be sure to include your full name, email address, and whether you are an undergraduate or graduate students. Portfolios should be attached to the message as a PDF. Reviewers will respond to your message during the live day.
Creating the perfect portfolio for an architecture college application requires demonstrating creativity through numerous media. Believe or not, your portfolio does not have to be architecture-specific. Any way you can demonstrate creativity — whether through art, video or even fiction writing — is worth including in an impressive architecture college portfolio.
STUDENT REGISTRATION
Registration for the expo is free!
VISIT THE VIRTUAL EXPO NOW
Couldn't make it to the live event? You can still visit the Virtual College & Career Expo today! Since the live date has passed the portfolio reviews, live chat and Q&A features are no longer available but you can still visit with all of the school's below and view the three webinars on selecting an undergraduate program, selecting a graduate program and innovations in architectural practice. Click the "Register now" button to enter the expo. Already registered but want to log back in? Click Here
Sponsored By: