2020 COTE Top Ten Winners
Winner: Matriochkas
Marie-Hélène Cliché, Michael Comtois, & Étienne Vigneau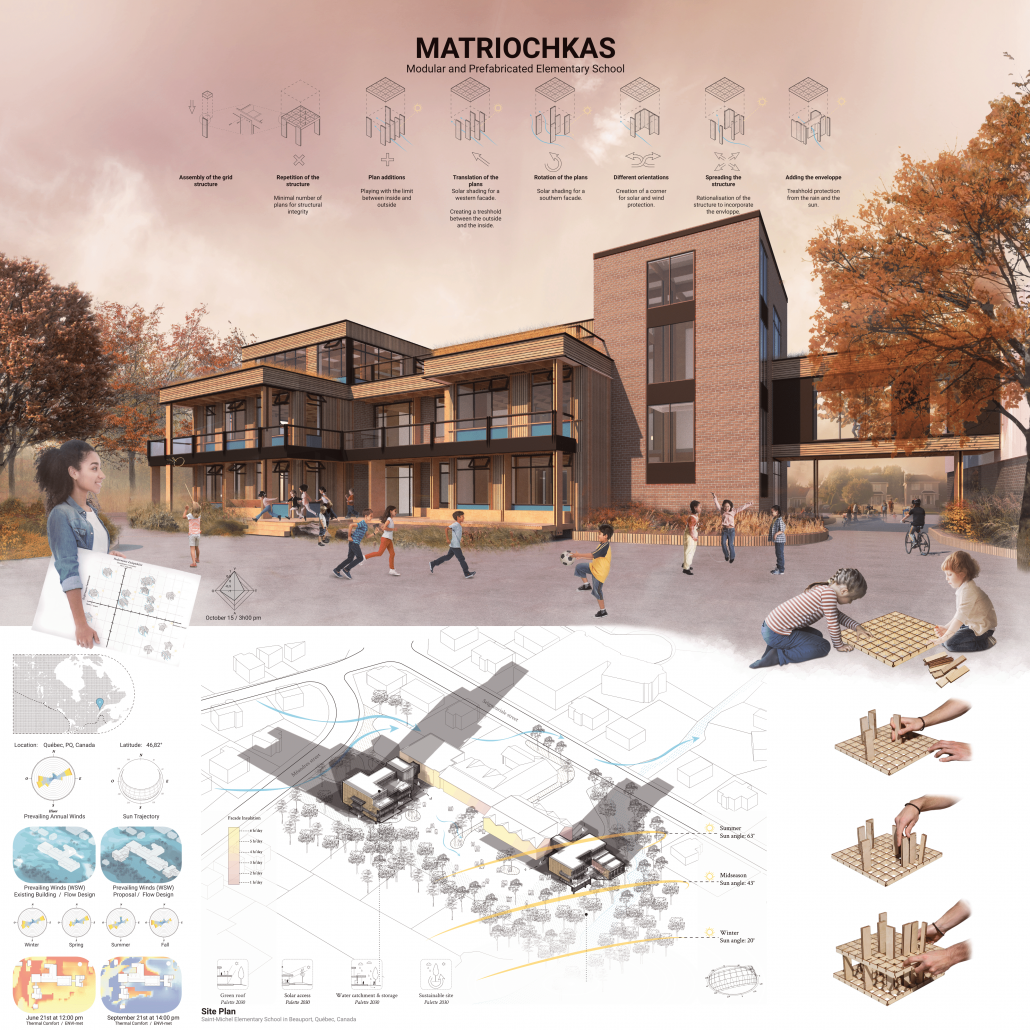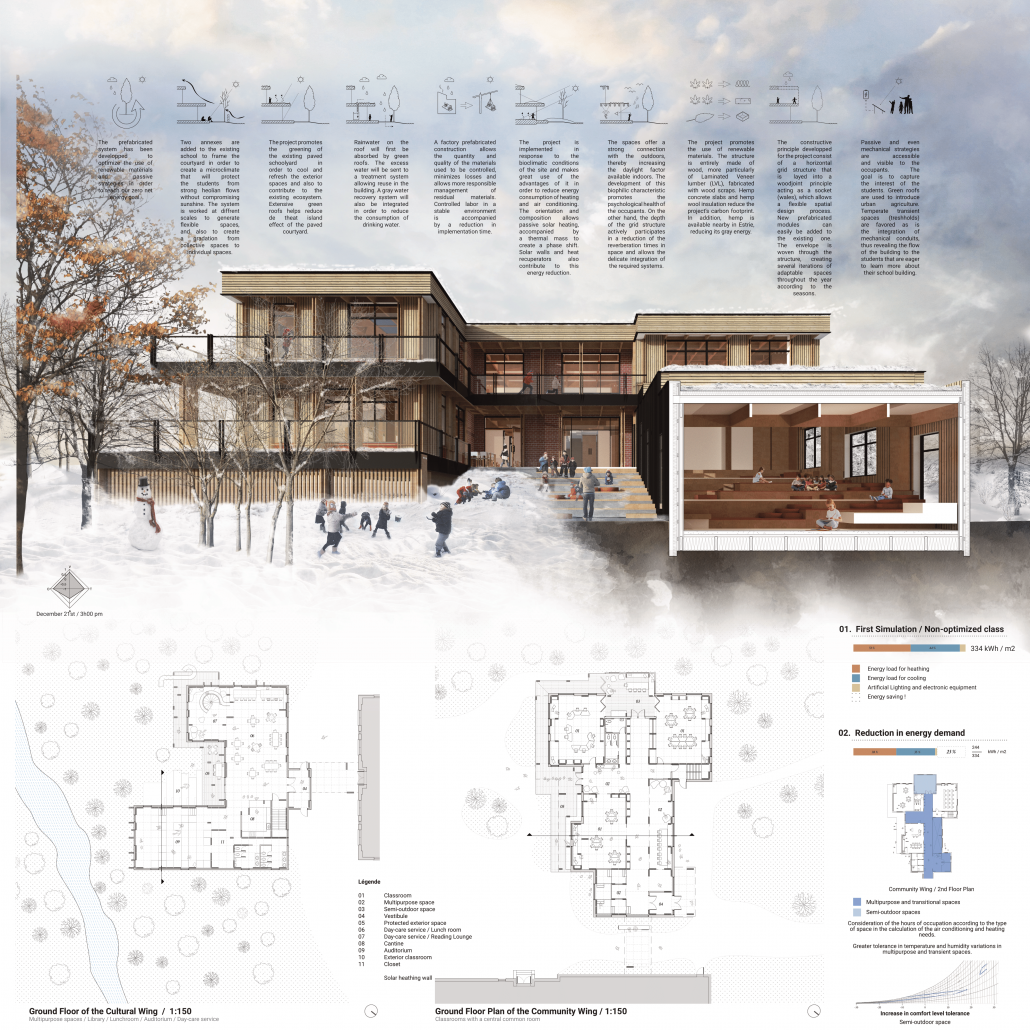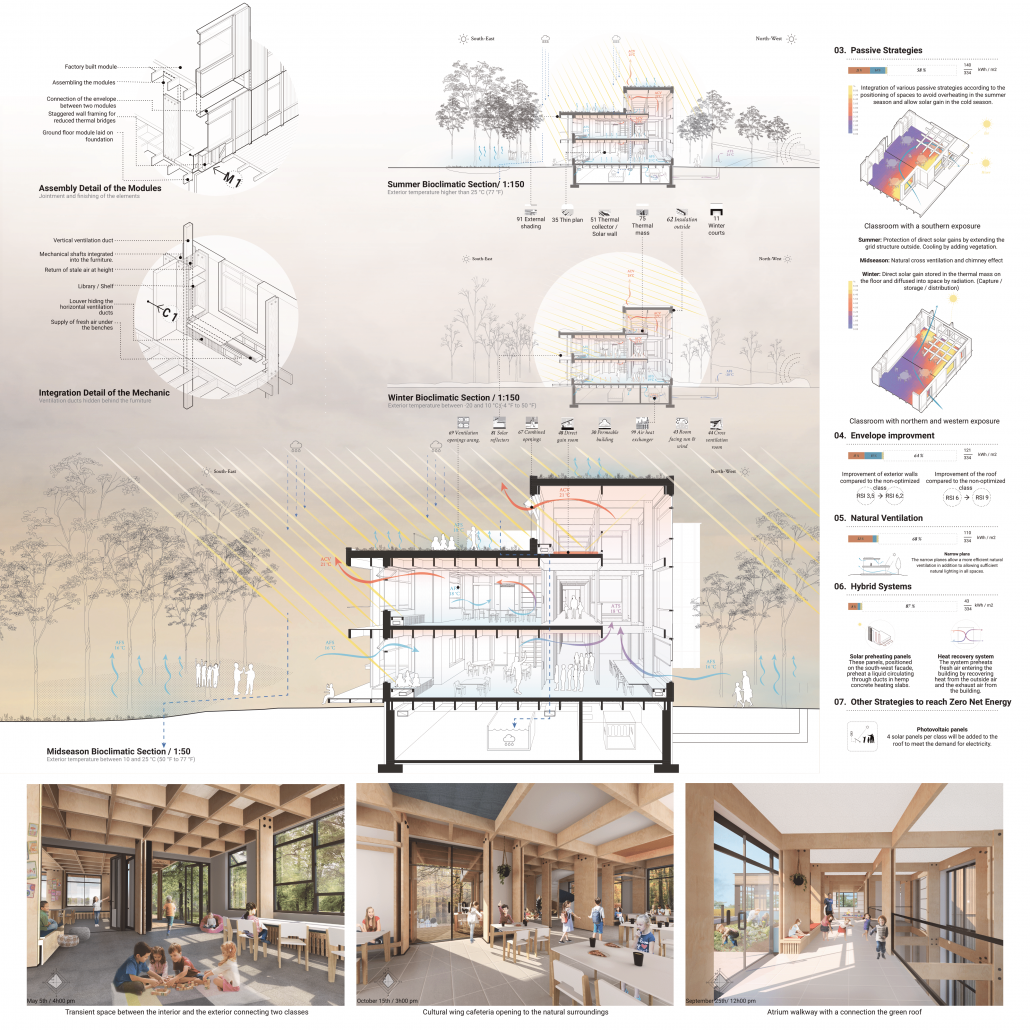 Students: Marie-Hélène Cliché, Michael Comtois, & Étienne Vigneau
Faculty: Claude Demers & André Potvin
School: Université Laval
Matriochka conveys a compelling design for children and learning using a prefabricated construction technology with a clear sustainable approach. The projects convincing structure opens the outdoors, physically, creating a positive learning environment. The students presented their designs with clear graphics and reveals the projects innovation and environmental methods in great detail.
The purpose of the project was to develop a prefabrication process that could be adapted to any existing school. The system developed is versatile and allows the development of spaces adapted to different sites. To test that system, we analyzed a particular site and an existing school. Then, we created two annexes on both sides of the existing school. The position of these two new annexes was determined by solar, thermal and wind analyses and they contributed to improve the courtyard's micro-climate. The first annex (community wing) is located near the street on the southwest side of the school. This wing contains classrooms and multi-purpose spaces that can be used by the entire community outside of class hours. The classrooms have a strong connection with the outdoor environment and semi-outdoor spaces have been designed to offer a comfortable environment changing according to the seasons.
The second annex (cultural wing) is located in a wooded part of the site to the south of the school. This wing is situated in a quieter environment and thus contains relaxation and recreation spaces for children. On the first floor, there is a daycare service that becomes a dining room during meal hours. There is also a lounge area and an indoor/outdoor auditorium to offer different learning environments. On the second floor, there is a library and an arts classroom, both connected to the outdoor environment by a gallery.