2018-2019 COTE Top Ten Winners
Winner: Healing Habitats | Innovation Center for Disease and Water Management
Catherine Earley, Elena Koepp, & Sabrina Ortiz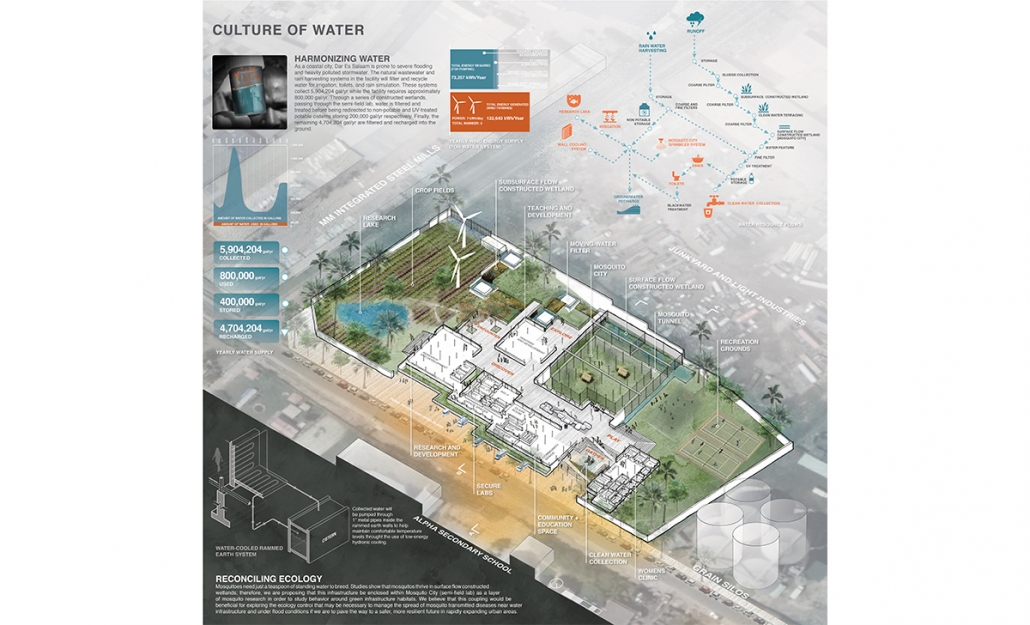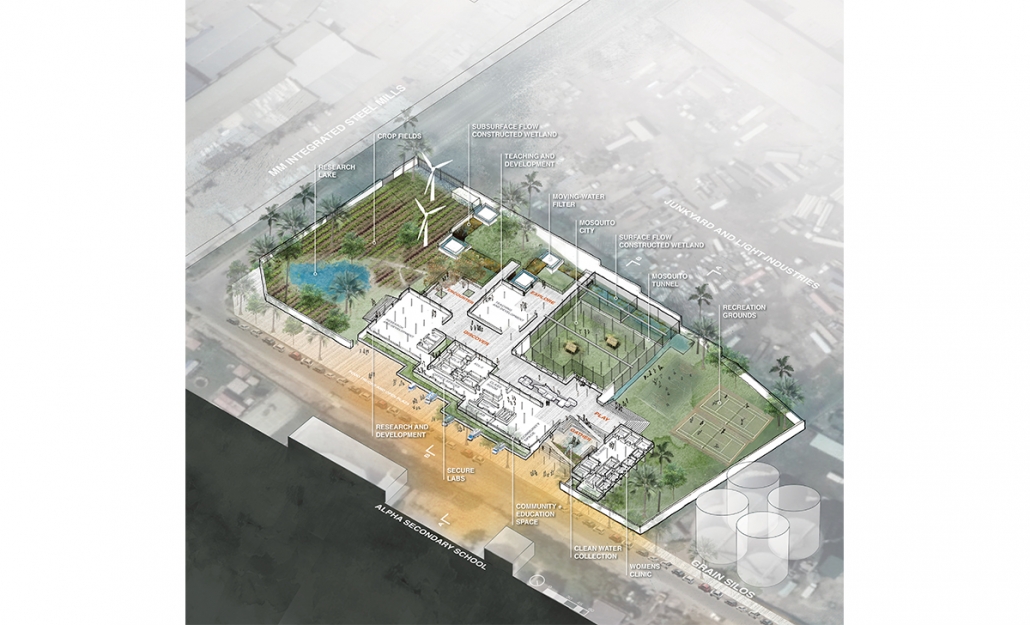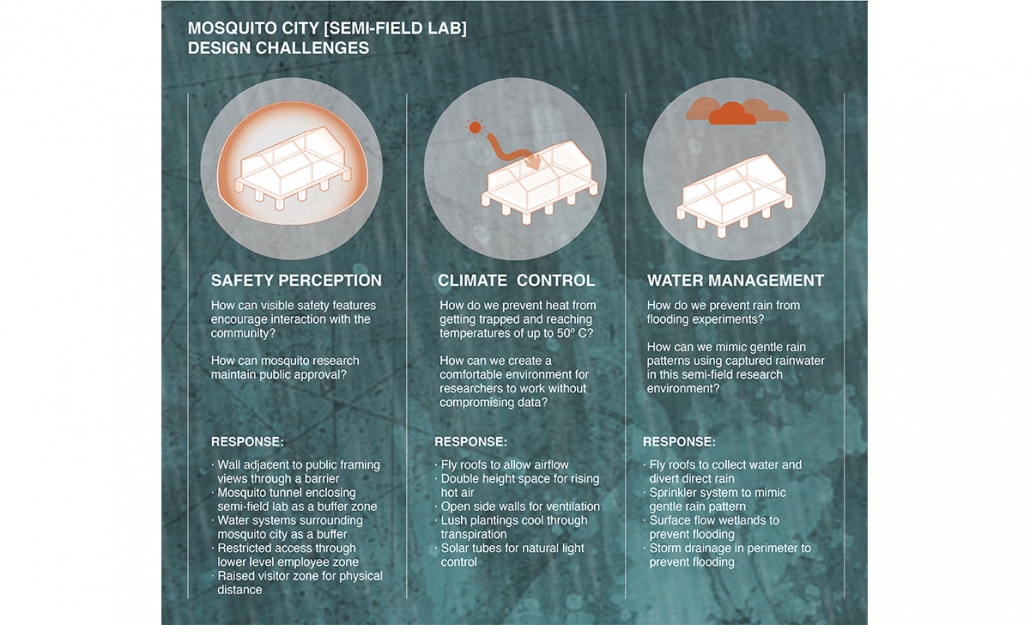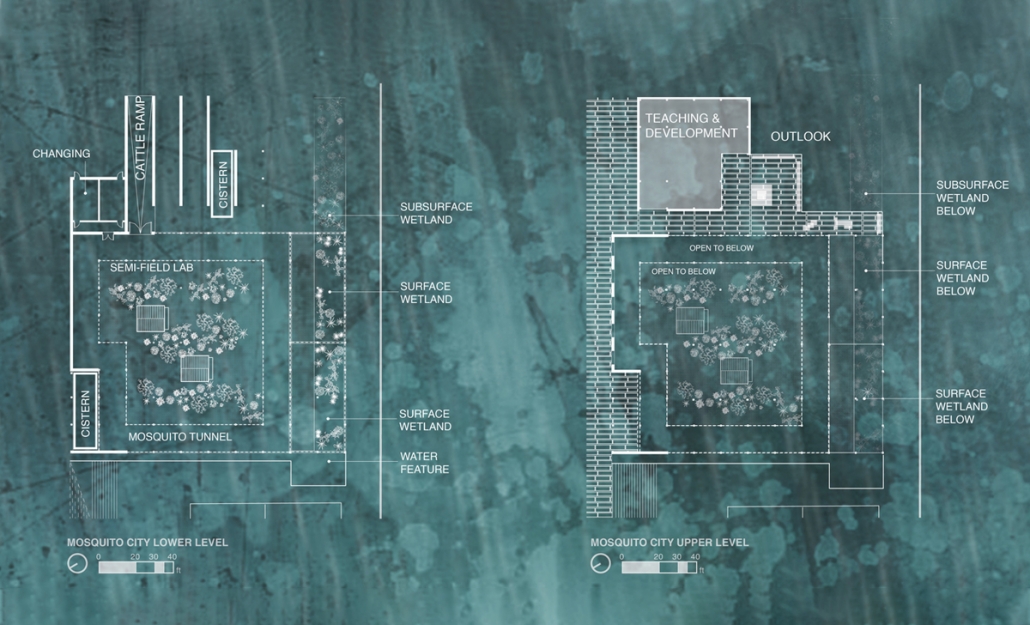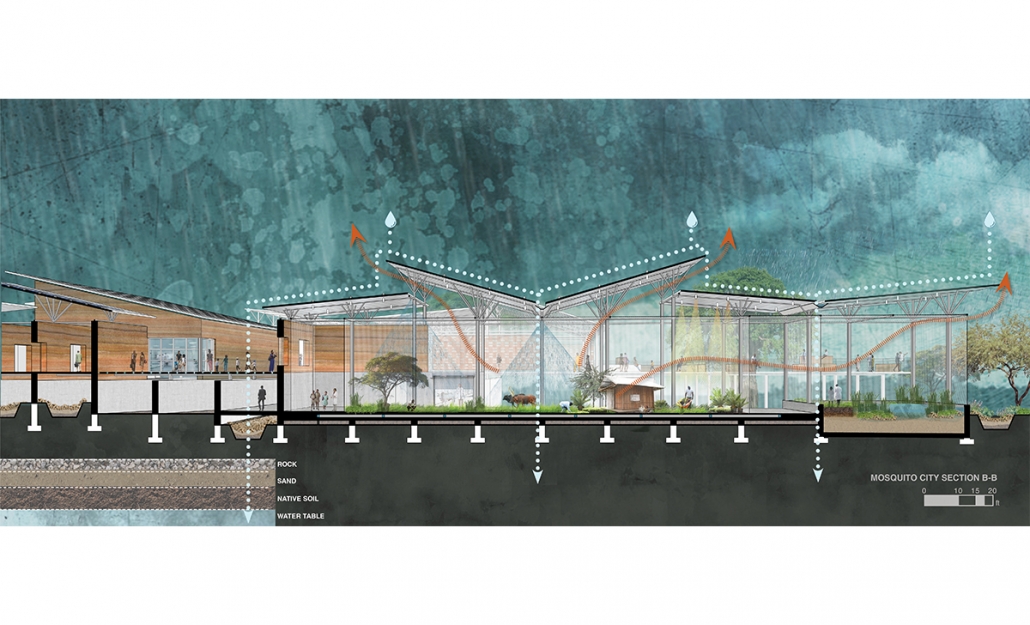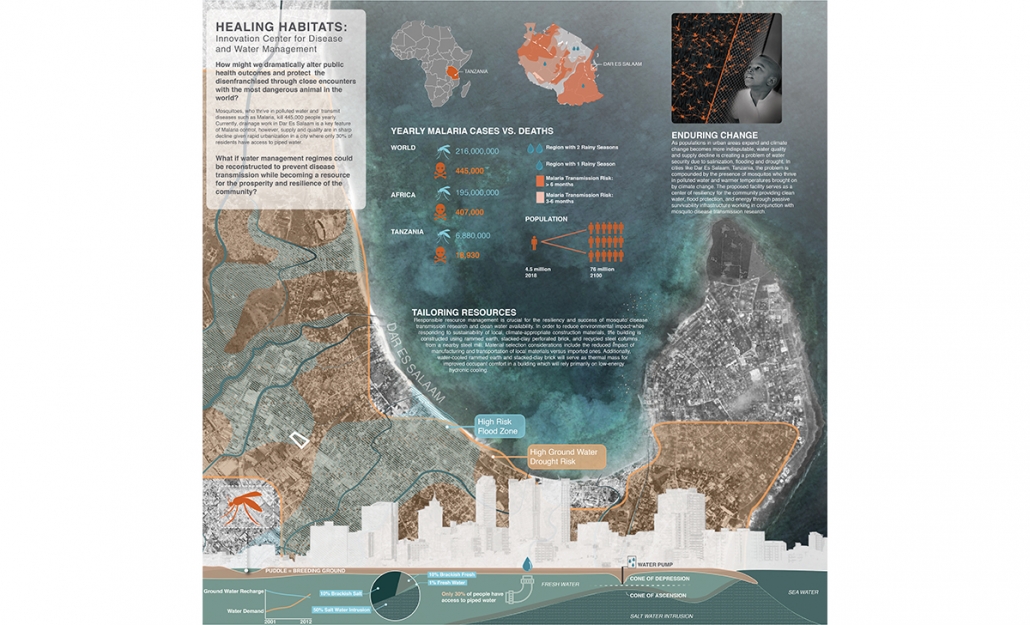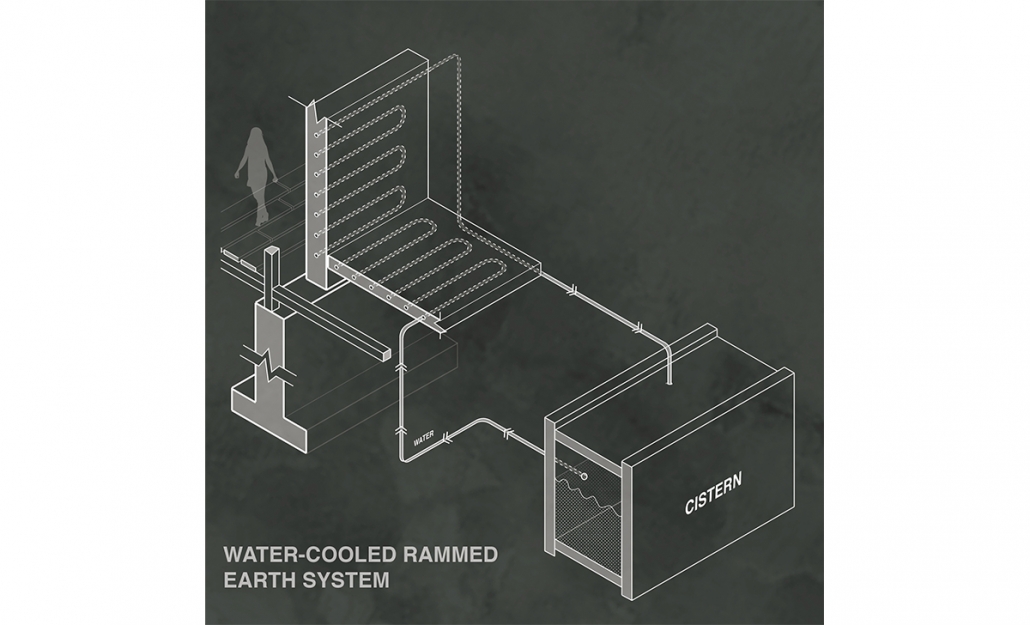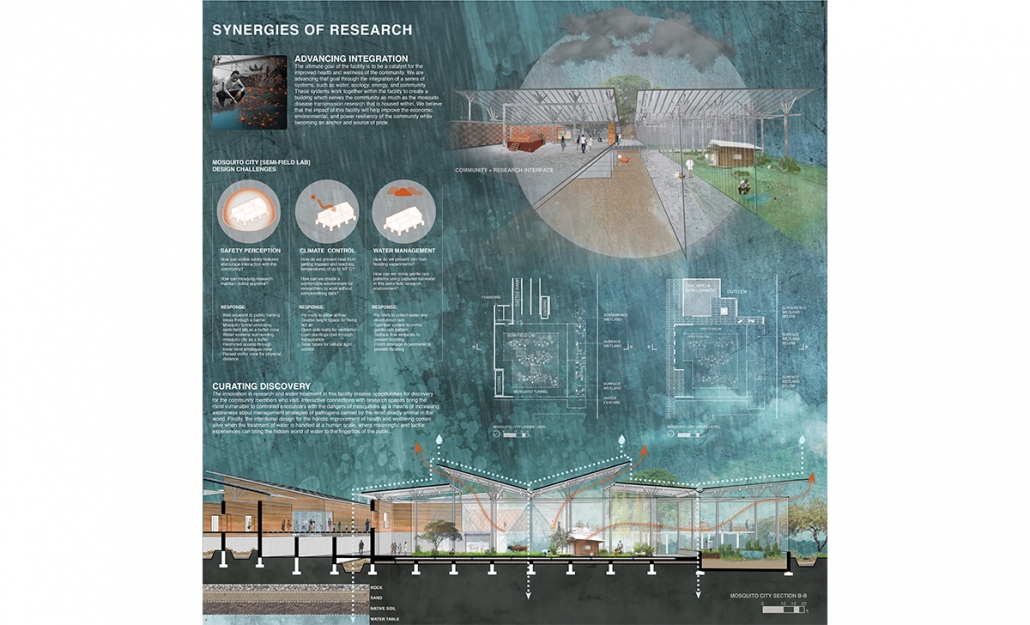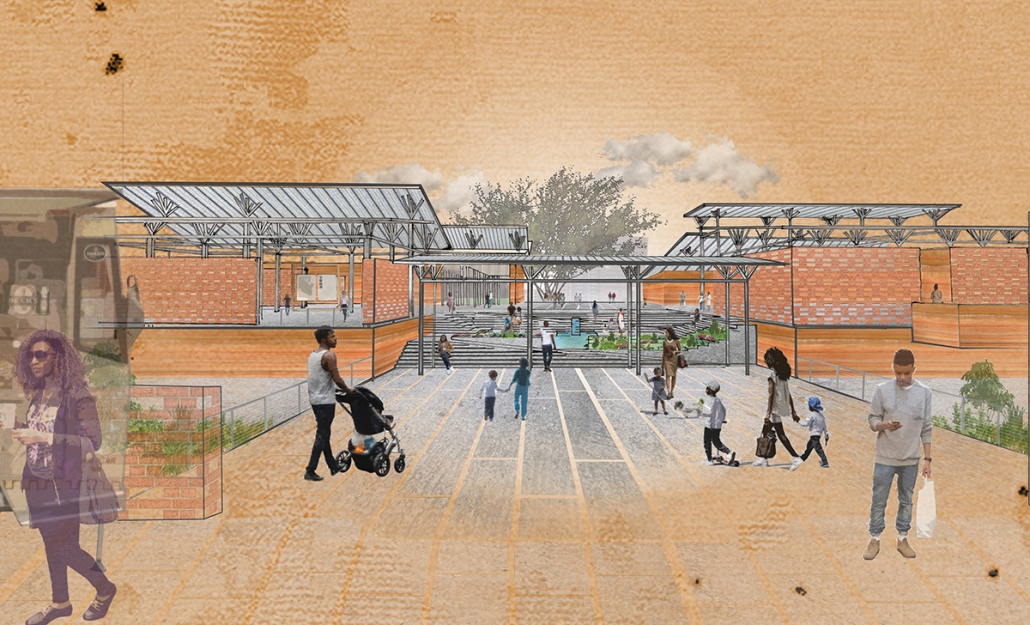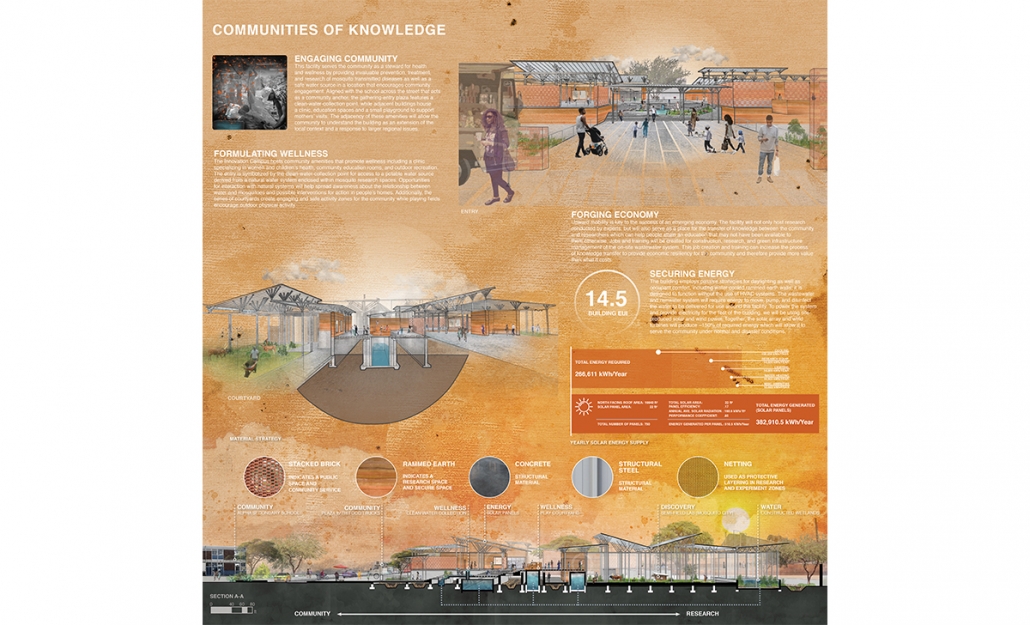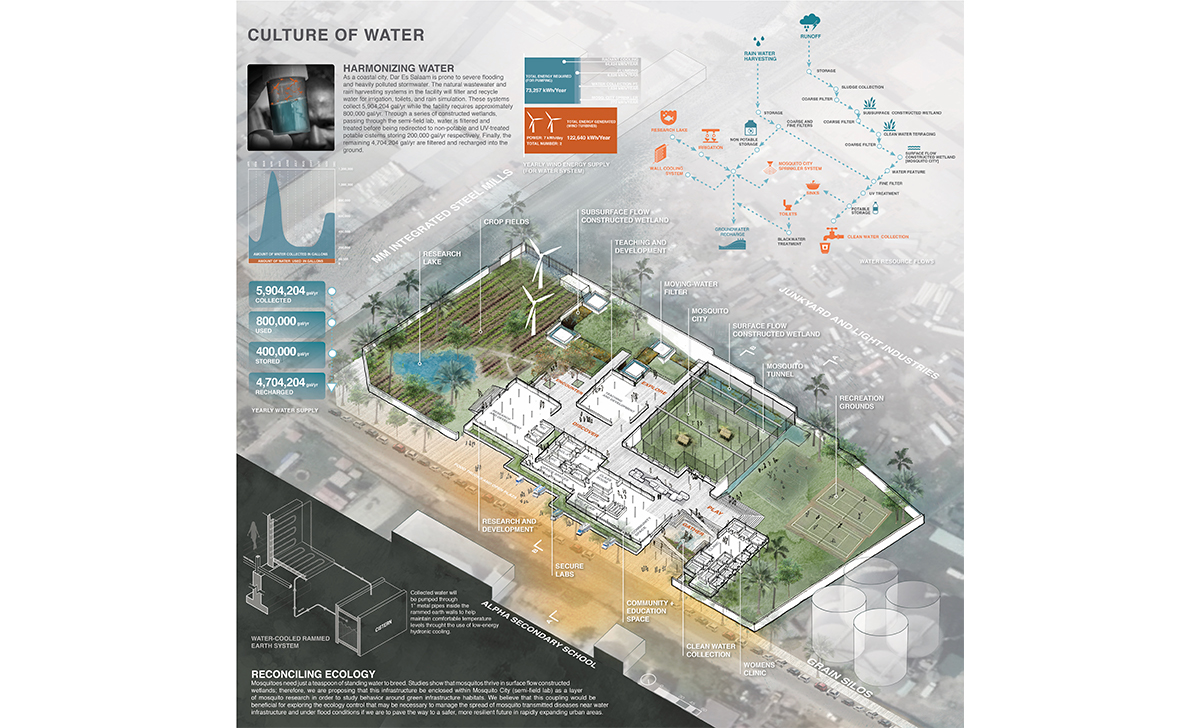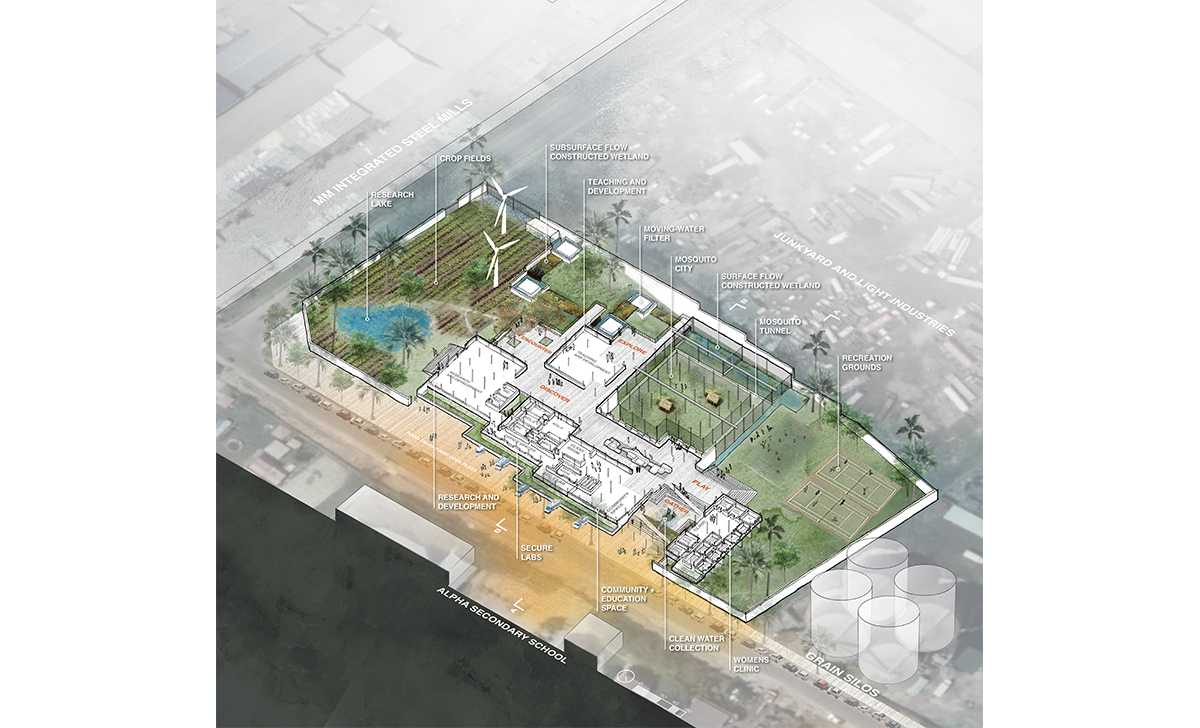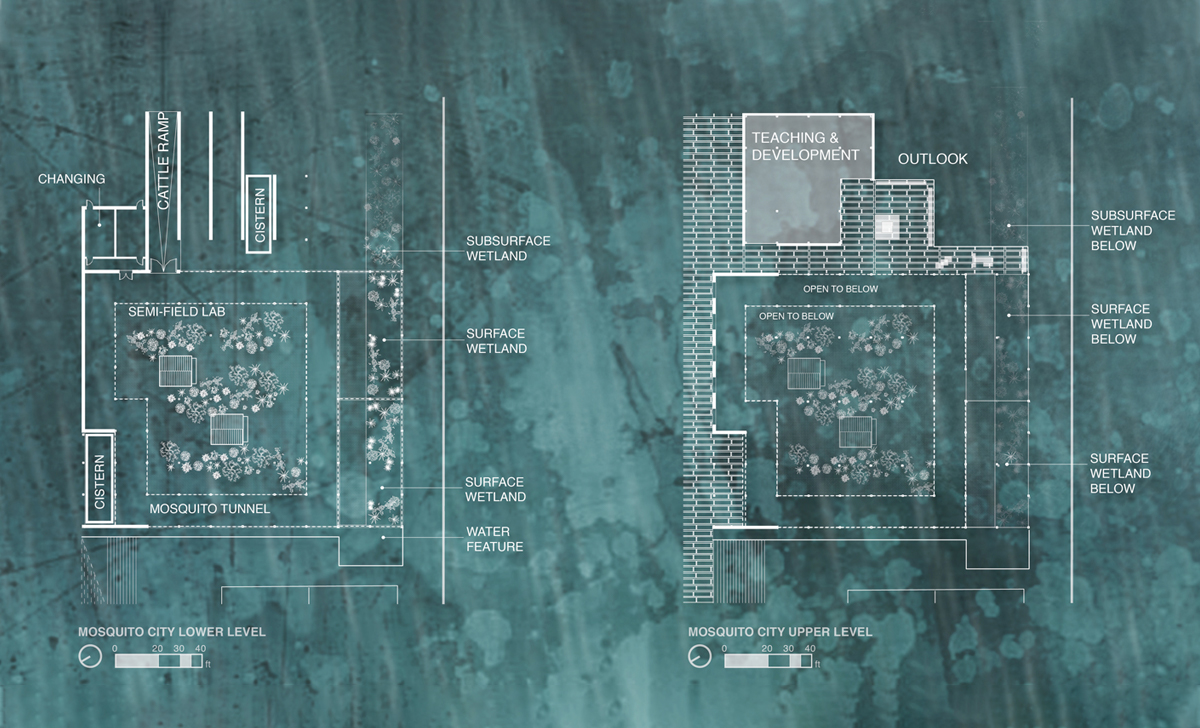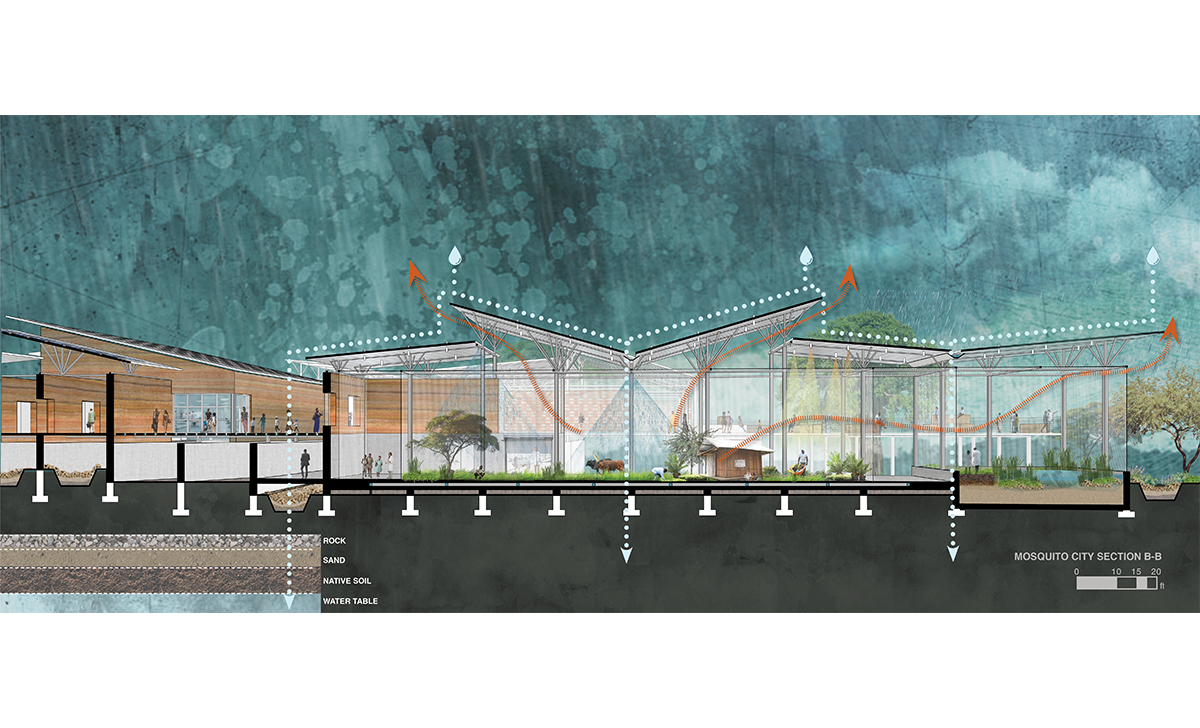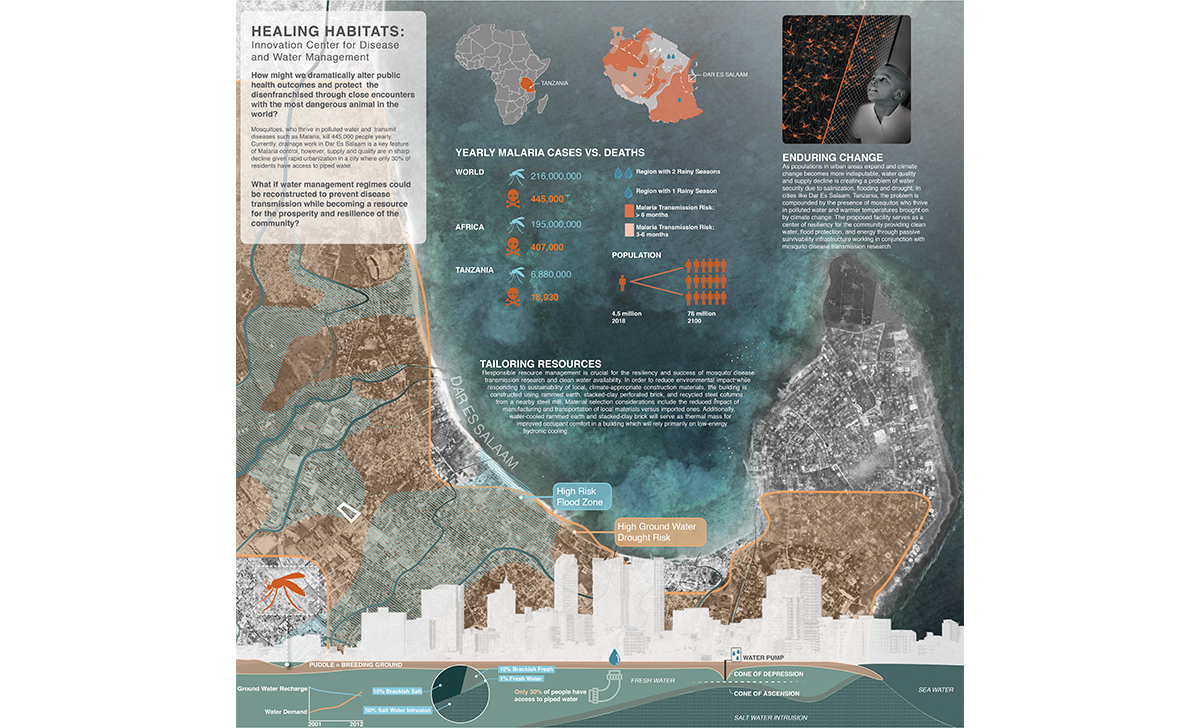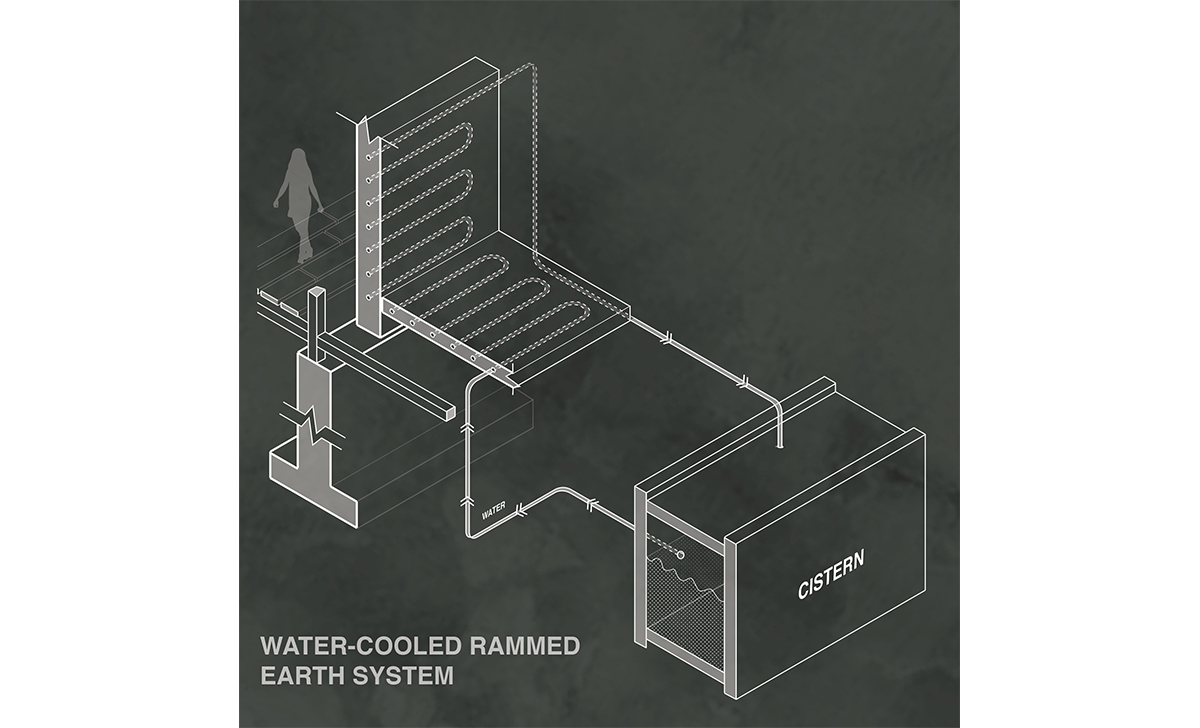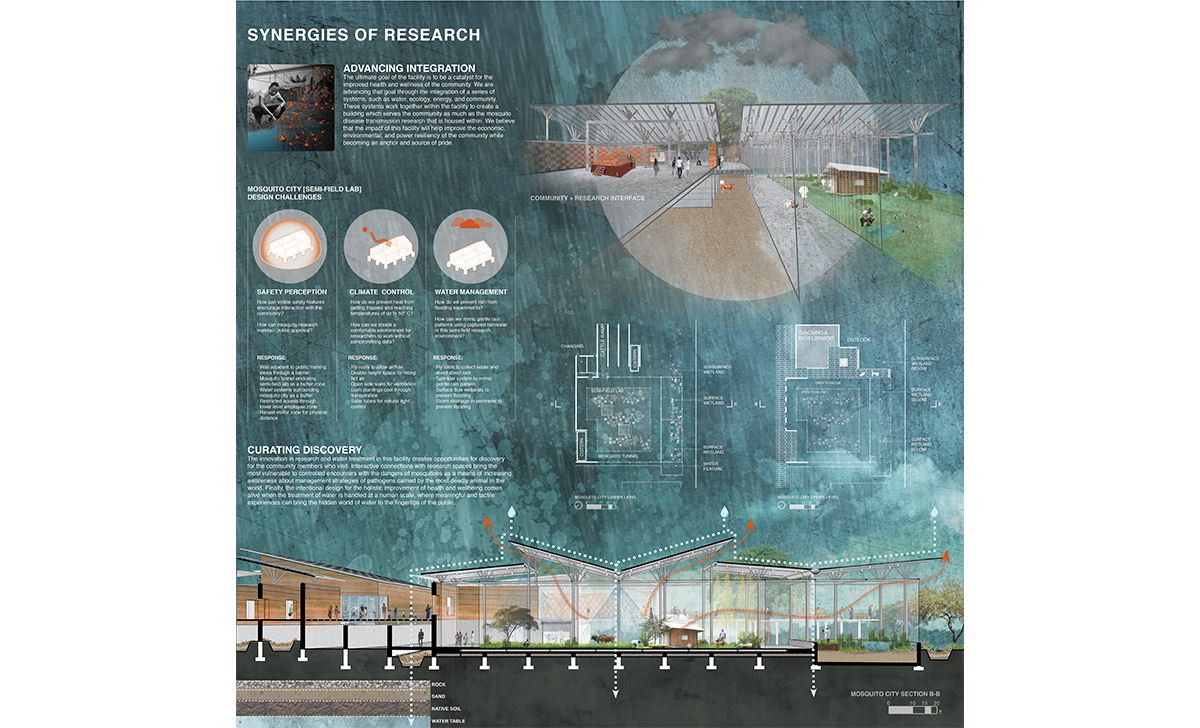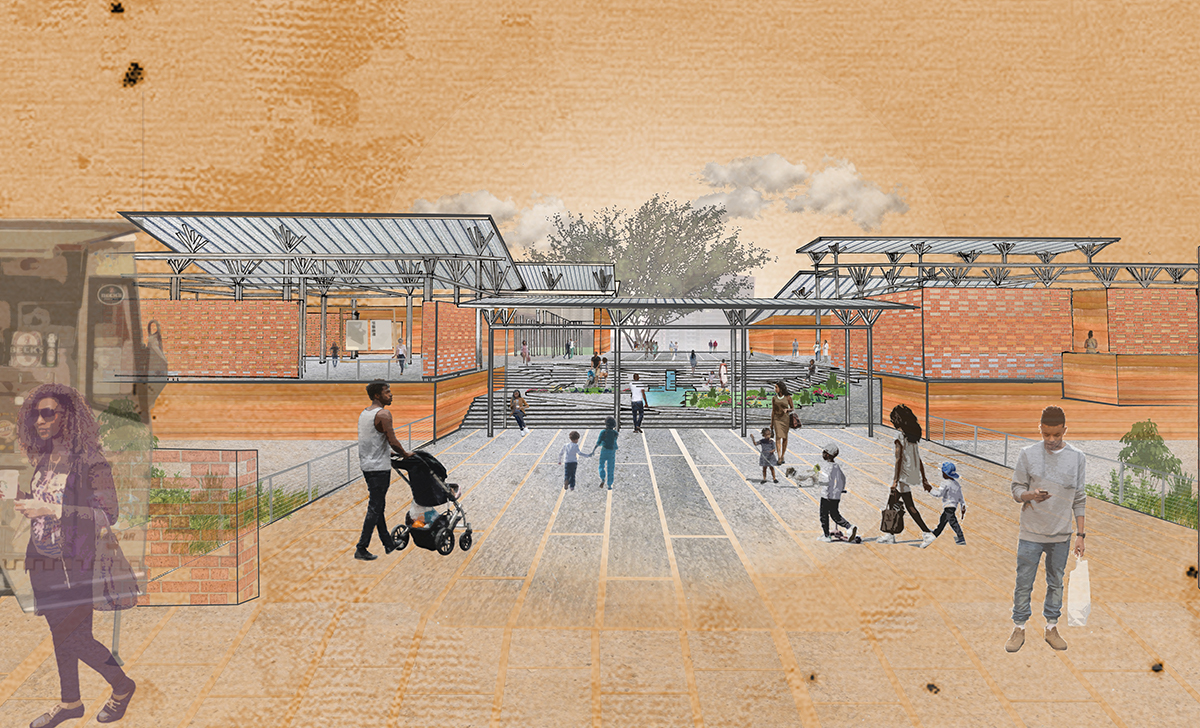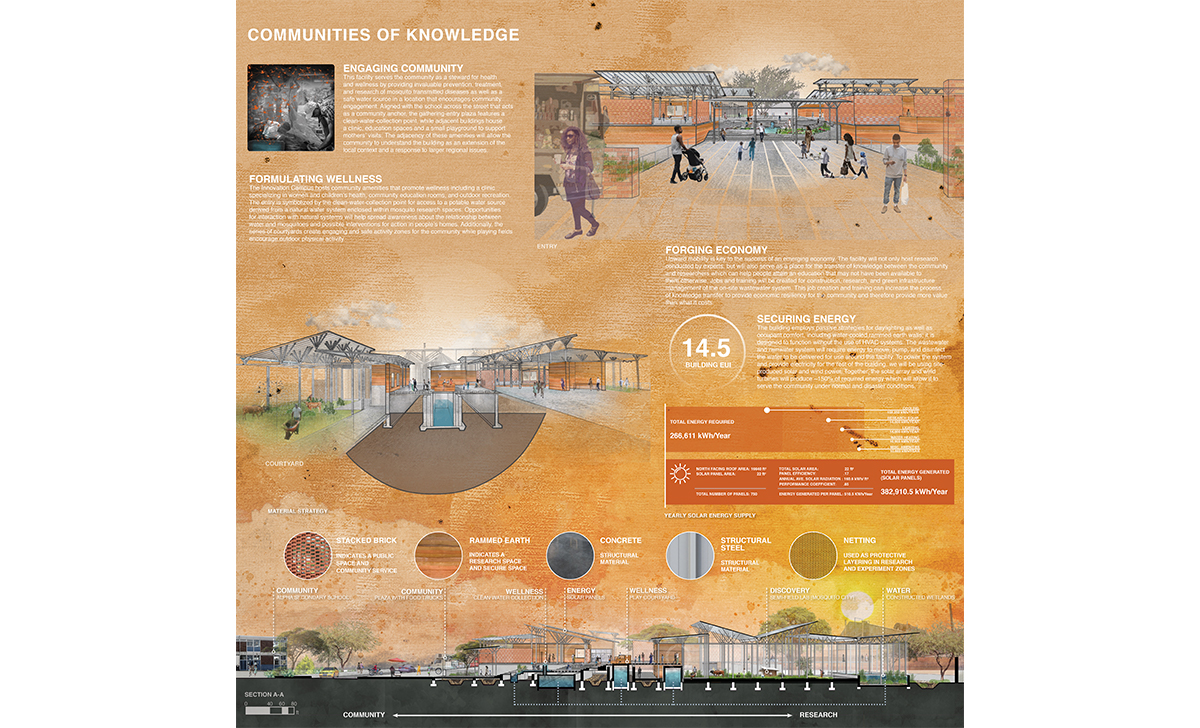 Healing Habitats | Innovation Center for Disease and Water Management
Students: Catherine Earley, Elena Koepp, & Sabrina Ortiz | University of Oregon
Faculty: Brook Muller | University of Oregon
Healing Habitats proposes a method of wellness where architecture directly engages public health. The design is a great example of how low-tech architecture plays a significant role in sustainability. Comprehensive research in this design incorporates current needs facing the site, such as community and ecology, as well as projective concerns of flooding, drought, water and wastewater.
Healing Habitats: Innovation Center for Disease and Water Management is an 80,000 sq foot mosquito research facility located in Dar Es Salaam, Tanzania. Dar es Salaam sits in a tropical climate zone on the coast of Tanzania. The temperature is consistently hot year-round, with the highs around 84/86°F and the lows around 64°F, and the city hosts 2 rainy seasons per year for a total of 6 months.
Mosquitoes, who thrive in polluted water and transmit diseases such as Malaria, kill 445,000 people yearly. Currently, drainage work in Dar Es Salaam is a key feature of Malaria control, however, supply and quality are in sharp decline given rapid urbanization in a city where only 30% of residents have access to piped water. With climate change increasing seasonal flooding and ground-water drought conditions that support the spread of mosquito transmitted diseases, our facility seeks to employ a holistic approach to health by addressing the urban conditions affected by these climatic and infrastructural circumstances. This project is an exploration of how water management regimes could be reconstructed to prevent disease transmission while becoming a resource for the prosperity and resilience of the community.
The design of the facility integrates community and ecological infrastructure by overlapping programmatic research elements with the expression of environmental systems and interactions to maximize its social and educational potential. Facilitating a transfer of knowledge between the non-academic and research communities within this facility allows us to recognize that social communication is one of the core strategies to build community resilience and adapt our built environment to a changing climate.
The facility is elevated for security purposes and to double as a resilience center during flood and drought conditions. In addition to research spaces, it includes an open flexible plaza for gathering and food trucks; a clean water gathering point for daily and disaster use; soccer fields and tennis courts for active recreation; women's and children's clinic and primary care; community and education rooms to support job training; and an on-site wastewater treatment system that manages and meets the facility's needs through the surplus of water from the rainy seasons. The research facility is organized around the path of water through the site, which allowed us to transform captured runoff and rainwater into a key resource for mosquito habitat research, thermal comfort, sanitation, crop-irrigation, and accessible potable water supply. Furthermore, the use of wind and solar energy enhances these water systems by providing the necessary power to be a self-sustaining facility.
Finally, the thoughtful integration of resilient water, research, and social systems within this mosquito research facility develop the healing habitats that are necessary for the prosperity of the community and environment it serves today and beyond.