Honorable Mention: THE LAST WALL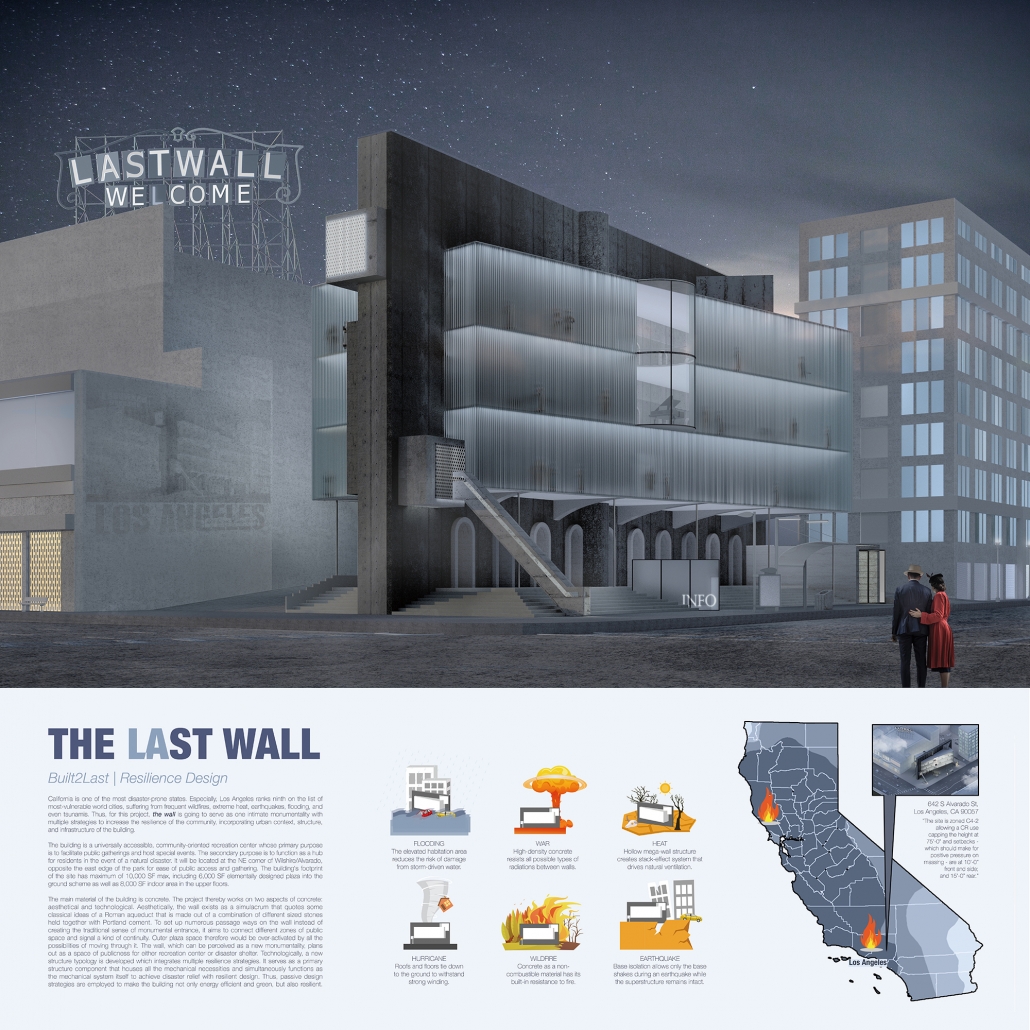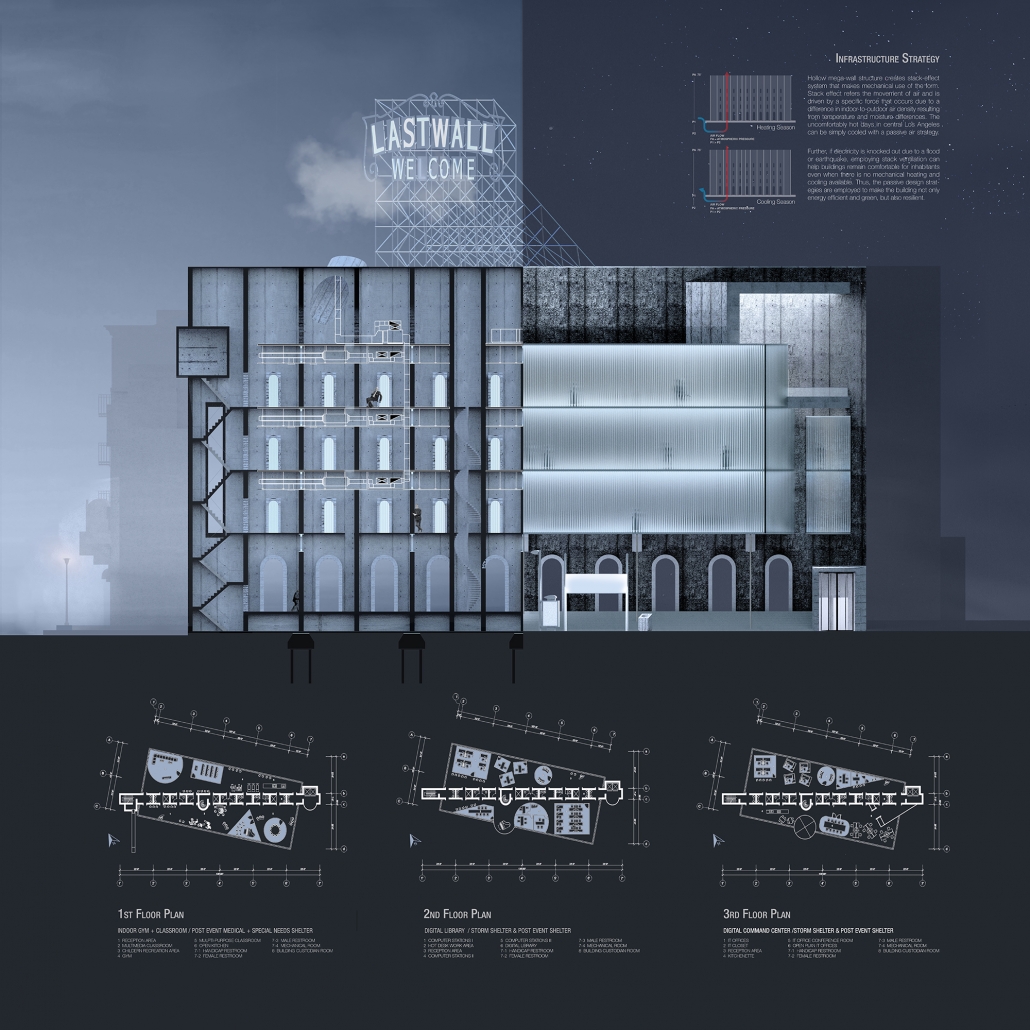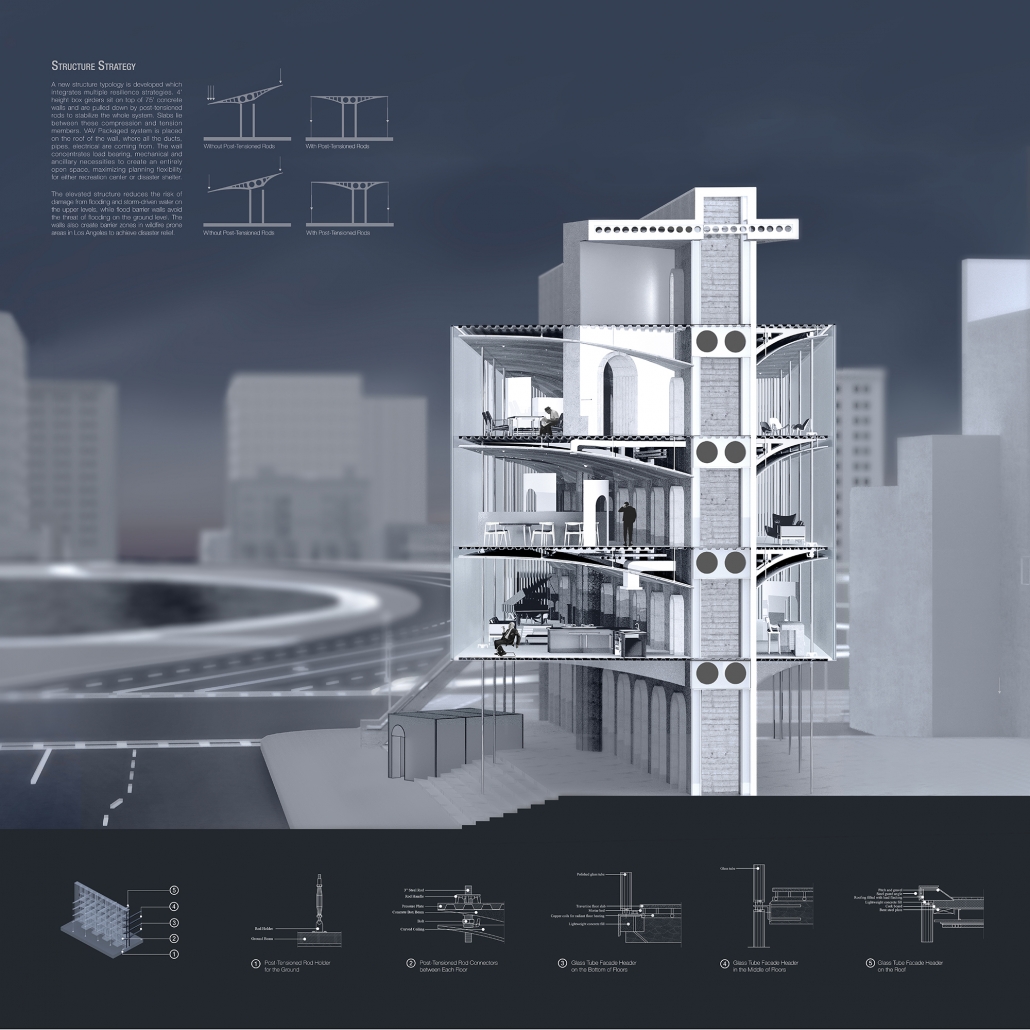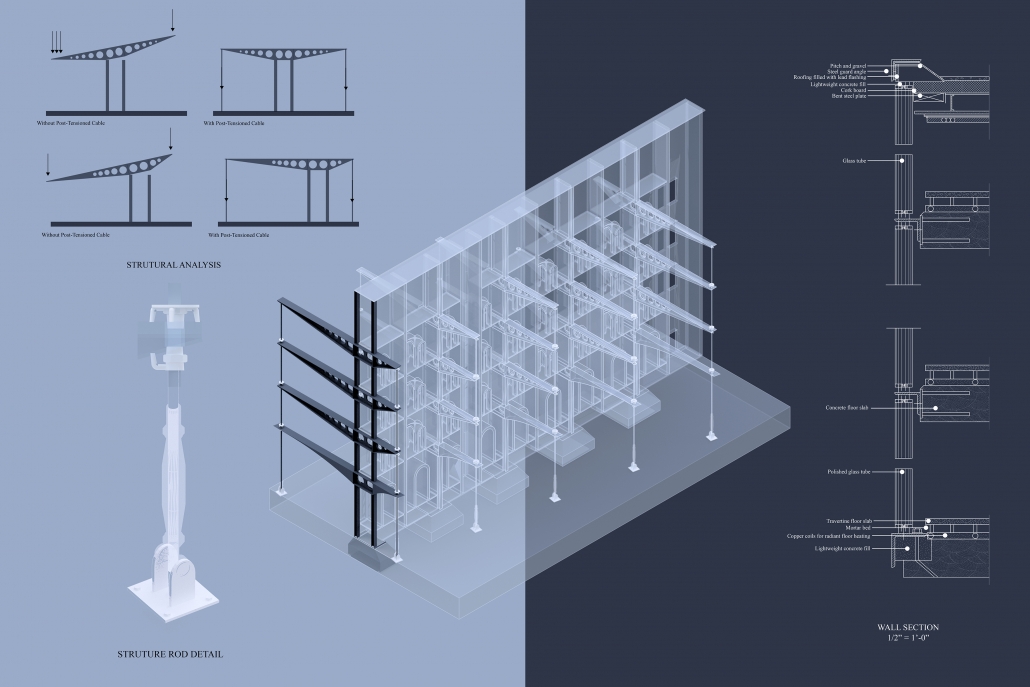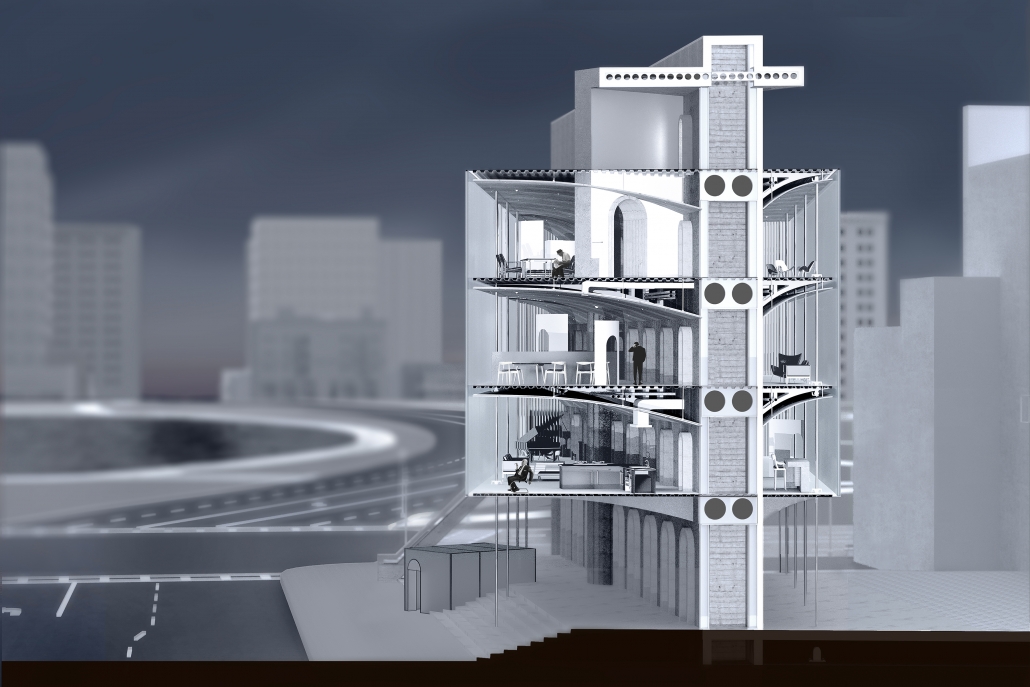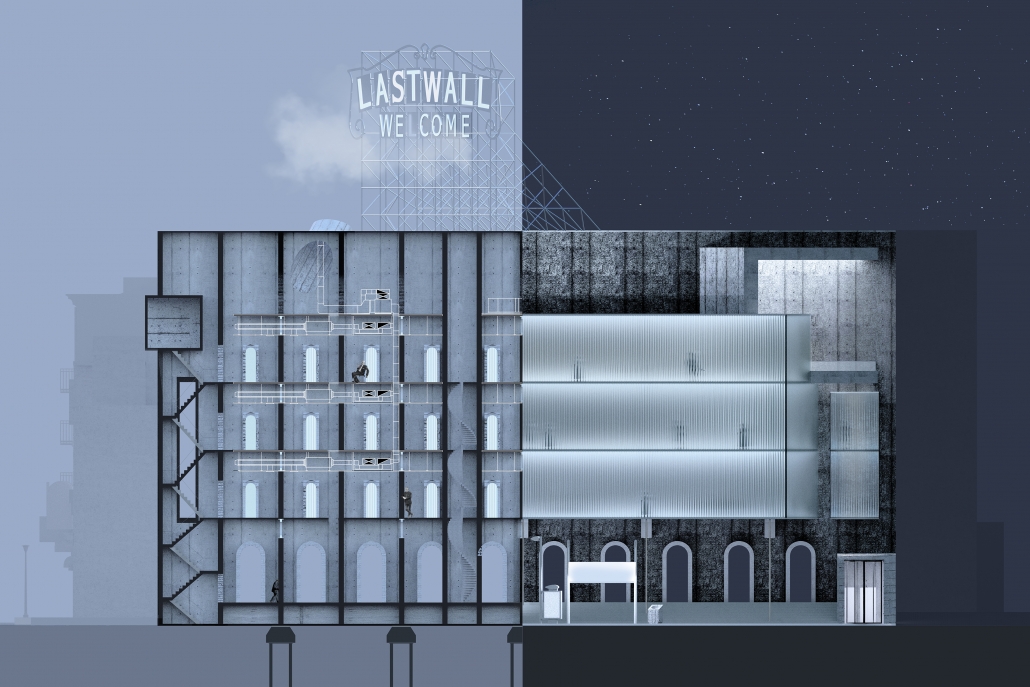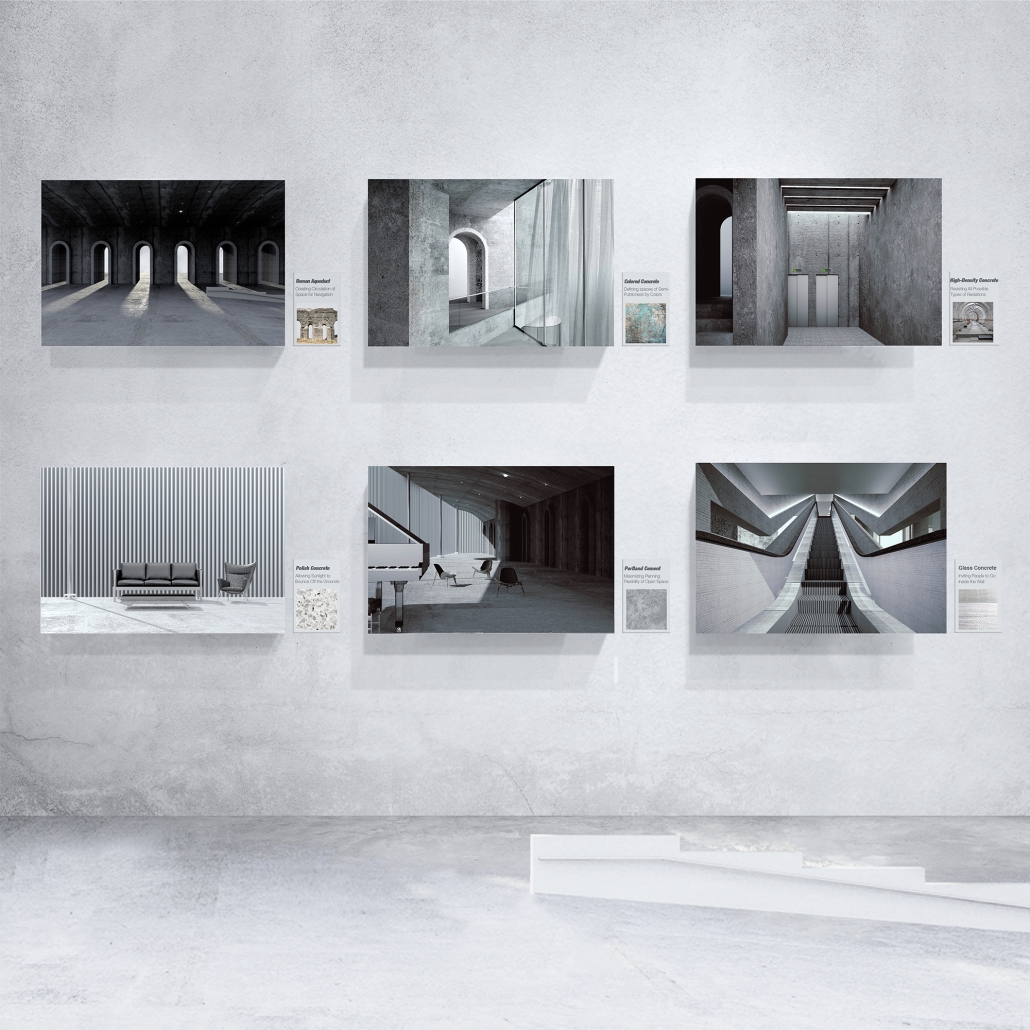 The Last Wall: Reappropriating Jingoist Symbolism In Pursuit of Sanctuary
Student: Jiajie Wang
Faculty: Wonne Ickx
School: University of California, Los Angeles
Wrought with drought, brush fires, and record-setting earthquakes, California is regarded as one of the most disaster-prone states in the continental US. Yet even within this context, the city of Los Angeles is replete with its own local liabilities, earning it ninth place on the list of most-vulnerable cities worldwide. To address the precarious position of Angelinos, The Last Wall is conceived of as a new monumentality in the broader urban fabric, erected as an impregnable sanctuary against xenophobia and natural disaster. While the former takes its cue from the current political climate, the latter is manifested in its structure a large concrete wall flanked by wings that front its respective cross streets.
The building is designed as a community-oriented recreation center, principally concerned with facilitating large public gatherings such that private individuals are better able to self-organize. Capitalizing on the generously sized floor plans and community-centric programmatic focus, the center doubles as a shelter in the event of a natural disaster. This additional programmatic element is reinforced by the use of concrete, signaling endurance.
Situated on the North-East corner of Wilshire and Alvarado, across the street from McArthur Park, the building amplifies its visibility to the public by leveraging its corner lot condition and the porosity of the park. The structure footprint responds to these conditions by orienting itself along the diagonal of the site, thereby maximizing the view of the park on the West while minimizing excessive solar heating on the Southeast.
The project embraces concrete as a symbol of aesthetic and technological longevity. Aesthetically, the building exists as a simulacrum that references classical construction techniques with Portland cement deployed by the Romans. Similar to the Roman Arcade, the project is designed with numerous passageways along the ground floor to soften the traditional monumental effect of a single entrance. Simultaneously, the abundance of ground floor openings facilitates a flat hierarchy of circulation, wherein a variety of passageways are created in connecting one zone to the next. Outer plaza space therefore would be activated as a space of publicness.
Tectonically, a new structure typology is developed whereby tall girders sit atop concrete walls and are pulled down by post-tensioned rods to stabilize the system and support floor slabs that rest between the compression and tension members. The hollow mega-wall structure houses a VAV packaged units, but also creates a stack-effect system that makes mechanical use of the form. If electricity is knocked out due to a flood or earthquake, the stack ventilation can help the building remain comfortable. As a result, passive design strategy is employed to make the building not only energy efficient and green, but also resilient
Ultimately, The Last Wall project aims to offer both metaphorical and physical sanctuary to the residents of Los Angeles, attempting to transform the perception of concrete from harsh ingredient in the physical separation of people, to stalwart element in the assembly of shelter.