Honorable Mention: Pack Instinct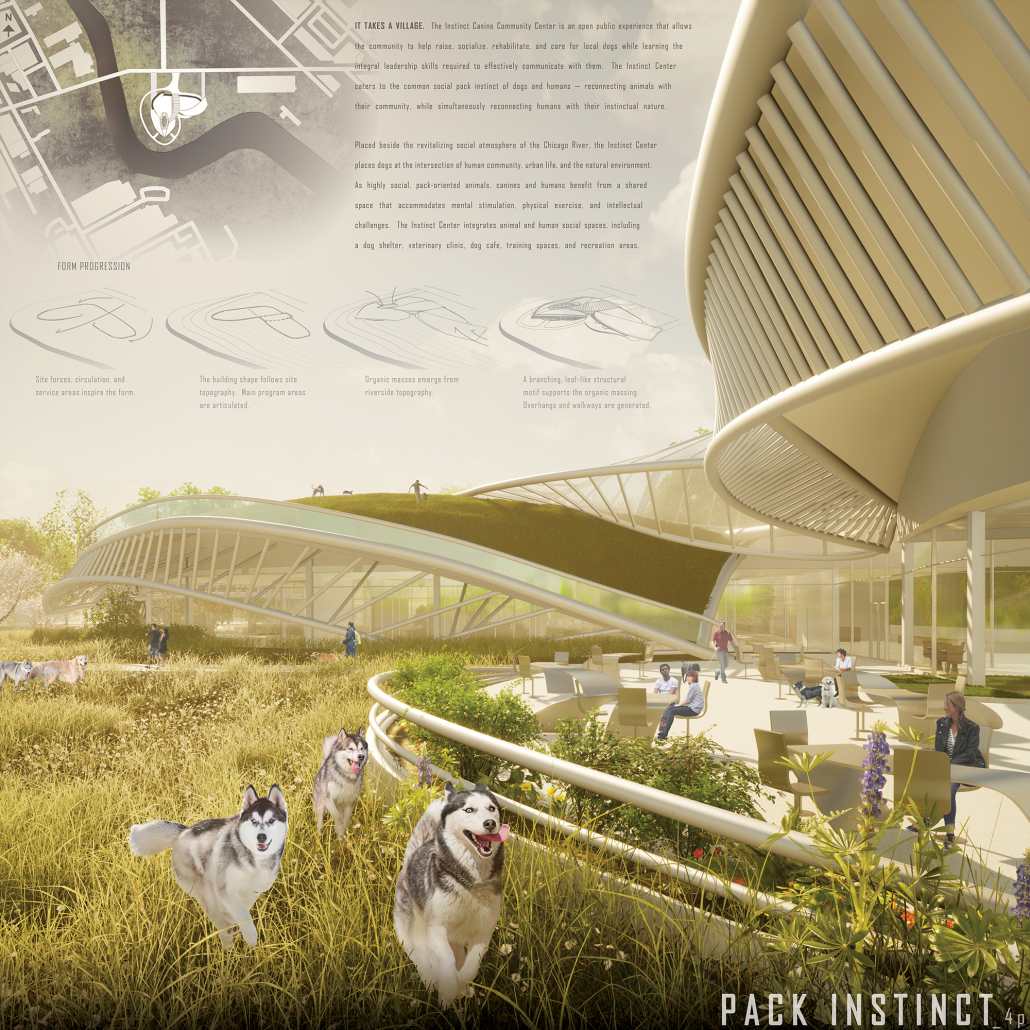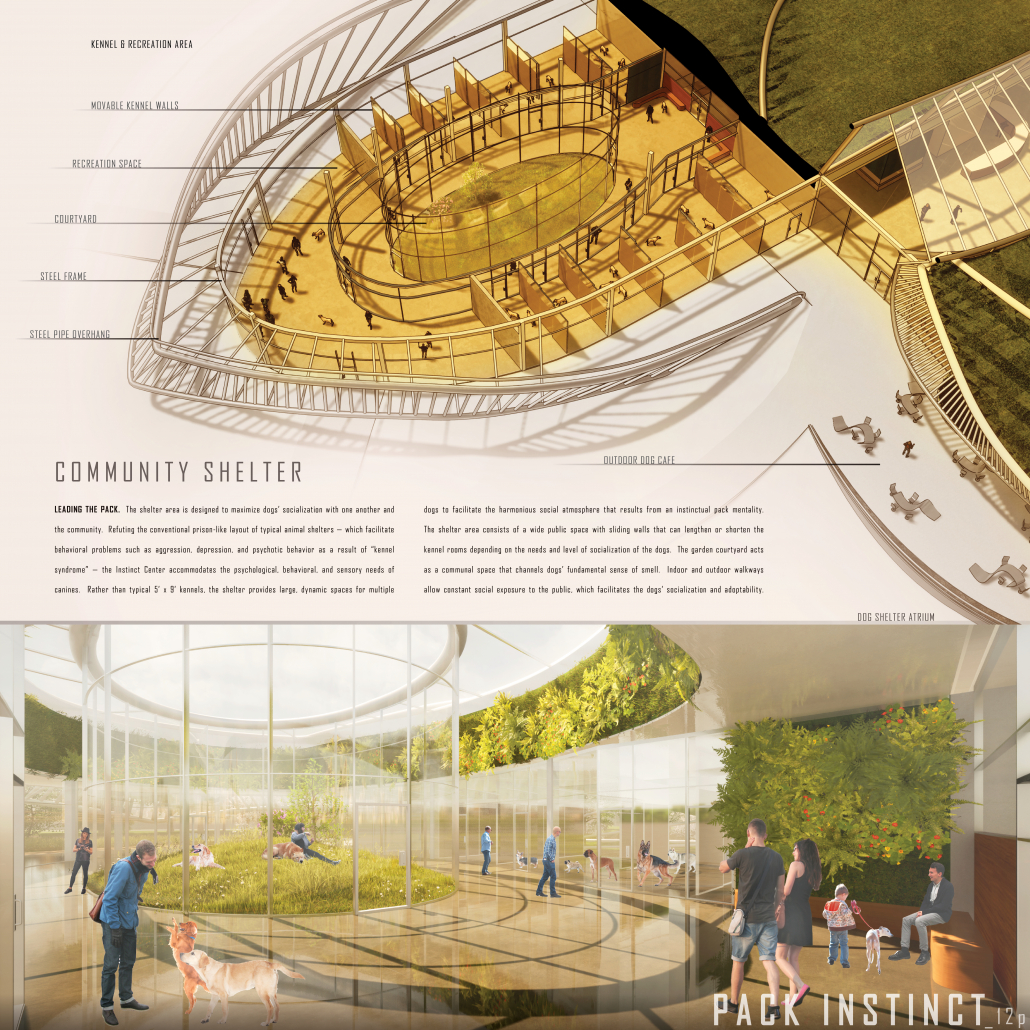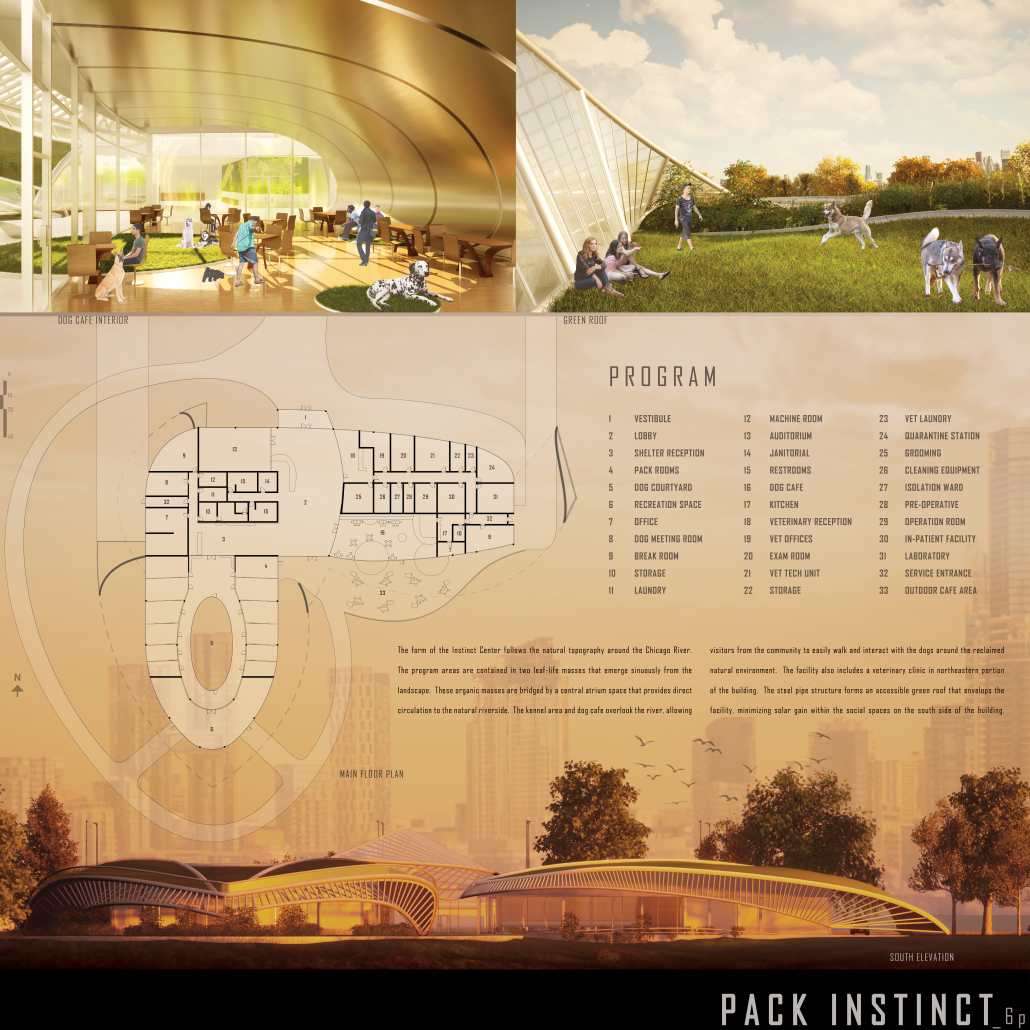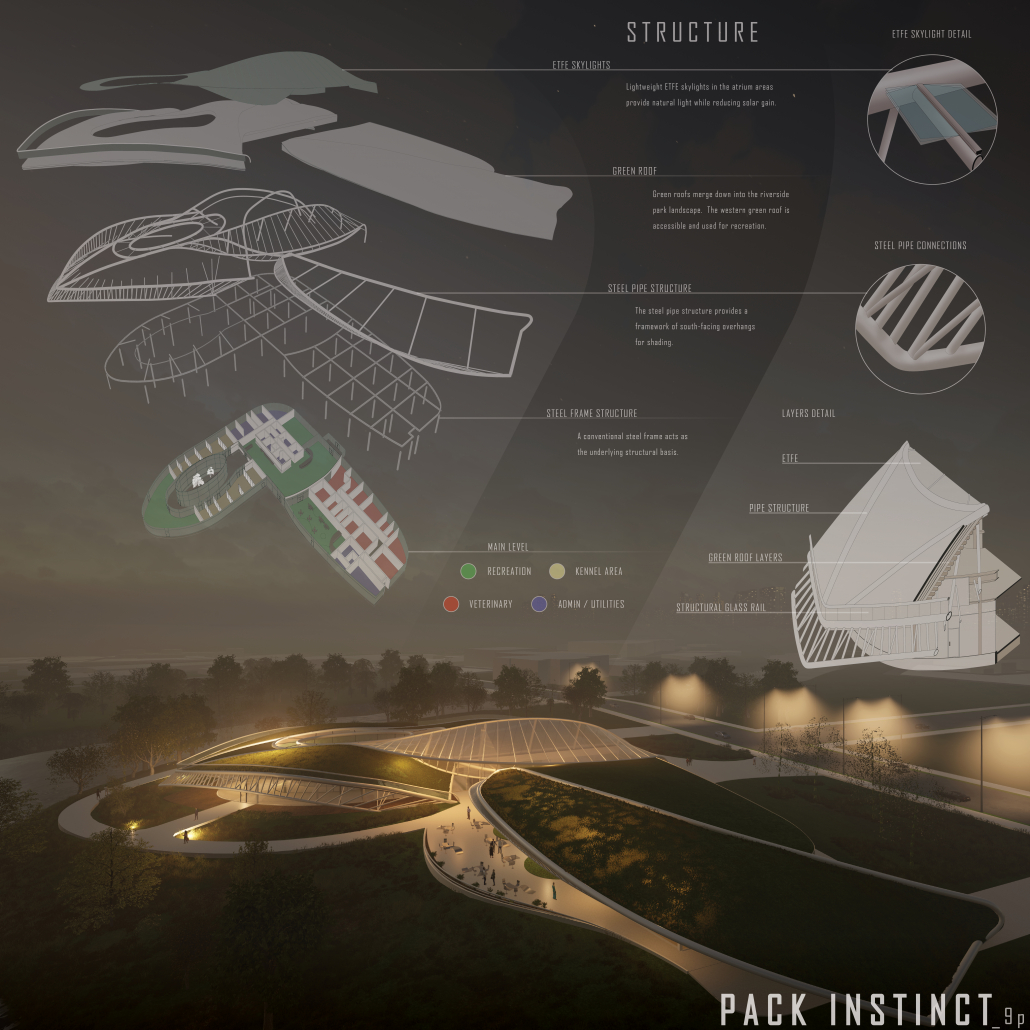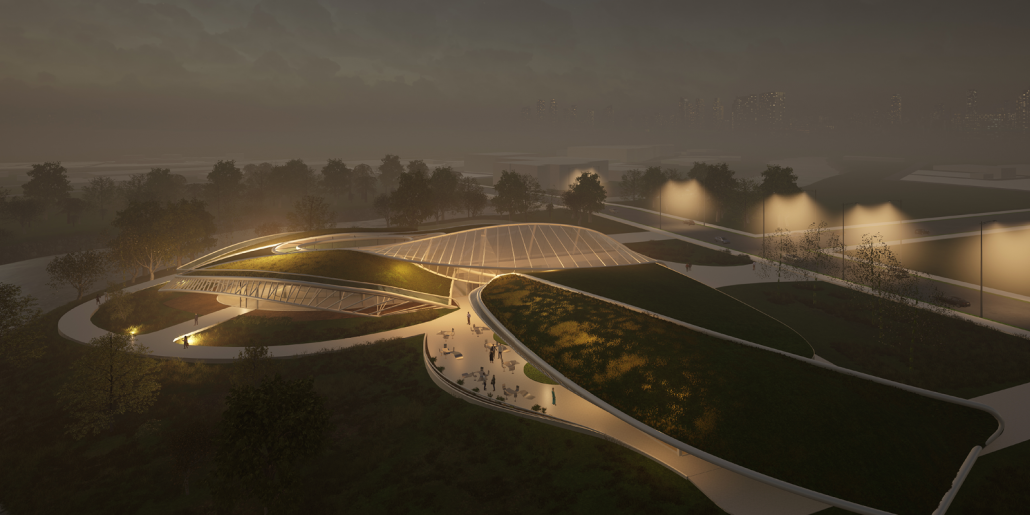 Student: Imani Jackson
Faculty: Erik Hemingway
School: University of Illinois, Urbana-Champaign
Pack Instinct receives an honorable mention for the incredible program and unique approach to a vertical steel tower.
The Instinct Canine Community Center is an open public experience that allows the community to help raise, socialize, rehabilitate, and care for local dogs while learning the integral leadership skills required to effectively communicate with them. The Instinct Center caters to the common social pack instinct of dogs and humans — reconnecting animals with their community, while simultaneously reconnecting humans with their instinctual nature.  Placed beside the revitalizing social atmosphere of the Chicago River, the Instinct Center places dogs at the intersection of human community, urban life, and the natural environment.  As highly social, pack-oriented animals, canines and humans benefit from a shared space that accommodates mental stimulation, physical exercise, and intellectual challenges.  The Instinct Center integrates animal and human social spaces, including a dog shelter, veterinary clinic, dog cafe, training spaces, and recreation areas.
The shelter area is designed to maximize dogs' socialization with one another and the community.  Refuting the conventional prison-like layout of typical animal shelters — which facilitate behavioral problems such as aggression, depression, and psychotic behavior as a result of "kennel syndrome" — the Instinct Center accommodates the psychological, behavioral, and sensory needs of canines.  Rather than typical 5' x 9' kennels, the shelter provides large, dynamic spaces for multiple dogs to facilitate the harmonious social atmosphere that results from an instinctual pack mentality. The shelter area consists of a wide public space with sliding walls that can lengthen or shorten the kennel rooms depending on the needs and level of socialization of the dogs.  The garden atrium acts as a communal space that channels dogs' fundamental sense of smell.  Indoor and outdoor walkways allow constant social exposure to the public, which facilitates the dogs' socialization and adoptability. The kennel area and dog cafe overlook the river, allowing visitors from the community to easily walk and interact with the dogs around the reclaimed natural environment.
The form of the Instinct Center follows the natural topography around the Chicago River.  The program areas are contained in two leaf-life masses that emerge sinuously from the landscape.  These organic masses are bridged by a central atrium space that provides direct circulation to the natural riverside.  A conventional steel frame acts as the underlying structural basis, while a pipe steel structure provides a framework for the green roofs that envelop the facility and create south-facing overhangs for shading.  The green roofs merge down into the riverside park landscape, and the western roof is accessible and used for recreation.  Lightweight ETFE skylights in the atrium areas provide natural light while reducing solar gain.