2018-2019 Timber in the City
2nd Place: RE-GEN GROWTH
Danny Medina, Cesar Soto, & Daniel Akinsulire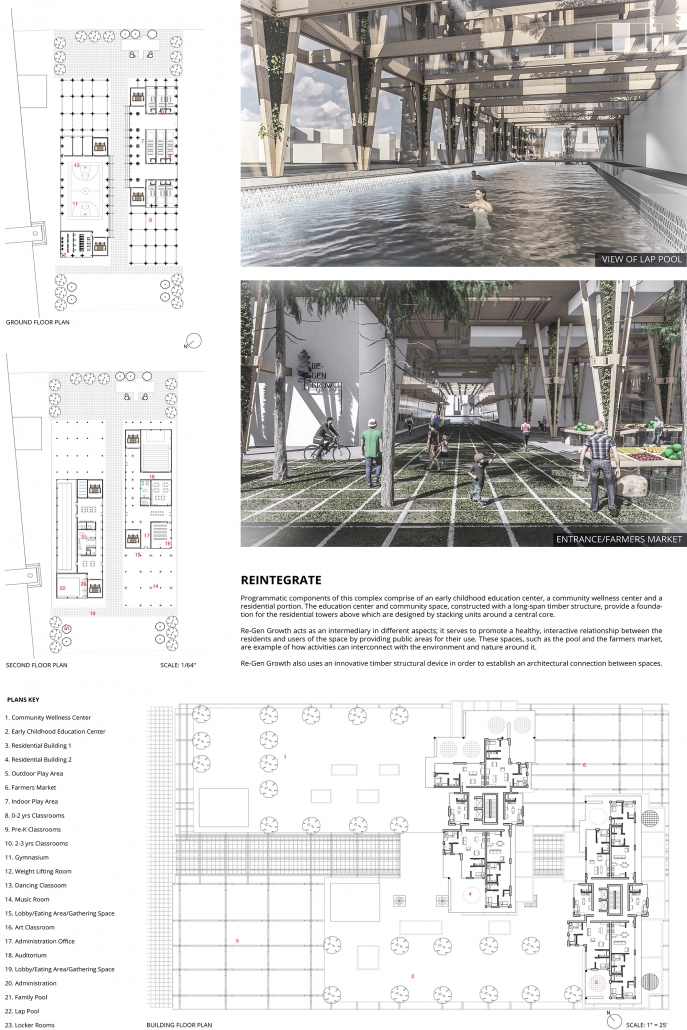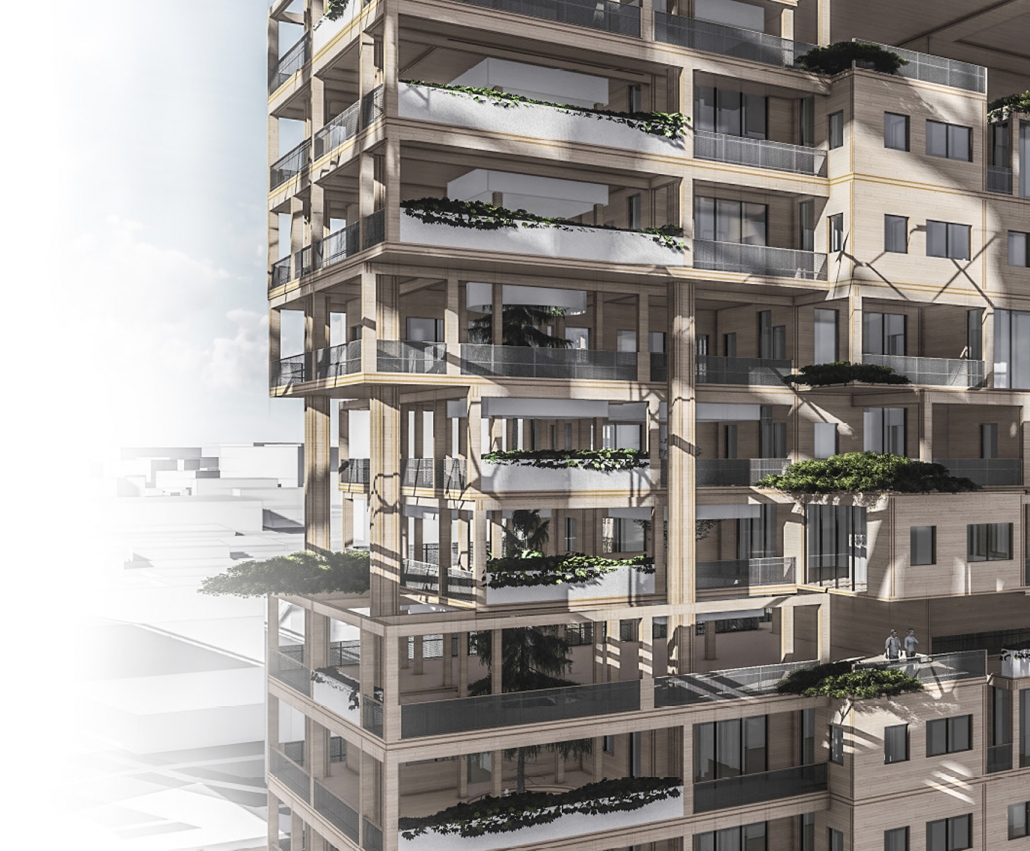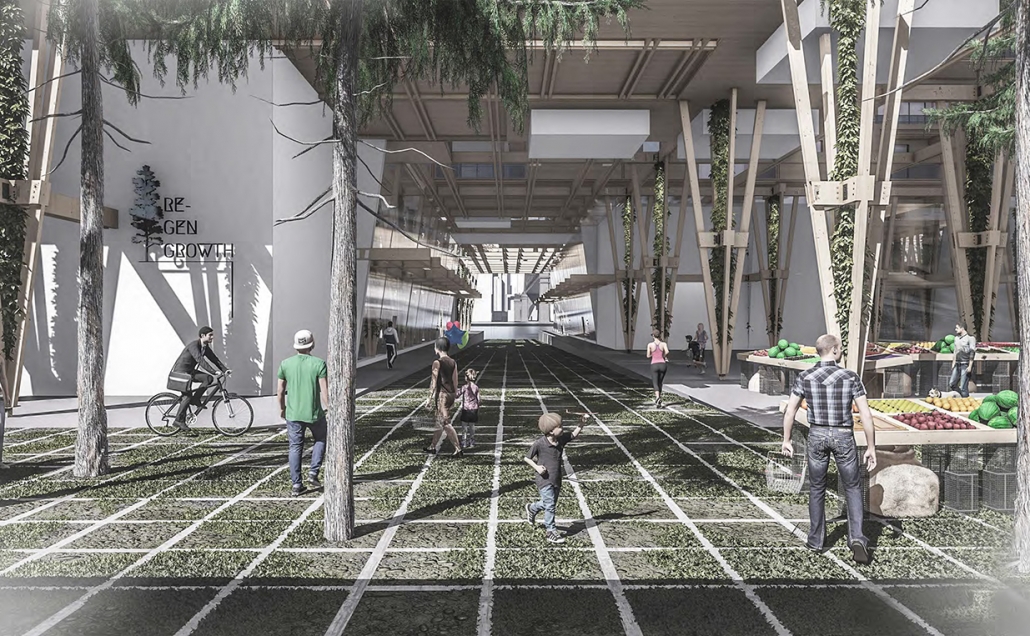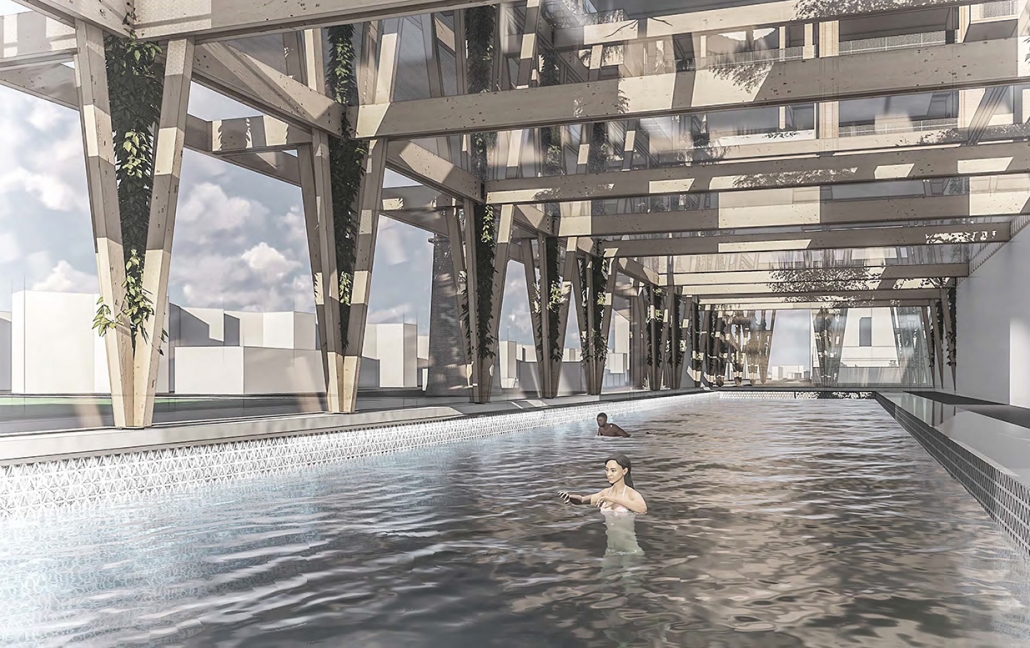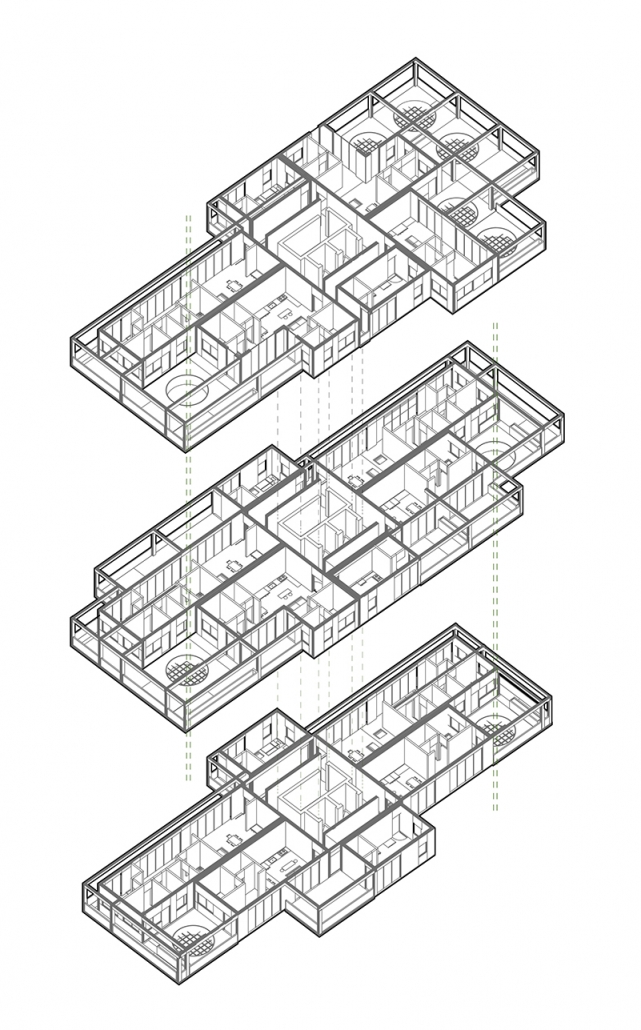 Students: Danny Medina, Cesar Soto, & Daniel Olayiwola Akinsulire
Faculty: Suzan Wines 
School: City College of New York
The winning project, Re-Gen Growth, shows an innovative use of wood, which connects spaces, structure and the user experience all together. The density of the project represents a three-dimensional occupiable city. The project renderings are expressive showing a very elegant porous project with vertical spaces that reconnect the inhabitants to nature and the city. The project represents an idealistic timber building for New York City.
Re-Gen Growth†employs modular mass timber construction to create an inhabitable, elevated urban forest that provides natural light, clean air and skyline views for residents while restoring habitats for animals that once thrived on the site. The goal is to revitalize life by integrating vegetation and social spaces. Vegetation reduces particulate matter, sequesters carbon dioxide and mitigates noise pollution from vehicular traffic. Social spaces promote interaction between residents on the ground floor and in the air.
Buildings and site features are organized on an orthogonal grid that morphs according to environmental, programmatic and spatial requirements. One enters the site through a public green market that uses long-span timber to create a place for community engagement.
The Early Childhood Education Center and Community Wellness Center provide a foundation for the residential towers above.
Residential units, which consist of assembled CLT panels, stack and rotate around concrete cores with shared Tree Balconiesí that provide shaded gathering spaces. Passive fresh air ventilation, 6′ thick insulation, gray water reclamation and triple glazed windows that meet green building standards all contribute to the regenerative life goals of the project.
Each apartment is designed to optimize natural light, air, and views, encouraging residents to interact with each other and nature on shared balconies and garden floors. Outdoor activities focused on health and well-being like gardening, exercising, and meditation help to foster friendships and community growth. Re-Gen Growth is built of CLT, mass timber and some steel columns. The CLT panels may be delivered by boat to further reduce the building's carbon footprint. The ground floor programs use glue-lam post and beam construction in order to achieve longer spans and column free spaces.
The sequential growth of the development provides ample space for on-site assembly, cranes and storage of construction materials during the first phases of construction.