1st Place: THE PARASITE LODGE
Caroline Arbour, Brooke Stevig, Christopher Washington, & Anne Kellerman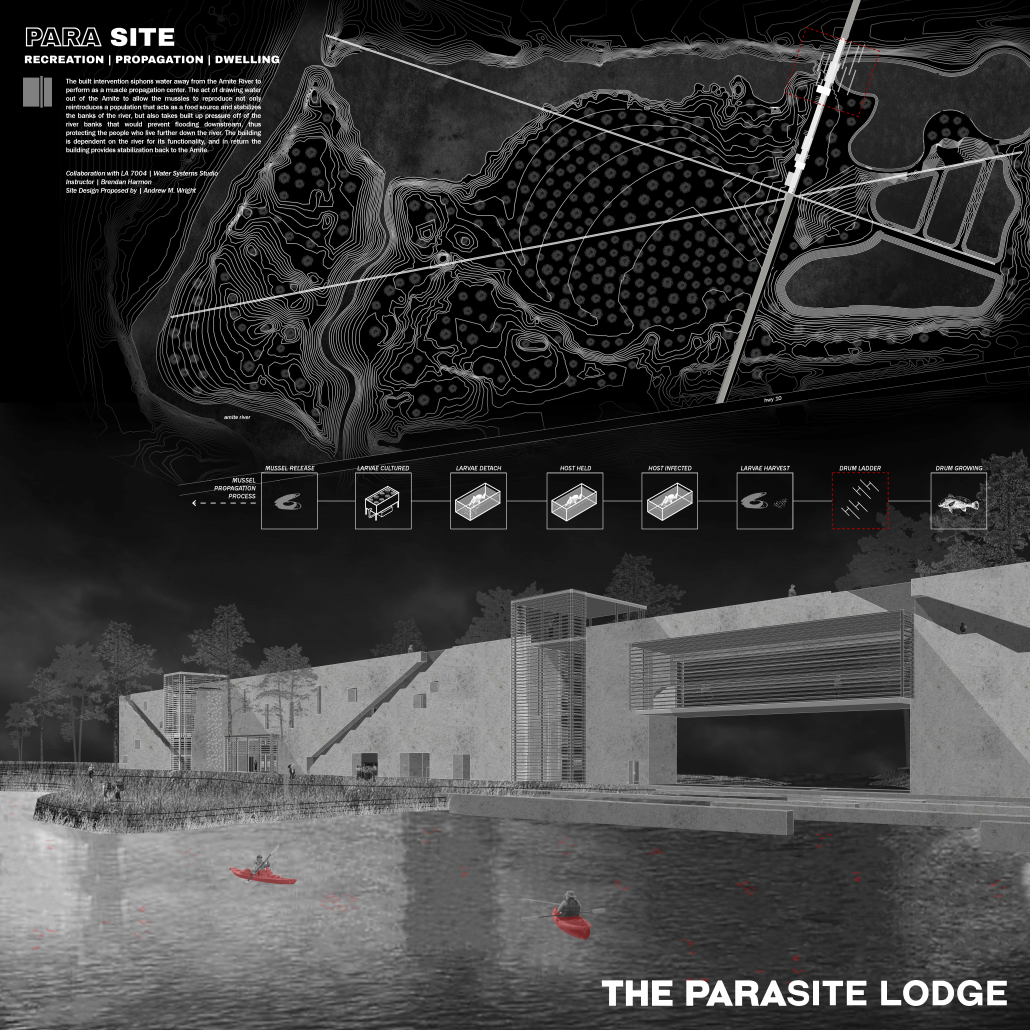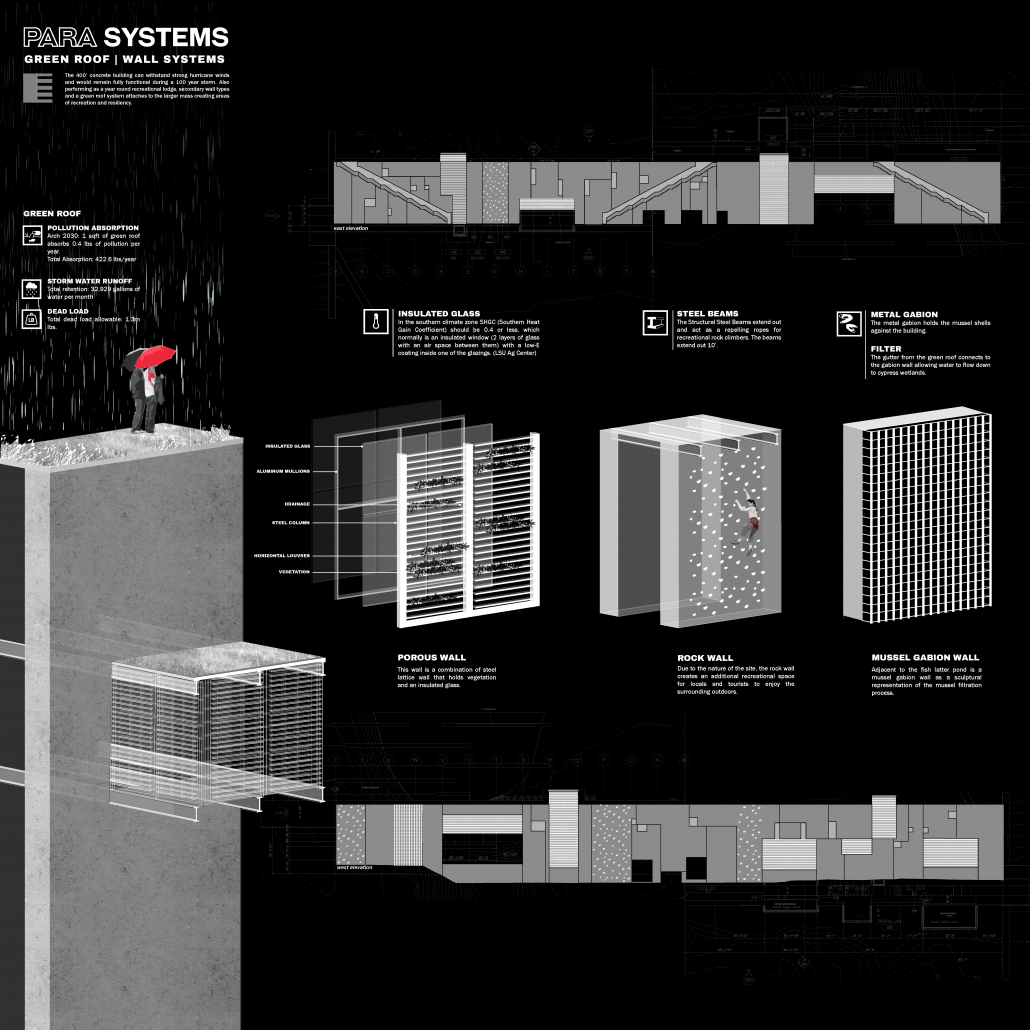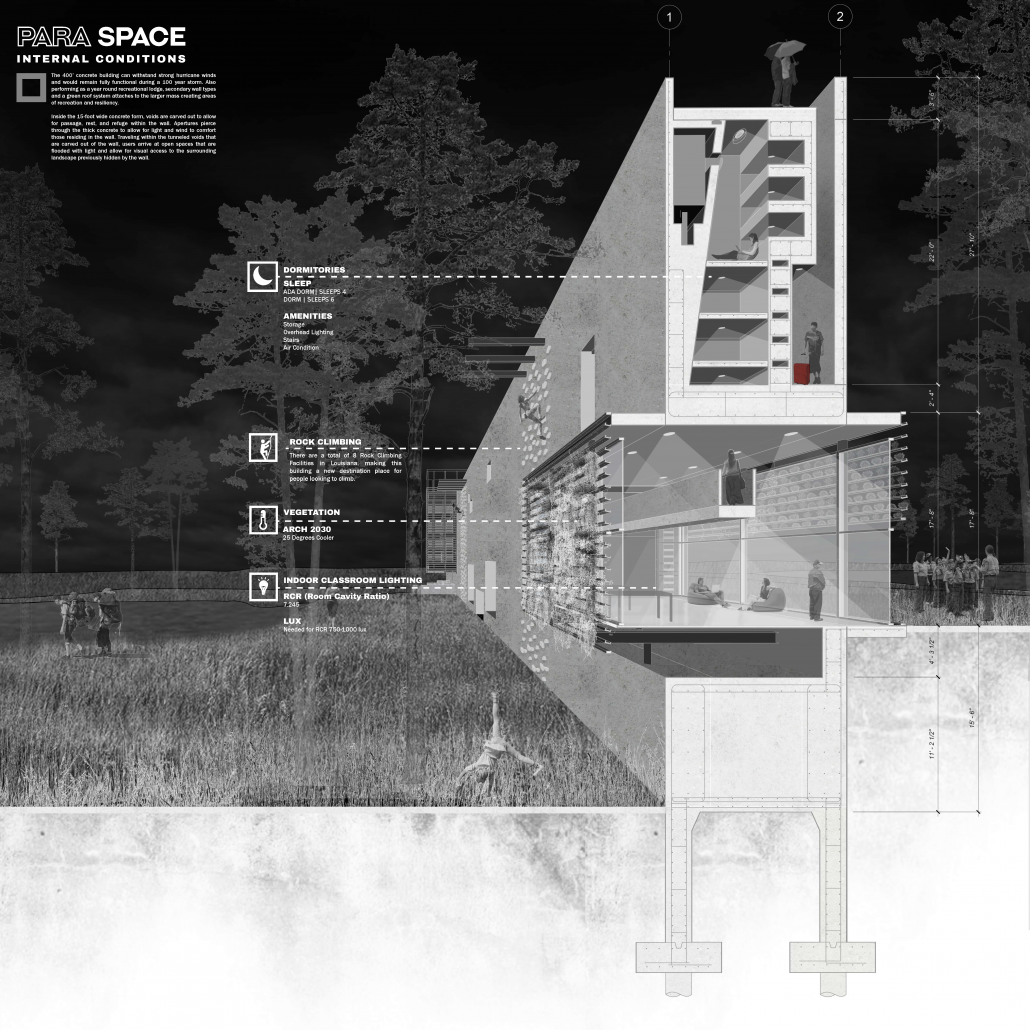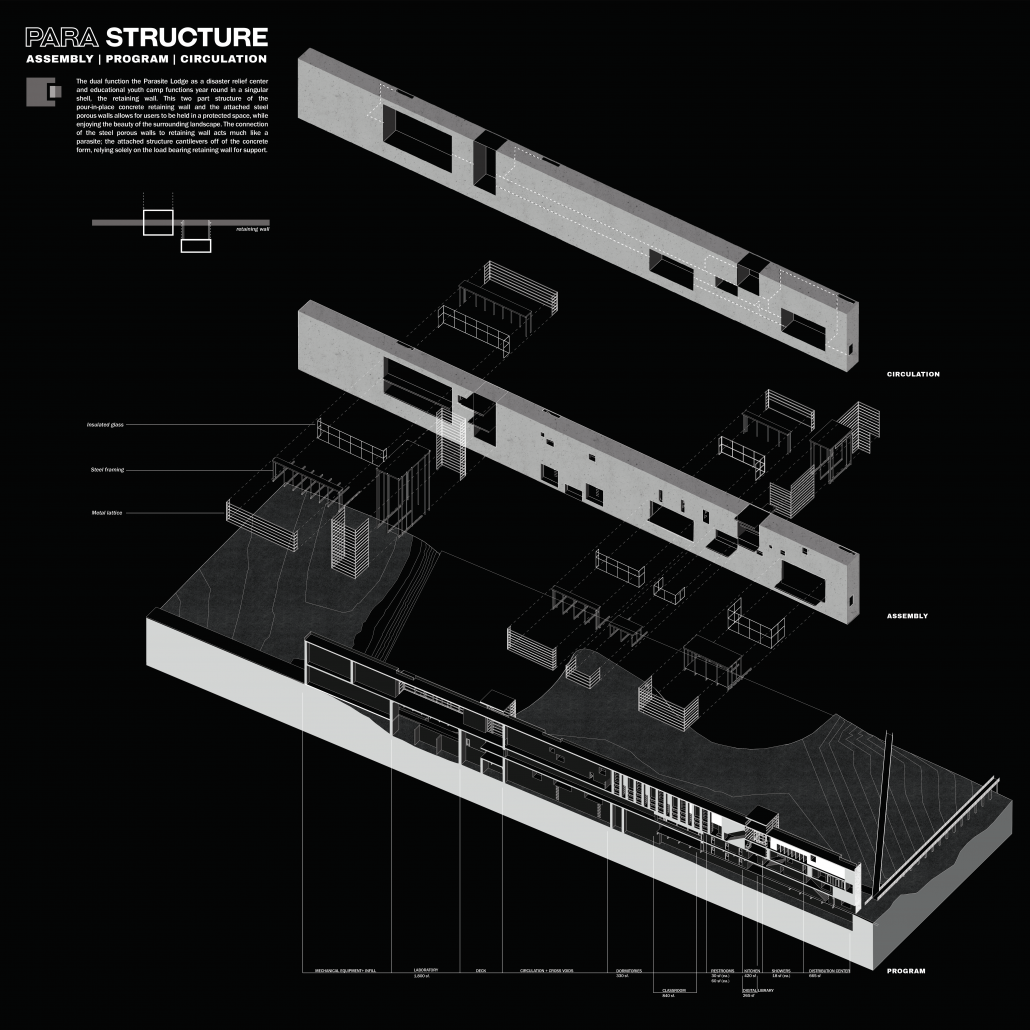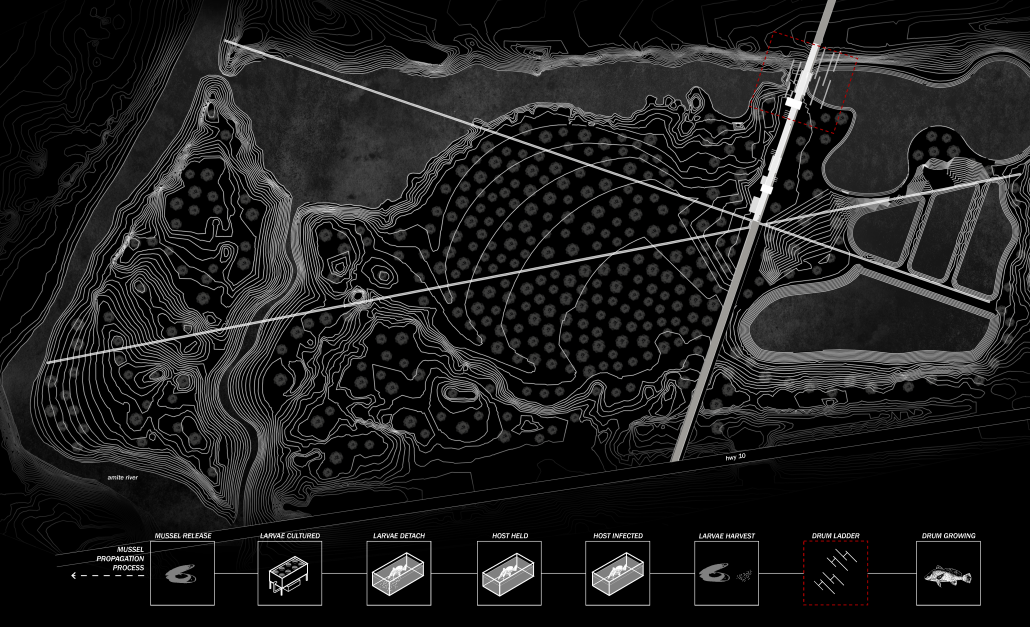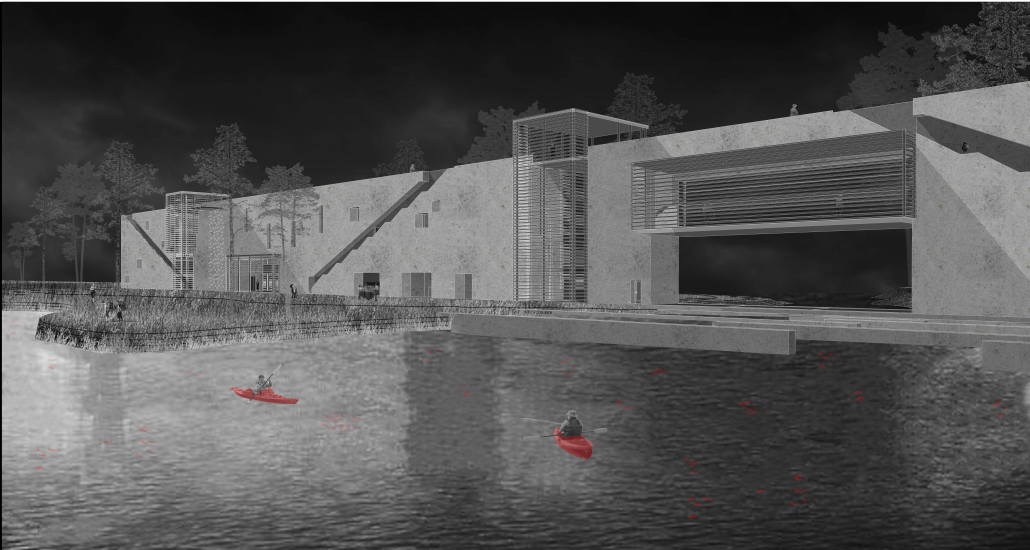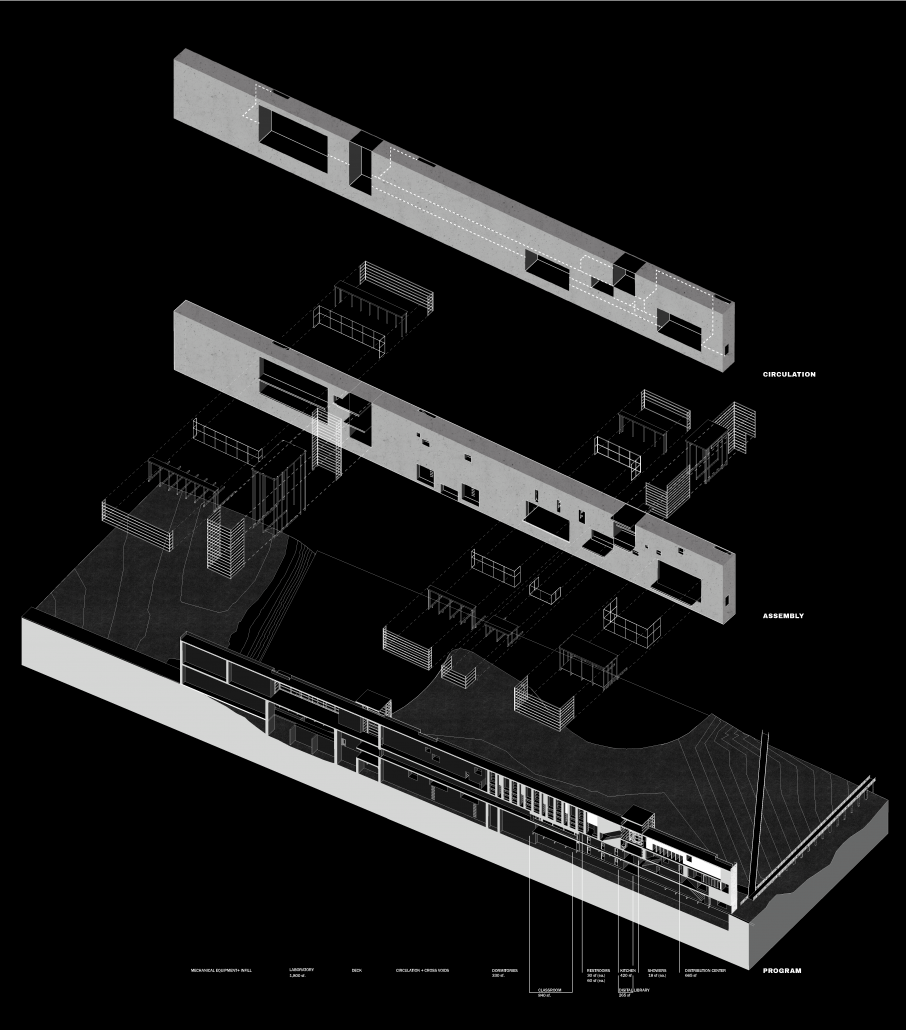 Students: Caroline Arbour, Brooke Stevig, Christopher Washington, & Anne Kellerman
Faculty: Kristopher Palagi
School: Louisiana State University
This top winning project, The Parasite Lodge, is an inhabitable wall which is part of a larger infrastructure system. The submissions is conceptual on many different levels and scales. This project showcases a long linear structure as a concrete mass with other components, programs and materials latching onto the primary concrete structure. The submission is wonderfully drawn and presented with great restraint.
The Parasite Lodge siphons water away from the Amite River to perform as a mussel propagation center. The act of drawing water out of the Amite to assist in the heelsplitter reproduction not only reintroduces a population that acts as a food source and stabilizes the banks of the river, but also takes built up pressure off of the river banks that prevent flooding, thus protecting those who reside downstream. The building is dependent on the river for its functionality, and in return the building provides stabilization back to the Amite.
The dual function of the Parasite Lodge as a disaster relief center and educational youth camp functions year-round in a singular shell, the retaining wall. This two-part structure of the pour-in-place concrete retaining wall and the attached steel porous walls allows for users to be a held in a protected space while enjoying the beauty of the surrounding landscape. Within the concrete form, tunnels are carved out to navigate through the site while steel enclosures push themselves through the building to open up space that allows for the inhabitants of the wall to gather. The connection of the steel porous walls to retaining wall acts much like a parasite; the attached structure cantilevers off of the concrete form, relying solely on the load bearing retaining wall for support.
The 400' long concrete building can withstand strong hurricane winds and is designed to remain fully functional during a 100-year storm. Also performing as a year-round recreational lodge, secondary wall types and a green roof system attach to the larger mass creating areas of recreation and resiliency. Inside the 15-foot wide concrete form, voids are carved out to allow for passage, rest, and refuge within the wall. Apertures pierce through the thick concrete to allow for light and wind to comfort those residing in the wall. Traveling within the tunneled voids, users arrive at open spaces that are flooded with light and allow for visual access to the surrounding landscape previously hidden by the wall.
The design of the Parasite Lodge could not have been realized without the research and landscape design strategy provided by Andrew Wright in conjunction with the LSU LArch 7031 Water Studio instructed by Brendan Harmon.