August 8, 2018
A New Playing Field: Collaboration in Digital Scholarship
Lucy Campbell and Barbara Opar, column editors
Column by Maya Gervits, PhD, Director, Barbara & Leonard Littman Library, NJIT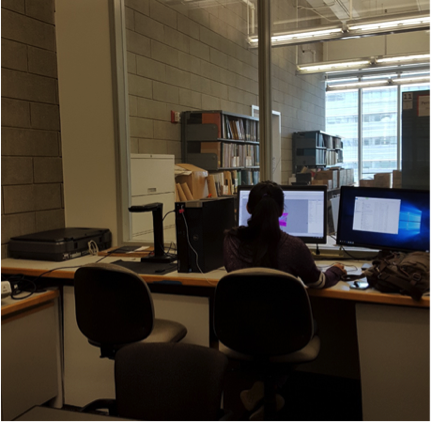 In the rapidly changing information environment, the nature of the academic library and the role of librarians are both undergoing a fundamental shift away from merely curating scholarly materials toward the co-creation of these materials in active engagement and collaboration with researchers and other members of the academic community.This shift provides new opportunities for libraries to have increased visibility amongst scholars.
At the Littman Library at NJIT collaboration with the College of Architecture and Design (CoAD) faculty and students manifests itself in numerous ways. We strive to provide responsive services and to accommodate various learning opportunities. We act as guest lecturers for a variety of classes, conduct workshops, and compile citation analysis for the Promotion and Tenure Committee.  Our "Music in the Library" program is incorporated into the college curriculum. The Library curates various exhibitions that present materials from its collection to support and encourage student and faculty creative work. The regular evening concert series provides a complementary mode to consider visual art and design works in historical cultural contexts. We provide guidance on copyright and host regular lunchtime Author Book Talks.
But we are always looking for additional ways to engage with our patrons. An important new role is Digital Scholarship. Contemporary research in many areas has expanded beyond what is considered traditional. Over the last decade, many academic libraries have established Digital Scholarship Labs or Centers. Equipped with advanced technological tools, these new facilities enable students and faculty to explore new methodologies, analyze complex data, and share the results of research in ways never before possible.
Nevertheless, despite all the advancements, digital scholarship in art and design disciplines has yet to define the parameters of this field. How can digital methods and tools benefit research? How can a small branch library facilitate collaboration?  At NJIT all colleges are engaged in digital initiatives and related activities. The College of Architecture and Design is well known as a pioneer and innovator in the application of digital and information technology to augment and benefit the design process. These  students have access to different labs where they can work on digital prototyping, fabrication, animation, robotics, augmented, and virtual reality.
Over the years, the Littman Library – the only branch library on campus, located in the heart of the College of Architecture and Design main facility- has been involved in   activities which have ranged from the digitization of its collections to more complex undertakings.  Because of the growing interest by faculty and students and the increased number of projects they were producing, the Littman Library decided to dedicate a special space to digital scholarship. We repurposed the slide room and equipped it with two computers, flat-bed, slide, and book scanners, printer, and an Oculus Rift virtual reality set. We secured server space and downloaded software for data visualization, online publishing, textual and spatial analysis.  We recently had the good fortune to receive a significant external endowment to further develop the Lab. But the initial phase has been completed with modest funding and limited staff time.
Recognizing the need to educate not only students but also ourselves we introduced the "Skills Exchange" program which is a series of workshops focused on mastering various software. We compiled research guides "Software at the College of Architecture and Design" and "Resources in Digital Scholarship" and added a subscription to the commercially distributed library of online tutorials Pluralsight to allow for self-paced learning with high quality educational support materials.
Virtual Reality technology revolutionizes both how architecture is being designed and how it can be perceived. Using the Lab, students and faculty simulate realistic experiences of the built environment, explore their designs in Virtual Reality, reconstruct historical monuments, and work on projects that employ digital tools and methods.
Our Image Database supports technical building systems, history, and studio classes. Digitized maps formed the core of the Digital Archive of Newark Architecture (http://dana.njit.edu)- a project conceived to document the built environment of Newark that has grown into a gateway of information related to the physical life of Newark, its architecture, infrastructure, public art, and city planning.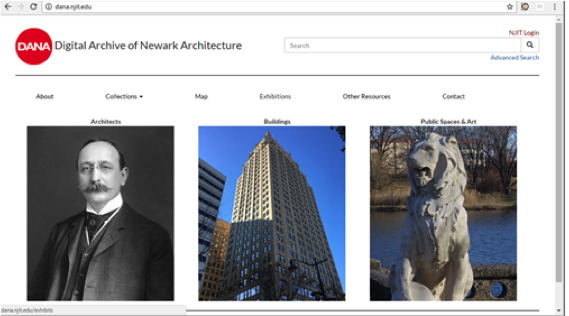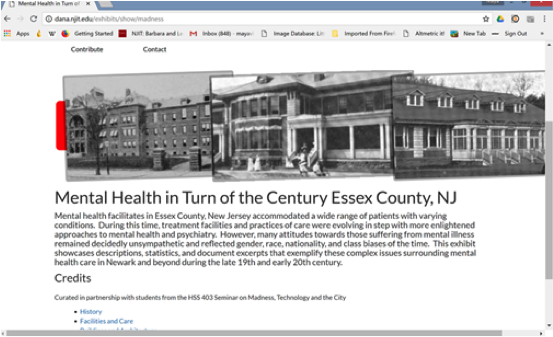 ______ Recent implementation of ArcGIS allows for data to be analyzed and visualized in a different way. An additional crowdsourcing function enables the public to submit materials over the web, and a mobile application with location awareness provides for a more engaging user experience. Other projects designed in collaboration with CoAD faculty and students are focused on the application of Virtual Reality to digital architectural history, and employ various publishing platforms, tools for visualization, and space analysis. The photogrammetry technique is being implemented to create a searchable version of the virtual collection of electrical measuring Instruments (housed in Van Houten Library). And the recent "History of the College of Architecture and Design" initiative aims to preserve the College's past by digitizing old photographs, video and audio recordings, documents, and born digital materials.
To increase collaboration at NJIT, both faculty and staff from various university divisions have formed a special interest group concerned with digital scholarship. NJIT also joined the New Jersey Digital Humanities Consortium – a group of enthusiasts and professionals from various New Jersey institutions. This helps us coordinate our activities and share pertinent information. The members of this group strongly believe that we can utilize our intellectual and creative potentials more effectively by working collaboratively across disciplines; that the library not only supports various digital initiatives pursued and promoted by the CoAD faculty and administration, but can also act as an active partner.