Lucy Campbell and Barbara Opar, Column Editors
Column by Barbara Opar, Librarian for Architecture, Syracuse University Libraries
"Icelanders have a beautiful tradition of giving books to each other on Christmas Eve and then spending the night reading. This custom is so deeply ingrained in the culture that it is the reason for the Jolabokaflod, or "Christmas Book Flood," when the majority of books in Iceland are sold between September and December in preparation for Christmas giving."¹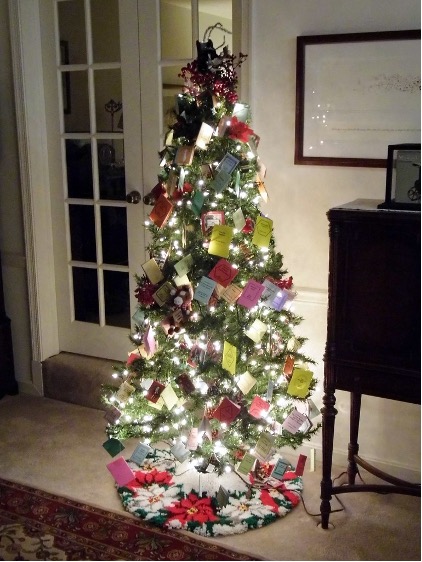 Book club Christmas tree with book ornaments
Have friends in Architecture? Architects do love books, so this tradition might be something to consider or modify at the very least. Treating yourself? Well, as a librarian I can think of far worse ways to spend your time and money. So, on that note, I am sharing a baker's dozen of interesting architecture titles from 2022, focusing this time mostly on titles with a modest cost.
The Glasgow Style of Mackintosh and his contemporaries Herbert McNair, Margaret MacDonald and Frances MacDonald is chronicled by one of the best-known writers on the period.
Details from 50 Aalto buildings are documented by component in 20 chapters.
French makes a compelling case for Hitchcock's engagement with location and the built environment.
The woman behind the man is presented as both a love story and an engaging study of postwar architectural history as seen through the media.
Hartman's book profiles the transformative impact of women like Marion Mahoney Griffin and Jeanne Gang on architecture.
Hartoonian explores the significance of Frampton's 1960 introduction to modern architecture.
While most know the name, few people truly understand the significance of Julia Morgan's contribution to 20th century American architecture.
The Arkansas-based Blackwell has produced award-winning designs of various scales often with small budgets and using inexpensive materials.
An important work which explores Alberti's life, works and writings.
An anthology which contains all of Mies' writings and lectures, many previously unknown or unpublished.
This AD publication showcases new graphic and virtual forms of architectural drawing.
Based upon a MOMA exhibit, this catalog discusses the advances in architecture made in post-World War II South Asia, including low-cost, climatic and socially responsive design.
Twenty-five building projects of various types from across the globe are presented through photographs and construction details.