You can only gain access to certain items and special pricing if you have logged in. Login Now.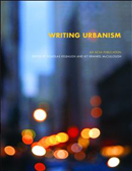 Writing Urbanism: A Design Reader
Edited by: Douglas Kelbaugh and Kit Krankel McCullough
Format:
Print/Tangible (requires shipping)
Affiliate (Domestic), Affiliate (International), Basic, Bronze, Canadian School, Candidate, Complimentary, Full Member--Large, Full Member--Medium, Full Member--Small, Gold, Introductory, Platinum, Research, Silver, Student - $35.00
NonMember - $40.00

Description:
ACSA is pleased to announce the release of Writing Urbanism, ACSA's second book in the Routledge Architectural Education series. The intent of this series is to produce readers for use across the curriculum in architecture and design programs matching current lines of scholarly inquiry with curricular needs. Each reader focuses on a thematic topic and is composed of chapters previously published in ACSA venues along with invited chapters. The volumes are intended to give faculty, students and professionals resources for the studio and classroom. Edited by Douglas Kelbaugh and Kit Krankel McCullough, the essays probe such issues as community, social equity, design theory, technology, and globalism. Urban design continues to grow and mature as a field of study, research, and professional endeavor. Writing Urbanism's is broad and comprehensive in its scope. Combining essays from both practice and academia, Writing Urbanism includes osme of the most significant texts on urban design from the last two decades, a period of transformational growth in the field and exponential growrth in the metropolis. By assembling a range of voices across different institutions and generations, Writing Urbnaism offers a multifaceted portrait of urban design today. Scholars, students, and design professionals alike should find this collection to be a useful resource for understanding this increasingly important design field and for insights into the forces that shape the city itself. ACSA members can login and receive a 20% discount off the cover price.
Product Details:
| | |
| --- | --- |
| Product ID: | 08WRIT |
| Publication Year: | 2008 |
| Page length: | 396 Pages |