March 18, 2022 | 4:00pm PT (7:00pm ET)
Architectural Education Awards Ceremony
2022 Architectural Education Awards
2022 Architectural Education Awards Ceremony
March 18, 2022 | 4:00pm–5:30pm PT (7:00-8:30pm ET)
The 2022 Architectural Education Award winners were recognized in a limited in-person event, which took place in Los Angeles, CA on March 18, 2022. The event was live broadcasted and is now available to watch. At the awards ceremony, all winners were recognized and the 2022 Tau Sigma Delta, Gold Medal was awarded to Hsinming Fung and Craig Hodgetts.
2022 Tau Sigma Delta, Gold Medal Keynote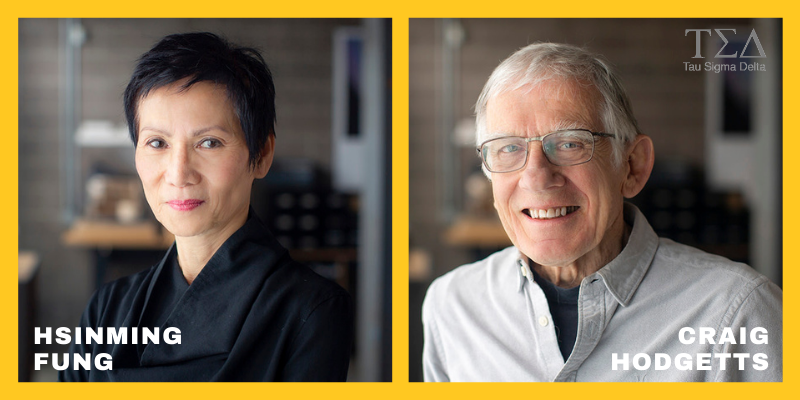 Hsinming Fung & Craig Hodgetts
2022 Tau Sigma Delta, Gold Medal Recipients
Craig Hodgetts and Hsinming Fung have extensive experience in both academic and professional practice. In 1984, the two joined forces and founded HplusF design lab—an interdisciplinary group of architects, designers and inventors, with skills in urban design, cultural centers, and exhibition design. Their first project together, the Cookie Express, a drive through coffee shop, was awarded a citation from Progressive Architecture. Since that time, their work has been honored by the Chrysler Design Award for a Solar Exhibition in Germany, the American Academy of Letters and Science, numerous project awards from the AIA, and the California Firm of the Year. In 1998 they were awarded the Gold Medal from the Los Angeles Chapter of the AIA.
AIA/ACSA Topaz Medallion
Deborah Berke
Yale School of Architecture

Distinguished Professor
LaVerne Wells-Bowie
Florida Agricultural and Mechanical University

Distinguished Professor
Michael J. Crosbie
University of Hartford


Distinguished Professor
David Hinson
Auburn University

Distinguished Professor
Mitra Kanaani
NewSchool of Architecture and Design

Distinguished Professor
Ethel Goodstein-Murphree
University of Arkansas

ACSA/AIAS New Faculty Teaching
Part-Time Faculty
Camille Sherrod
Kean University

ACSA/AIAS New Faculty Teaching
Full-Time Faculty
Liz McCormick
University of North Carolina at Charlotte

ACSA/AIAS New Faculty Teaching
Full-Time Faculty
José Ibarra
University of Virginia

ACSA/AIAS New Faculty Teaching
Full-Time Faculty
Aneesha Dharwadker 
University of Illinois, Urbana-Champaign

Diversity Achievement
Super Resilient: Finding Solid Grounds for Hlauleka School in Mozambique
Maged Guerguis
University of Tennessee-Knoxville

Diversity Achievement
Engineering Independence: Concrete Architecture in the Global South
Mohamed Ismail & Caitlin Mueller
Massachusetts Institute of Technology


Diversity Achievement
Honorable Mention
Accessibility in Beginning Design
Nikole Bouchard
University of Wisconsin-Milwaukee

Creative Achievement
Worthy Curricula: M.Arch Winter Term Options Studios
Ozayr Saloojee
Carleton University

Creative Achievement
Architecture of Ecological Attunement: Environment Form Feedback
Dana Cupkova
Carnegie Mellon University

Creative Achievement
_mpathic design: The Great Migration
Elgin Cleckley
University of Virginia


Collaborative Practice
Future of Hawai'i's Housing, A Bottom-Up Exploratory Research Collaboration
Karla Sierralta & Brian Strawn
University of Hawaiʻi at Mānoa & University of Hawaiʻi Community Design

Collaborative Practice
Constructing Inclusivity
John Folan
University of Arkansas and Urban Design Build Studio (UDBS)

Collaborative Practice
Roaming Porches – A Participatory Action Research Studio
Stefan Gruber
Carnegie Mellon University

Collaborative Practice
Activate, Articulate, Advocate: for the Right to Occupy, Hold Ground, and Upgrade
María Arquero de Alarcón & Ana Paula Pimentel Walker
University of Michigan

Faculty Design
Research and Design Category
Zippered Wood | Creating Non-orthogonal Architectural Assemblies Using the Most Common Linear Building Component (the 2×4)
Blair Satterfield, Alexander Preiss, Derek Mavis, Graham Entwistle, Jon Ackerley, Marc Swackhamer & Matthew Hayes
University of British Columbia & University of Colorado Denver

Faculty Design
Excellence in Community/Research Category
Co-Designing Wellness: Arctic Indigenous Wellness Centre
Lola Sheppard, Mason White & Kearon Roy Taylor
University of Waterloo & University of Toronto


Faculty Design
Applied Representation Category
Web Model Dot Space
Aaron Jones
Lawrence Technological University

Faculty Design
Structural Innovation Category
Skyroom Pavilion
Kristina Yu
University of New Mexico

Design Build
The Kunga Accessory Dwelling Unit
Jörg Rügemer
University of Utah


Design Build
The Arroyo Bridge
R. Scott Mitchell
University of Southern California


 

Design Build
New River Train Observation Tower
Edward Becker & Kay Edge
Virginia Tech

Design Build
A.B. McDonald Elementary School Outdoor Classroom
Scott Lawrence, Brett Carter & LaRae Tomera
University of Idaho


Practice + Leadership
Empowered Voices: Practice Chronicles
John Folan
University of Arkansas

Practice + Leadership
Honorable Mention
Integrated Pedagogy
David Karle & Mark Bacon
University of Nebraska-Lincoln & BVH Architecture

Practice + Leadership
Honorable Mention
Crossing Boundaries: Professional Practice and the RFP in Deeply International Zones of Poverty, Conflict, and Diversity
Marcus Farr 
American University of Sharjah

 

Housing Design Education
Middle Grounds – New Prototypes for Medium-Density Housing
Martin Hättasch
University of Texas at Austin

Housing Design Education
Housing at Markham Square: One Square Master Plan, Six Students, Six Housing Projects
Stephen Luoni & Claude Terral
University of Arkansas

Housing Design Education
From House to Housing: Remixing Mar Vista
Brian Holland
University of Arkansas

JAE: Design as Scholarship
The Building Site, Redux
Timothy Hyde
Massachusetts Institute of Technology

JAE: Scholarship as Design
Climatic Design and Its Others
Jennifer Ferng, Jiat-Hwee Chang, Erik L'Heureux, Daniel J. Ryan
The University of Sydney & National University of Singapore

JAE: Micronarrotive
Tamaššā: To Walk for Pleasure in an Altered (or Othered) Beirut
Elizabeth Martin-Malikian
Kennesaw State University

TAD: Volume 4
Architectural Laboratory Practice for the Development of Clay and Ceramic-Based Photosynthetic Biocomposites
Assia Stefanova, Ben Bridgens, Pichaya In-na, Gary Caldwell & Rachel Armstrong
Newcastle University