Syracuse University
Syracuse, NY Syracuse University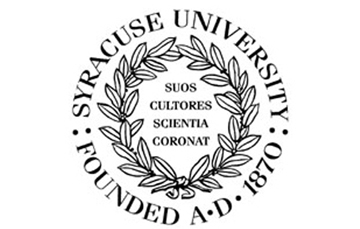 Tenure-Track Assistant Professor – Environmental and Interior Design
SYRACUSE UNIVERSITY invites applications for one full-time tenure-track faculty member at the rank of Assistant Professor in Environmental and Interior Design (and Bachelor of Science in Design Studies) in the School of Design, College of Visual and Performing Arts.
The successful applicant should be able to teach a broad range of undergraduate courses in environmental and interior design, but specifically those focusing on design technology and interior design with an emphasis on the use of digital media and tools. In addition, the applicant should be able to teach occasional software (Adobe Creative Cloud applications) courses to undergraduates in the Bachelor of Science in Design Studies.
Responsibilities of the appointment include teaching design studios in the areas of emerging computation and fabrication processes and visualization, including environmental performance simulation and/or material/spatial imagination, digital fabrication skills, and will support courses in digital communication, drawing, and design. The ideal candidate will demonstrate a multi-disciplinary approach to design education and be comfortable exploring and teaching new and emerging software, hardware, and technologies.
The School of Design is interested in candidates who have developed effective teaching strategies for the educational advancement of students from groups underrepresented in design broadly, and in environmental and interior design, specifically. The successful candidate will work with a strong team of educators in a well-established and accredited interior design program located in an innovative and collaborative design school and help create a strategic vision for undergraduate education as well as play an essential role in shaping the future of the program. The school/department is interested in candidates who have demonstrated commitment to excellence by providing leadership in teaching, research and/or service towards building an equitable and diverse scholarly environment. Candidates should be committed to building a strong track record in teaching, leadership, and research/scholarly activity. They will promote the needs and aspirations of the program, help develop curriculum, contribute to accreditation efforts, teach undergraduate and/or graduate courses, participate in student advising and mentorship, conduct, publish, and disseminate research, and help foster relationships with alumni, industry, and outside stakeholders.
The School of Design is an inquisitive and intelligent community of faculty and students who address issues in context. As a professionally oriented academic unit in a large research university, the School is fully committed to forging bold, imaginative, reciprocal relationships with constituents who are local as well as global. With a long and distinguished history at Syracuse University, the School of Design currently offers several highly ranked undergraduate programs, including Industrial and Interaction Design (BID), Environmental and Interior Design (BFA), Fashion Design (BFA), and Communications Design (BFA). The School has also recently launched a BS degree in Design Studies, which is rapidly growing, and also houses a graduate program in Museum Studies and an MFA in Design. Enrolling approximately 500 undergraduate and 50 graduate students, the School of Design occupies the Nancy Cantor Warehouse in downtown Syracuse.
Required qualifications: Relevant degree in design or related field, such as a Ph.D., MFA, M.Arch or equivalent combination of education and professional experience; 1-3 years teaching experience within interior design or other design related programs; strong record as an academic with a clear understanding of the imperatives of modern design education in terms of pedagogy, quality enhancement, student experience as well as enterprise and employability. Demonstrated success in scholarly activity through research, interdisciplinary collaboration and creative activity based on a foundation of relevant professional practice.
Strong conceptual and design development skills as they pertain to Environmental and Interior Design in both its traditional form as well as in emerging trends in the sector. Evidence of experience in professional practice or academic positions in interior design or related fields is desirable. Professional qualifications such as NCIDQ, WELL, LEED certification, membership in IDEC, EDRA, ASID, IIDA are preferable. Established understanding of the nature of interior design education, its delivery and its current issues, including competency in supporting students from a diversity of communities and cultures. Knowledge and experience teaching new and emerging software, hardware, and technologies with strong background in AutoCAD, Revit, Rhino, and digital fabrication. Knowledge of the following Adobe applications is also required: Photoshop, Illustrator, InDesign, Premier, and XD.
For more information and to apply visit www.sujobopps.com JOB# 075511.
Syracuse University is an equal opportunity/affirmative action employer with a strong commitment to equality of opportunity and a diverse work force.