Belmont University Belmont University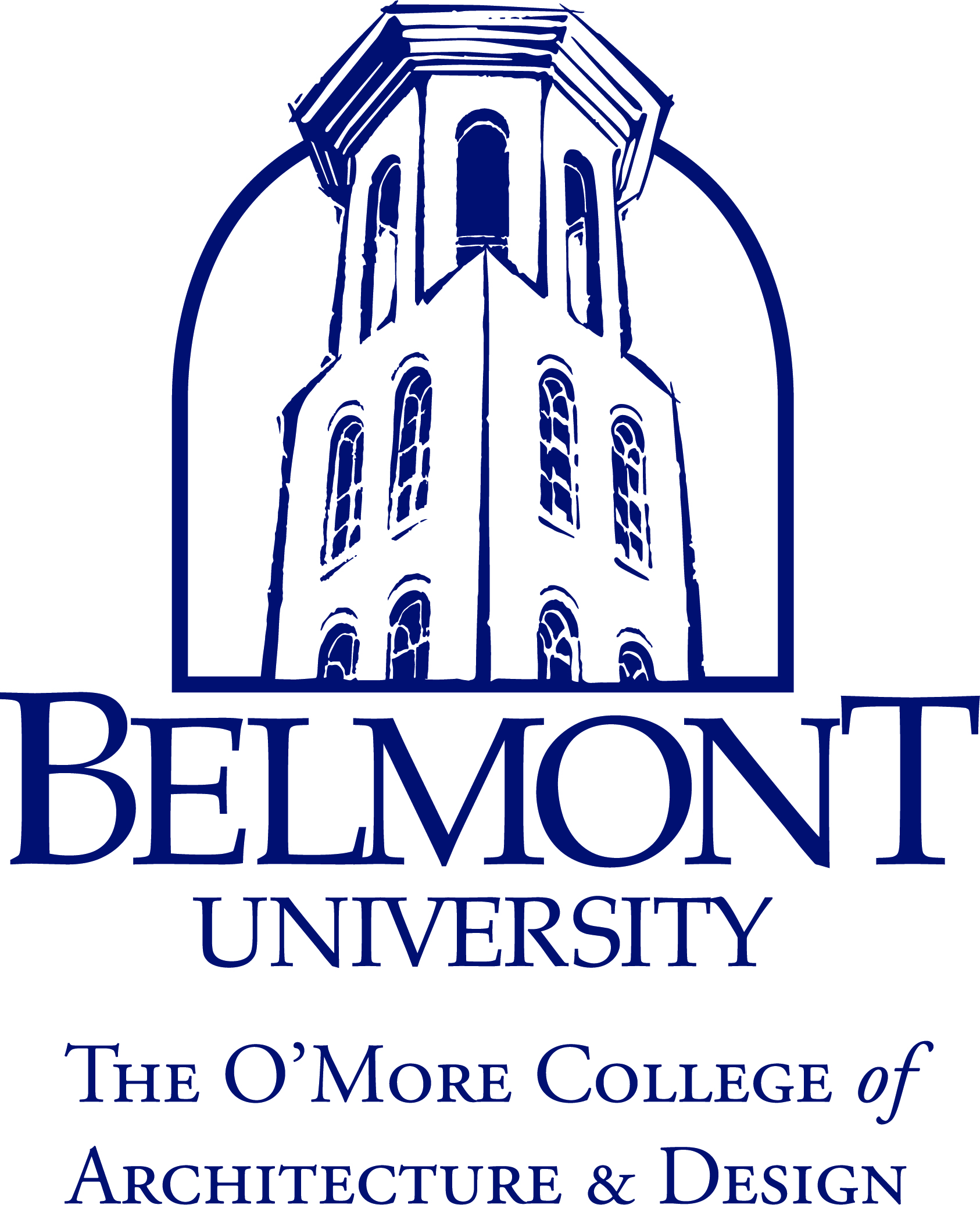 Assistant Professor of Architecture and Program Coordinator (Tenure-Track)
The O'More College of Architecture and Design at Belmont University in Nashville is seeking applications for a tenure-track Assistant Professor faculty member and Program Coordinator in the Architecture program, beginning August 1, 2021.
The Architecture Program at Belmont University welcomed its first cohort of students in August, 2019 and anticipates NAAB accreditation in 2025. Positioned in a College that offers programs in interior design and fashion design and merchandising, and within a mid-sized, liberal arts university, and a thriving city with a strong creative community, the program aims to fulfill the University's mission "to be a leader among teaching universities, bringing together the best of liberal arts and professional education in a Christian community of learning and service." Its curriculum and method are focused on developing students' adeptness to design for social equity and environmental sustainability, within an innovative spirit cultivated in studies of vernacular traditions as well as new technologies. Belmont graduates will have a unique focus to serve people by imagining, designing, and realizing a better, more beautiful, and more just world.
The Department of Architecture welcomes applications from qualified candidates to fill a teaching position in this vibrant and unique program. The position requires expertise in design education as well as any sub-discipline within architectural studies, with particular emphasis on sustainability (in all its realms), equity, and urban initiatives within a growing city in the Southeast. This position includes an elevated leadership responsibilities within the program.
Employment Type    
Fulltime
Internal Job Category           
Fulltime
Tenure-Track
Department   
Architecture
Primary Duties and Responsibilities:                      
Teaching up to 24 credit hours per year in the Architecture program, with expertise in one or more of the following to contribute to an integrated curriculum:

Design with understanding of/interest in: traditional/vernacular methods as well as modernist approaches; community service projects in Nashville and other cities in the southeast; sustainability in all its realms; ethics and equity; or capacity for work with manual and digital techniques and processes
History/theory, especially as connected to urban settings, Southern traditions, and sustainability studies
Building science, drawing from both vernacular/traditional and contemporary practices

Engaging in activities to support the mission, vision, and values of the university, college, and department, including through pedagogical practices
Developing timeline of classes and assessments for each course; coordinating syllabi and schedules with other faculty when teaching cross-listed and multiple-section courses
Participating in departmental and college meetings; engaging in institutional service as appropriate
Abiding by all relevant university and/or department procedures and policies as published online in the Faculty Handbook and in other venues
Providing academic advising to students in the architecture major
Engaging scholarly/creative activities, including developments in teaching and learning
Taking part in recruitment and retention efforts for the college
The above statements describe the position's essential responsibilities and requirements. They are not an exhaustive list of the duties that may be assigned to job incumbents.
Required Education/Experience      
Terminal degree in the field, usually:

Arch., or foreign equivalent, or
D. with emphasis in a relevant discipline
Applicants who lack an appropriate terminal degree, but who possess exceptional experience or training in the field, should provide full documentation as part of their application.
Required Qualifications:     
Enthusiasm for working in an architecture program situated within a liberal arts, mission-oriented university
Demonstrated knowledge of content, principles, methods and current developments in the field of study
Knowledge of contemporary instructional strategies and interest in expanding pedagogical expertise
Ability to support, instruct, manage, motivate and evaluate undergraduate students
Demonstrated familiarity with various software packages and Internet resources
Willingness to learn and adopt University platforms, including the grade management system and Blackboard Ultra, and to integrate appropriate digital technologies into the teaching and learning process
Capacity to manage diverse learning spaces, including conventional classrooms, studios, and labs, as appropriate to the position
Ability to communicate clearly and interact collegially with students, colleagues and the general public in a professional manner
Willingness to work collaboratively with colleagues in other disciplines
Capacity to infuse classroom experience and course content with inter-departmental concerns for equity and sustainability
Interest in, and ability to, execute responsibilities of a program coordinator and Architectural Experience Program (AXP) Coordinator, including:

Scheduling courses
Advising students on internship opportunities
Assisting students to engage in the AXP
Coordinating with the dean on such activities as hiring adjunct faculty members and preparing the departmental budget
Preferences
Teaching and administrative experience at the college level
Experience working in an architecture office
Professional licensure or capacity for/actively seeking licensure
One of the following:

Research agenda with emphasis in architectural history or building science
Practice-oriented experience that includes examples of community design, vernacular methods, and/or social justice initiatives.
Application
For additional information about the position and to complete the online application, candidates are directed to this website: https://belmont.csod.com/ats/careersite/jobdetails.aspx?site=10&c=belmont&id=1934
The online application requires the following:
Cover letter stating interest in the position and candidate alignment with the duties/responsibilities, qualifications, and preferences listed above
Curriculum Vitae
Teaching Philosophy
Three professional references with contact information
Response to Belmont's Mission, Vision, and Values statement, articulating how the candidate's knowledge, experience, and beliefs have prepared them to contribute to a Christian community of learning and service.
Review of applications will begin on January 11 and will continue until the position is filled. Questions concerning the position or application materials may be directed to Jhennifer A. Amundson, Dean of the College (Jhennifer.Amundson@Belmont.edu).
The Department of Architecture offers a five-year B.Arch. that (upon NAAB accreditation, anticipated in 2025) will equip graduates with the first formal credential for professional licensure as an architect; the Department also offers a four-year B.S. in Architectural Studies and a Minor. Focused on design, history, theory, structures, and environmental systems within a curriculum linked within the program and to external disciplines, departmental coursework and extracurricular activities stress the values of environmental and cultural stewardship, community service, and professional ethics. Students benefit from integrated coursework that joins their learning across architecture's sub-fields and throughout the campus, with special opportunities to emphasize philosophy, environmental science, and design for health care and the performing arts.
The O'More College of Architecture and Design (CAD) at Belmont University is a learner-centered creative community that serves undergraduate students by providing  nationally-recognized programs in Fashion Design and Merchandising, a CIDA-accredited program in Interior Design, and a new program in Architecture that is currently seeking accreditation by the NAAB. The facilities of the College include extensive studios that feature industry-standard equipment, a fully-equipped wood/model shop, and a new digital fabrications lab. The curricula of all programs benefit from the University's BELL Core to develop well-rounded, critical thinkers who can solve problems in diverse groups while focusing on subjects central to their disciplines. In addition to benefiting from this rich liberal arts tradition and curricula focused on professional preparation within a collaborative, interdisciplinary environment dedicated to creative exploration within a Christian environment, students have access to internship opportunities and study abroad programs. Preparing students for their chosen professions, CAD programs emphasize the values of sustainability in all its realms, equity, and service.
Belmont University seeks to attract and retain active, culturally and academically diverse and highly qualified faculty and staff that share the University\'s values and will contribute to its mission and vision to be a leader among teaching universities bringing together the best of liberal arts and professional education in a Christian community of learning and service. Belmont's growth and development has led to high national rankings that recognize the University\'s innovation, teaching quality, and sustainability programs. Over 8,500 students from every state and 25 countries study at Belmont at the undergraduate and graduate levels, in more than 90 areas of study and including 22 master\'s programs and six doctoral degrees, exploring their passions and developing their talents to meet the world\'s needs.
Background Check
The selected candidate will be required to complete a background check satisfactory to the University.
Belmont University participates in E-Verify. Federal law requires all employers to verify the identity and employment eligibility of all persons hired to work in the United States.