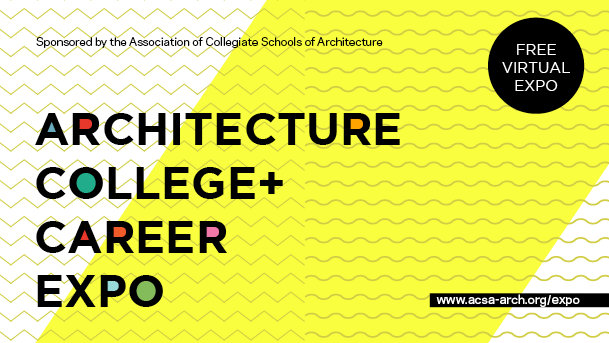 Considering a degree in architecture or a related field? Looking for a professional degree, post professional degree, or want to learn the difference? Join us on November 21, 2015, from 1:00pm – 5:00pm ET, for the ACSA Architecture College & Career Expo to learn about beginning or continuing your architectural career.
discover how to select a program
learn more about admissions requirements
live chat with school reps
free portfolio reviews
STUDENT REGISTRATION
Registration for the expo is free!
VISIT THE VIRTUAL EXPO NOW
Couldn't make it to the live event? You can still visit the Virtual College & Career Expo today! Since the live date has passed the portfolio reviews, live chat and Q&A features are no longer available but you can still visit with all of the school's below and view the three webinars on selecting an undergraduate program, selecting a graduate program and innovations in architectural practice. Click the "Register now" button to enter the expo. Already registered but want to log back in? Click Here
MEET THESE SCHOOLS
Academy of Art University
Boston Architectural College
California College of the Arts
Drexel University
Dunwoody College of Technology
Florida International University
Frank Lloyd Wright School of Architecture
Georgia Institute of Technology
Illinois Institute of Technology
Iowa State University
Louisiana State University
Montana State University
NewSchool of Architecture and Design
New York Institute of Technology
Norwich University
Pennsylvania State University
Portland State University
Prairie View A&M University
Rensselaer Polytechnic Institute
Rhode Island School of Design
Rice University
Roger Williams University
Savannah College of Art and Design
Southern California Institute of Architecture
Temple University
The Ohio State University
University of Arizona
University of Arkansas
University of Cincinnati
University of Colorado Denver
University of Maryland
University of Massachusetts, Amherst
University of Michigan
University of Nebraska – Lincoln
University of New Mexico
University of Oregon
University of Pennsylvania
University of South Florida
University of Southern California
University of Virginia
University of Waterloo
Washington University in St. Louis
Wentworth Institute of Technology