2018-2019 Steel Competition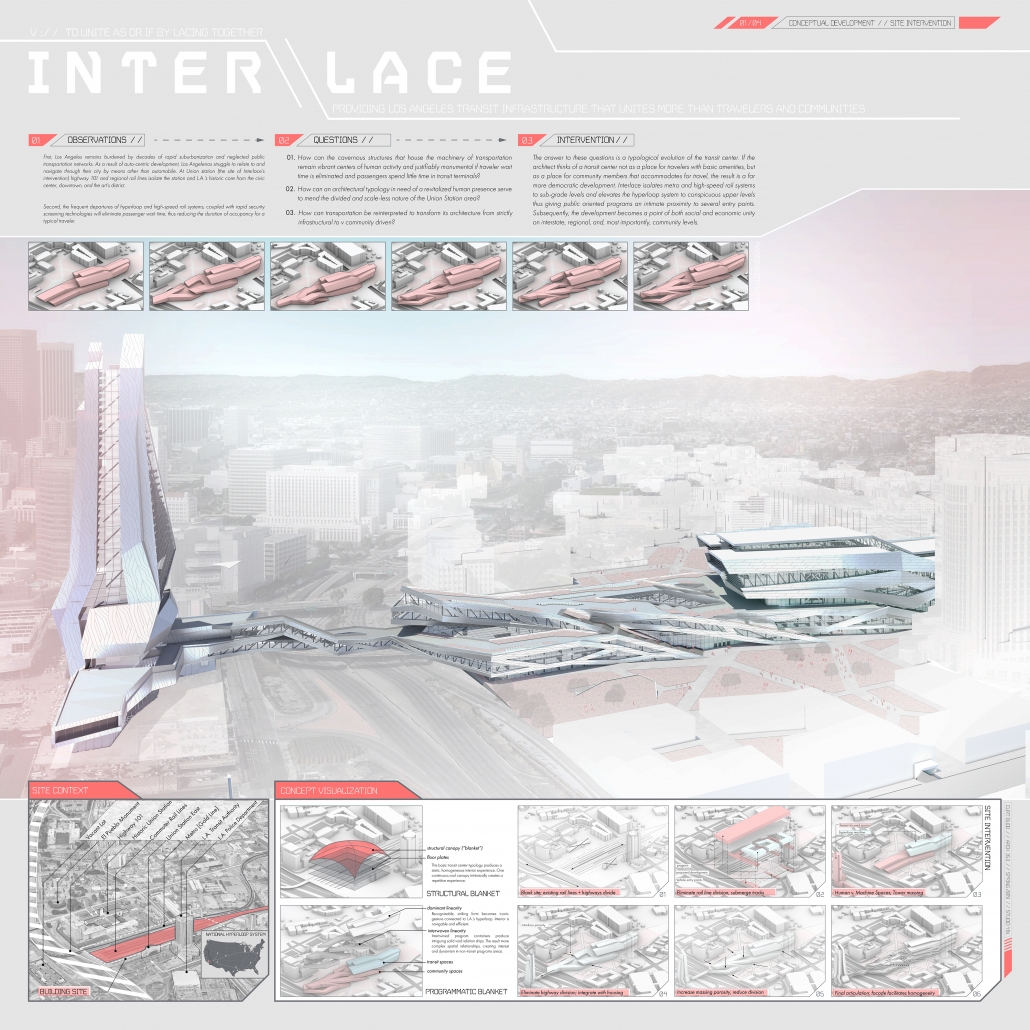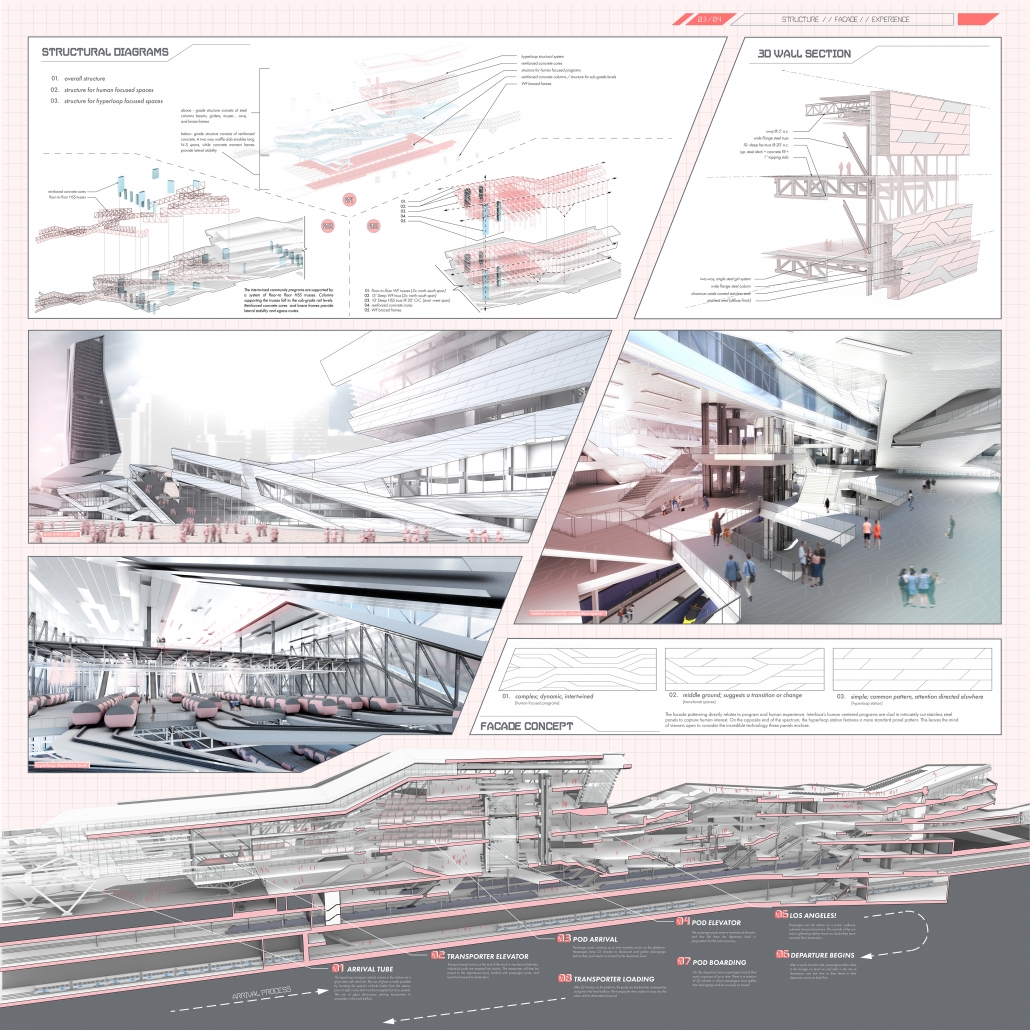 Student: Curt Budd
Faculty: Margarida Yin
School: California Polytechnic State University
This top winning project, Interlace, has a compelling intervention into the urban fabric of Los Angeles bringing the community into the building. The structural steel diagrams are very strong with great scaled details. This student did their research and clearly showcased their project in these submission boards with terrific representation, functional diagrams and detailed drawings.
Interlace is an intermodal transit center located at Union station in Los Angeles. It accommodates for hyperloop, highspeed rail, metro, and bus systems, in addition to extensive community-based programs. A mixed-use tower development to the south explores the connection between transportation and living.
The word interlace, is a verb defined as the act of uniting, as or if, by tying together. This has obvious connections to transportation, which in today's world, joins people and economies that would otherwise be separated by thousands of miles. With this thought in mind I began to ask what architecture can do to unite people on a variety of scales ranging from regional to local. I observed that as technology continues to improve, travelers will occupy transit centers for shorter and shorter periods of time. The hyperloop system features pods departing every two minutes and the highspeed rail system could see trains leaving every half hour. That leaves a cavernous structure that may only contain people for a matter of minutes. So, I asked myself, in the urban context of union station, what can a transit center do to remain a vibrant center of human activity despite the fact travelers may spend little time there? Additionally, I asked how this work of architecture could function as a point of unification.
My answer is a reevaluation of the transit center typology which sees the typical structural canopy that commonly blankets transit centers injected with program. This is executed in conjunction with a heavy emphasis on community-focused spaces. The massing of the building sees transit systems barred from the ground plane, which is reserved for people. High speed rail and metro systems fall to subgrade levels, enabling the unification of the east and west sides of the site. The hyperloop station is elevated to become an icon of LA's new development. Community-based programs including retail, dining, urban farming, office sharing, and gallery spaces are housed in interwoven program containers that emerge from the ground and become the canopy that covers the underground rail systems. The massing's emergence from the ground enables multiple points of access to an extensive roof garden.  The façade is angular and porous, evocative of movement and inviting to both people and light. Visitors explore the void space created by weaving program containers, easily accessing a variety of amenities. Travelers find and access their system of choice via a quick escalator or elevator ride.
The separation of human focused and transit focused programs allows for a series of intriguing experiences regarding the interface between people and transit machines. A visitor may simply observe hyperloop pods moving overhead in the exhibition space and spend the majority of their time inspecting the intricate paneling of the human centered programs. Meanwhile, a traveler could spend little time among the refined finishes of the human-focused spaces. Instead, they may move quickly, circulating vertically alongside the hyperloop pod elevators, ultimately entering the hyperloop system in a space dominated by exposed structural elements.
In summation, Interlace is a transit center that blurs the line between transit and social infrastructure, which aims to activate the site in a social manner, in addition to providing much needed transportation services.