March 23, 2021
Dalhousie University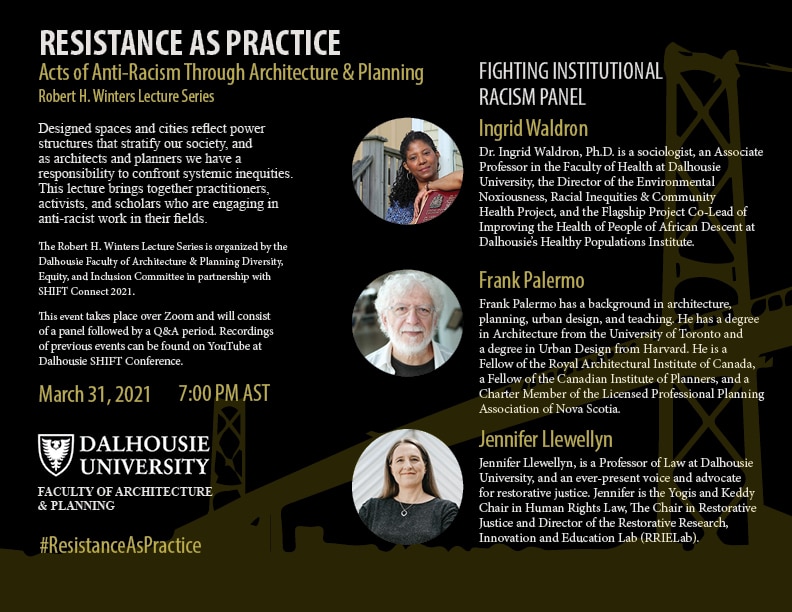 We are happy to invite you to the inaugural Robert H. Winters lecture series Resistance as Practice: Acts of Anti-Racism through Architecture and Planning! The event is hosted by the Dalhousie University Faculty of Architecture and Planning's Equity, Diversity and Inclusion Committee, in partnership with the SHIFT: Connect conference. Our final event will be on Wednesday, March 31st at 7pm AST, and will be a panel featuring Dalhousie professors Jennifer Llewelyn (Schulich School of Law), Frank Palermo (School of Planning) and Ingrid Waldron (School of Nursing). In this event, our panelists will discuss the structures of institutional racism that they face, and the ways they aim to challenge these systems through their work in areas including restorative justice, community engagement and environmental justice. Please see the attached announcement for more details on the panelists and the event, and register through Eventbrite here.  
We have organized this series at a critical moment for architects, planners and other disciplines grappling with difficult histories and professional cultures. This means questioning how designed spaces are embedded with power structures that stratify our society, and how practitioners are implicated in this. Just as importantly, we must acknowledge that this is not a new conversation or area of analysis: racialized communities have developed their own planning and design practices in cities when they have not been heard by the faces of power. This lecture series builds on the ongoing powerful response to racialized violence by presenting the work of practitioners, academics and activists who have pursued these acts of anti-racism as a central focus of their work.
We hope that you'll join us for this final event of the series!
Previous lectures in this series can be viewed here https://www.youtube.com/channel/UCJRyOV1NBPoJtIRy3NJdYsg.
Eventbrite link: https://www.eventbrite.ca/e/fighting-institutional-racism-robert-h-winters-lecture-series-panel-2-tickets-146314834609 
In Solidarity,
The Equity, Diversity and Inclusion Committee
Dalhousie University Faculty of Architecture and Planning