February 12, 2021
Dalhousie University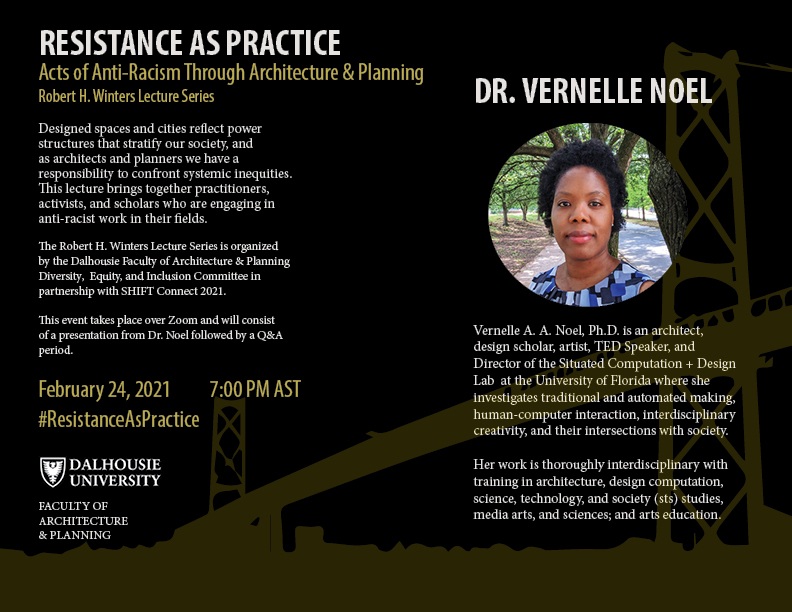 We are happy to invite you to the Robert H. Winters lecture series Resistance as Practice: Acts of Anti-Racism through Architecture and Planning! The event is hosted by the Dalhousie University Faculty of Architecture and Planning's Equity, Diversity and Inclusion Committee, in partnership with the SHIFT: Connect conference. Our next event will be on Wednesday, February 25th at 7pm AST, and will be a lecture by Dr. Vernelle Noel. Noel is an architect, design scholar, artist, TED speaker and the director of the Situated Computation + Design Lab at the University of Florida. Through this work she challenges narratives that have excluded traditional ways of making by incorporating them into the practices of automated making, investigating human-computer interaction, interdisciplinary creativity and intersections of these practices with society. Please see the attached announcement for more details on the panelists and the event, and register through Eventbright here.  
The series will extend into March of 2021, and featured architects, planners, scholars and activists whose work focuses on anti-racism on scales local to Halifax, in other Canadian contexts, and internationally. We will end with a panel on institutional barriers to anti-racist work featuring Frank Palermo, Jennifer Llewelyn, and Ingrid Waldron.    
We are organizing this series at a critical moment for architects, planners and other disciplines grappling with difficult histories and professional cultures. This means questioning how designed spaces are embedded with power structures that stratify our society, and how practitioners are implicated in this. Just as importantly, we must acknowledge that this is not a new conversation or area of analysis: racialized communities have developed their own planning and design practices in cities when they have not been heard by the faces of power. This lecture series builds on the ongoing powerful response to racialized violence by presenting the work of practitioners, academics and activists who have pursued these acts of anti-racism as a central focus of their work.
We hope that you'll join us, and stay tuned for information on events in the rest of the series!
Eventbrite link: https://www.eventbrite.ca/e/dr-vernelle-noel-on-resistance-as-practice-robert-h-winters-series-tickets-140837987211
In Solidarity,
The Equity, Diversity and Inclusion Committee
Dalhousie University Faculty of Architecture and Planning