2020 Virtual Annual Business Meeting
Wednesday, May 20, 2020, 6:30–8:00 pm Eastern
With the ACSA Annual Meeting becoming the 
ACSA108 Virtual Conference
, we have decided to hold the Annual Business Meeting as an online event. All ACSA members are welcome to attend. We especially invite ACSA Faculty Councilors to register and attend, as this is the organization's official business meeting.
The business meeting will be held on Zoom and will include breakout caucus discussions with ACSA board members for the majority of the time.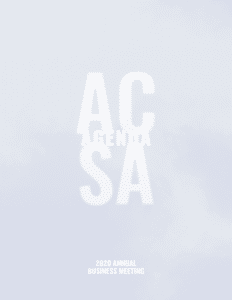 Business Meeting Agenda
1. Call to order
2. Introduction of the ACSA Board of Directors and Newly Elected Members
3. Member School Registration
4. ACSA Report
– President's Report
– Vice President's Report
– Treasurer's Report
5. Confirm Member School Registration, First Notice of New Business
6. Breakout Sessions, Moderated by ACSA Directors
Topics of discussion include:
– With the uneven impacts of COVID-19 on communities, what have you observed in your programs and how have you been addressing these inequities?
– What have you learned in the pivot to online learning that is helping you to improve your teaching?
– Given the new NAAB conditions, what is your school doing to support the assessment of student learning?
– What should ACSA be doing now and in the future to advance teaching and scholarship?
7. New Business
Michelle Sturges
Membership Manager
202-785-2324
msturges@acsa-arch.org