June 21, 2016
Music in the Library
Barbara Opar and Lucy Campbell, column editors

Column by Maya Gervits, Director of the Barbara & Leonard Littman Library, College of Architecture & Design, New Jersey Institute of Technology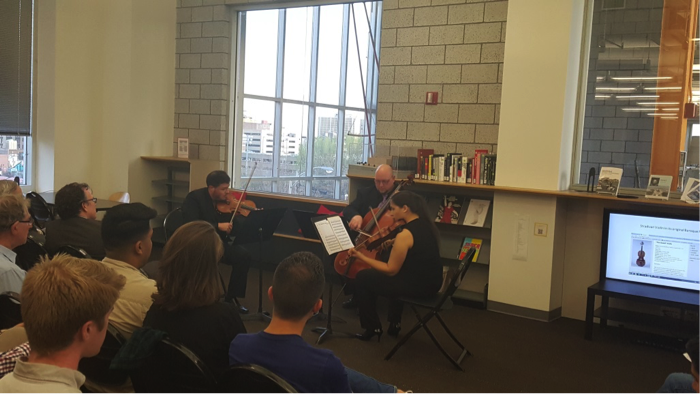 According to a recent Andrew Mellon Foundation report, many academic institutions are now investigating partnerships between the arts and other academic disciplines to foster connections between them [1]. During these discussions, music has received special attention. It has been proven that musical compositions can inspire higher brain functioning and unlock creativity [2]. Albert Einstein, who credited some of his discoveries to musical perception, believed that music is the driving force behind intuition. Links between music and spatial-temporal skills, those important in solving problems, have been discovered by neuroscientists. Mozart and Vivaldi effects [3] are discussed in scientific journals. There are many associations to be found between music and architecture, music and visual arts, and design. They have been discussed over the centuries and were part of the reasoning behind the Littman Library's attempt to engage students in the College of Architecture and Design at the New Jersey Institute of Technology in further exploration of these connections by hosting musical events.
The relationship between architecture and music is well documented. Leon Battista Alberti believed that the same characteristics that please the eye also please the ear. Palladio echoed this by noticing that, "the proportions of the voices are harmonies for the ears; those of the measurements are harmonies for the eyes. Such harmonies usually please very much without anyone knowing why, excepting the student of the causality of things". [4]  Johann Wolfgang von Goethe called architecture the "frozen music," while 19th century art critic Walter Pater came to the conclusion that "all art constantly aspires towards the condition of music."  We discuss rhythm, proportion, and ornamentation in both music and visual arts, and search for harmony between them.
Typically associated with German Romantics, the idea of Gesamtkunstwerk described as a complete, unified, or as it often referred to, a "total work of art", was formulated in 1849 in Richard Wagner's "Das Kunstwerk der Zukunft" ( "The Artwork of the Future" ). Although, Hans Sedlmayr insisted that it existed long before that time [5]. Initially related to the synthesis of  arts in opera, it also has been manifested in Charles Baudelaire and
Stéphane Mallarmé's poetry, Josef Hoffmann's and Joseph Maria Olbrich's architecture, James McNeil Whistler's paintings, Sergei Diagilev's ballet, and Alexander Skriabin's musical compositions. The 20th century provided more tools to rethink the boundaries between the visual and musical. Creation of the "total work of art" was the ultimate goal of the Bauhaus program and the cornerstone of their educational system. Oscar Schlemmer's "Triadisches Ballett" and Wassily Kandinsky's experimental performances, rooted in his synesthesia (ability to see sounds), are just two of several Bauhaus projects created as an interplay of music, dance, and painting. "Poème électronique" and "Philips Pavilion" at Expo 58 – collaborative works by Edgard Varèse, Le Corbusier, and Iannis Xenakis, which combined electronic music, projections, and architecture, also came into existence with the purpose of creating a "total work of art."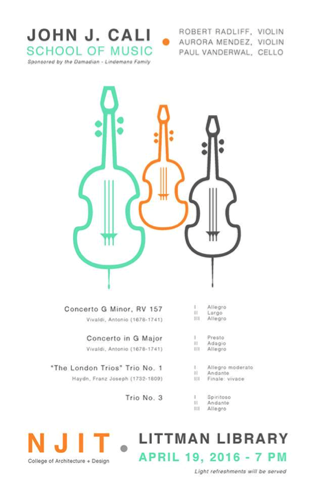 Understanding the idea of the "total work of art" can be an important lesson for students and, recently, more attention has been drawn to it. Gesamtkunstwerk has once again become a subject of numerous discussions, proving that this idea is still relevant. The exhibition, "Der Hang zum Gesamtkunstwerk" in Kunsthaus Zurich (1983) and in Vienna (1984), a recreation and performance of Skriabin's "Prometheus" at Yale University (2010), and the latest collection of essays, "The Death and Life of the Total Work of Art," presented at the Bauhaus Colloquium in 2013, highlight the historic meaning of the term, and apply it to more recent events and works. Technological advancements provide the tools that allow for the creation of immersive artistic experiences, which remove "the borderline between object and observer, stage and audience, art work and spectator," [6] and create projects that can be considered a "total work of art" of the 21st century. Although some of its political implications have been criticized, the idea of aesthetic unity of all the arts and their "wholeness" deserves attention, even if only for the purpose of providing students with more well-rounded educations that help to contextualize what they learn at school. Building on these ideas, in the spring of 2015, the Littman Library at the College of Architecture and Design at NJIT began "Music in the Library," a series of concerts performed by the Montclair Trio [7] – musicians affiliated with the John J. Cali School of Music at the Montclair State University.
Although open to the whole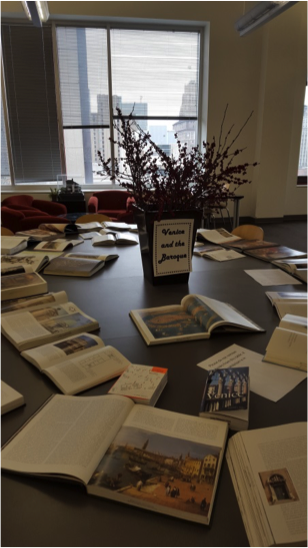 university community, the concerts are mostly focused on the needs of the College of Architecture and Design population. The concert series directly supports several courses, including "Music for Designers," which is focused on the theory and history of music, its relation to culture, and its use in cinema, digital and interactive media. Each concert is accompanied by a short lecture and PowerPoint presentation related to the theme of a concert, providing context as well as background information. Students design posters advertising the series. A book exhibition further enhances each event. The collaboration with musicians–a group of talented and dedicated educators–helps to develop programs that are both popular and educational. These events take place in an intimate "chamber-like" environment of the college Library which is located in the physical center of the building. Folding chairs that can be easily assembled form an auditorium. The Library remains open and fully functional during these events, which usually take place at night. Light refreshments help to create a pleasant and relaxing atmosphere. Free of charge, funded and supported by the college administration and alumni, these concerts have become popular and well attended. They help to alleviate stress, expand students' horizons, improve their exposure to music, link performed musical compositions to the subjects of study in classes and studio, provide a historical context, and establish the Library as a place which can provide cultural and educational opportunities, often not possible within a curricular setting.