You can only gain access to certain items and special pricing if you have logged in. Login Now.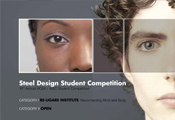 2009-2010 Steel Student Design Competition Summary
Format:
Print/Tangible (requires shipping)
Affiliate (Domestic), Affiliate (International), Basic, Bronze, Canadian School, Candidate, Complimentary, Full Member--Large, Full Member--Medium, Full Member--Small, Gold, Introductory, NonMember, Platinum, Research, Silver, Student - $12.95

Description:
The competition challenged students to submit designs for the student union or open category and to explore a variety of issues related to the use of steel in design and construction.
Product Details: