You can only gain access to certain items and special pricing if you have logged in. Login Now.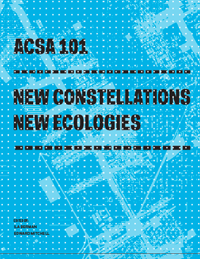 101st Proceedings-New Constellations New Ecologies
Ila Berman + Edward Mitchell
Format:
Print/Tangible (requires shipping)
AIA Journal Membership, Affiliate (Domestic), Affiliate (International), Basic, Bronze, Canadian School, Candidate, Complimentary, Full Member--Large, Full Member--Medium, Full Member--Small, Gold, Guest Member, Introductory, NonMember, Platinum, Silver, - $35.00

Description:
Architecture's educational structures and professional regulatory frameworks are changing more slowly than the world around us. In 2010, approximately 27,000 species became extinct, 11.2 billion tons of waste were produced, the population increased by 134 million people (half as net growth), and 200,000 inventions were patented—all in less time than it takes an architecture school to revise its curriculum. The global rate, scale, and scope of environmental, cultural, technological, and demographic change and its impact on the built and natural world seemingly far exceed our current capacity for adaptation and retooling. If academic institutions are to be at the forefront of generating architectural knowledge and developing methods for its integration and application, we need to become far more dynamic, adaptable, responsive, and engaged to ensure that we are not facilitating our own irrelevance or extinction. Design has never been more pervasive and powerful, and yet so vulnerable to the global forces influencing its potential and capacity. With the 101st Annual Meeting, ACSA wants to reset the agenda for architectural education. As a counterpoint to the 100th anniversary meeting hosted by MIT, the first American school of architecture, ACSA 101 will move to the San Francisco Bay area and be hosted by CCA, one of the younger architecture schools. The intention of this shift is to resituate the issues facing architecture within the Bay area's complex context: a global urban mega-region known for its technological innovation, ecological attitude, and social diversity, with cultural and economic influences coming from its position at the edge of the continent and its strong ties to the Pacific Rim.
Product Details:
| | |
| --- | --- |
| Product ID: | 101AM |
| Publication Year: | 2013 |
| Page length: | 836 |
| Weight: | 5.0 pounds |